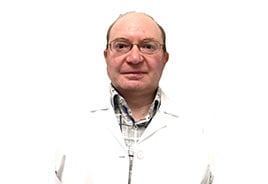 Ilya Smuglin, MD
About Brooklyn Internal Medicine Specialist Dr. Ilya Smuglin
An internal medicine specialist since 2001, Ilya Smuglin, MD, lives to serve his patients. Even before he was an MD, he was on the front lines of the medical field, working as a counselor for emotionally disturbed children. Now, he focuses all of his energy and efforts helping you get well.
A board-certified internal medicine specialist, Dr. Smuglin works with the team at the Century Medical and Dental Center. While he's a generalist, he knows there are excellent specialists in the same building. He treats a wide range of health problems, including:
Muscle sprains
Arthritis problems
High blood pressure and other vascular conditions
Common cold and sore throats
Acute respiratory disorders
Substance abuse issues
Disorders of the nervous system
Eye, ear and nose problems
Reproductive issues
Solving Your Health Problems
To keep you healthy, Dr. Smuglin performs annual physical checkups, conducts sports exams for you or your children and administers travel vaccines as needed. He also offers:
Bone density tests
Flu symptom management
Diabetic screening and control
Non-surgical preventive care
Consultation during cancer procedures
Intravenous infusions for disease management
A Thorough Medical Education
Dr. Smuglin obtained his Bachelor of Arts degree from New York University. Then, he earned his medical degree (MD) from St. George's University School of Medicine. He completed his fellowship in internal medicine from Lutheran Medical Center. Dr. Smuglin has been affiliated with a number of hospitals, including Woodhull Medical Center and American Medical Center.
He is a member of the American Medical Association, the American College of Physicians and the American Society of Internal Medicine. A U.S. citizen, he is a stand-by volunteer of Homeland Security. He is fluent in English and Russian, and he has a working understanding of Spanish. Experience the difference at Century Medical and Dental Center.
---
Century Medical and Dental Center, an Article 28 Multi-Specialty Clinic, has been opened since 2000. For your convenience, you may visit any of our three Brooklyn locations. The doctors and staff speak multiple languages. All offices have convenient hours of operations:
Monday to Friday: 8:00 am to 9:00 pm
Saturday and Sunday: 8:00 am to 6:00 pm