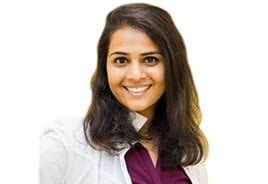 Amrita Mahimkar, MSPT
About Brooklyn Physical Therapist Amrita Mahimkar
As a physical therapist, Amrita Mahimkar, MSPT, collaborates with many of the other specialists at the Century Medical and Dental Center in Brooklyn. Like every patient who comes to her, you have some kind of functional limitation. She treats you with compassion, listening to your complaints while planning an effective treatment.
Ms. Mahimkar treats patients with a variety of health issues, such as:
Ligament sprains
Frozen shoulder
Achilles tendonitis
Muscle sprains
Tendonitis
Physical Therapy Techniques
Ms. Mahimkar offers physical therapy rehabilitation for conditions that include joint replacement, ACL repairs and rotator cuff surgery. The methods she employs include a wide variety of techniques — whatever's appropriate for your condition — such as paraffin wax, massage bars, exercise bands and walking on a treadmill. Other common rehabilitation programs include:
Ergonomic evaluation that includes functional capacity tests
Neurological rehabilitation for multiple sclerosis, post-stroke, Parkinson's and paralysis
Pediatric rehabilitation for cerebral palsy, developmental disorders and scoliosis
Vestibular and balance rehabilitation for balance problems, vertigo and reduced vision
Cardiovascular rehabilitation for congestive heart failure, recent heart attacks, stable chronic heart failure, balloon angioplasty rehabilitation and peripheral vascular disease
TENS procedure, an electrical stimulation tool, for the pain-affected areas of your body
As a physical therapist, Ms. Mahimkar can refer you to other specialists if your condition warrants further treatment. But she understands that her therapeutic techniques play a role in your speedy recovery. So she incorporates these techniques during your treatment whenever appropriate.
Physical Therapy Background
Ms. Mahimkar completed her Master's degree in Physical Therapy from the University of Indianapolis. She has more than 8 years of experience in physical therapy. She's currently a valued member of the team of specialists at the Century Medical and Dental Center.
Fluent in English and Hindi, she works with anyone who needs physical therapy to gain strength or regain functionality. She provides goal-oriented treatment plans to get you back to your normal life as quickly as possible. Start your rehabilitation today with Ms. Mahimkar.
---
Century Medical and Dental Center, an Article 28 Multi-Specialty Clinic, has been opened since 2000. For your convenience, you may visit any of our three Brooklyn locations. The doctors and staff speak multiple languages. All offices have convenient hours of operations:
Monday to Friday: 8:00 am to 9:00 pm
Saturday and Sunday: 8:00 am to 6:00 pm