Your abdomen is closely located to vital organs such as the heart, kidneys, lungs, and pancreas, and any persistent or sudden pain should in this region not be ignored. Chronic pain in the abdomen may be a sign of some underlying medical condition, and you must get it checked by a specialist doctor to avoid it from turning critical or even life-threatening. The top-rated doctors at the Century Medical and Dental Center determine the signs, severity, and location of your abdominal pain to find out what is causing it and come up with positive solutions to alleviate your discomfort.
Pain that occurs between the chest and pelvic regions is called abdominal pain. This pain can be crampy, achy, dull, intermittent, or sharp. It is also called a stomach ache.
Stomach pain or abdominal ache can range from bloating and indigestion to severe and sharp, stabbing pain. Symptoms of stomach pain depend on the cause. It can be dull or sharp, constant or occur from time to time, and mild or severe. Starting from the abdomen, it could also radiate to other areas such as the back, flank, or shoulders.
Sometimes inflammation diseases that affect the organs in the abdomen can cause pain. Major organs located in this vicinity include:
Intestines (small and large);
Kidneys;
Appendix (a part of the large intestine);
Spleen;
Stomach;
Gallbladder;
Liver;
Pancreas.
Viral, bacterial, or parasitic infections that affect the stomach and intestines may also cause significant abdominal discomfort. The best primary care doctors use advanced diagnostic methods to figure out what your signs of abdominal pain mean and work hard to provide quick and lasting relief.
Signs Your Adnominal Pain May Be Serious
1. It strikes suddenly
There are many reasons you may feel a sudden onset of abdominal pain. This kind of pain is intense and requires immediate medical attention. It could be:
Appendicitis – Sudden and severe abdominal pain in your lower right stomach could be a sign of appendicitis. This pain usually starts around the belly button and is accompanied by vomiting, diarrhea, and constipation.
Ruptured ovaries – Sudden pain in the lower abdomen on the left or right side in females could result from a ruptured ovarian cyst. Hormonal imbalance, pregnancy, sexual intercourse, and constipation are the most common cause of problems with ovaries, and they may need removal in some cases.
If you suspect you have appendicitis, are having issues with ruptured ovaries or hormonal imbalance, seek help from a primary care doctor as soon as possible, as these problems can turn critical if left untreated.
2. It is a stabbing pain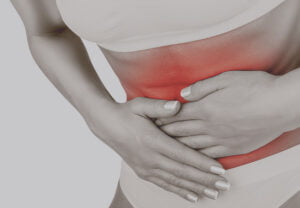 Stabbing pain involves an influx of pain all at one instant. You will feel as if you are being stabbed by some sharp object, like a knife.
If you experience piercing, knife-like aching pain in your upper abdomen, between your ribcage, it may be a sign of some underlying heart issue. Nausea, chills, fever, and vomiting in addition to stabbing pain, can be dangerous. Stabbing pain is often caused by indigestion or gas, but if these symptoms are followed by shortness of breath, it could be related to the heart.
If you have been experiencing these symptoms persistently, contact your primary care doctor to get yourself tested for heart and kidney problems, as they are serious issues that can turn life-threatening. The doctor may also recommend an ultrasound or CT scan to confirm or rule out the presence of a kidney stone.
3. The pain is persistent
Some stomach pains are different as they are persistent and you get so used to them that you begin to think they do not require medical attention. However, frequent pain in the lower regions of the stomach that comes with bloating, diarrhea, or weight loss could be a sign of some underlying condition and must be determined by an experienced doctor.
Some health conditions that cause lasting pain include:
Irritable Bowel Syndrome – IBS is closely linked to high levels of stress and anxiety in daily life. It causes continuous cramps with bloating, diarrhea, or constipation. The symptoms of irritable bowel syndrome can be relieved with diet and stress management. Get your condition accurately diagnosed by a healthcare professional before making lifestyle and dietary changes to ensure long-term health and safety.
Crohn's disease – Persistent stomach pain accompanied by diarrhea and weight loss can be a symptom of a chronic disease called Crohn's disease. It can cause ulcers, inflammation in the digestive system, especially in the small intestine and colon. While there is no known cure for this condition right now, it is possible to manage it with prescribed antibiotics, anti-inflammatory drugs, and diet adjustments. If these treatment options fail to provide relief, the doctor may recommend surgery to remove the ulcers and ease the inflammation.
Common Causes of Abdominal Pain
Stomach ache resulting after eating a big meal or something that did not go well with you is normal, but if you feel persistent and troubling pain without any apparent reason, get it checked by a healthcare provider. Abdominal pain and its symptoms can tell you a lot about your health and any underlying conditions it may be resulting from.
Many health conditions can lead to abdominal pain. They may include:
Constipation;
Diarrhea;
Gastroenteritis (stomach flu);
Acid reflux or heartburn;
Vomiting;
Stress;
Gallstones.
Doctors determine the causes of abdominal pain by relying on the characteristic of the pain, collecting the patient's medical history, conducting a physical exam and blood tests. They may suggest endoscopy if they are unable to detect the source of pain.
When Seeking Medical Help Is Necessary?
Mild abdominal pain may go away without requiring any treatment, but moderate to severe and persistent pain should be checked over by a doctor. If your abnormal pain is getting intolerable or associated with trauma such as an accident or you are not sure what is happening, a trip to the emergency may be the best option.
You must seek immediate medical help if your pain is accompanied by these symptoms:
Bloody stools;
High fever (greater than 101°f);
Vomiting up blood (hematemesis);
Persistent nausea or vomiting;
Yellowing of the skin or eyes;
Swelling or severe tenderness of the abdomen;
Difficulty breathing.
Any urgent or non-urgent pain can become serious if the symptoms are not attended timely. Pain that does not feel normal or results in unusual symptoms should not be taken lightly as it could lead to life-threatening complications.
The experienced and board-certified internal medicine doctors at the Century Medical and Dental Center are ready to find the source of your pain based on your signs and symptoms. Using the most up-to-date diagnostic tests and multidisciplinary tools, the specialists strive to know what is wrong with you and come up with solutions to provide quick and last relief. They keep an eye on your symptoms and ensure your abdominal pain and accompanying warning signs do not turn serious, and you get the best care for your pain and related conditions.
SHARE THIS POST
Page Updated on Dec 18, 2022 by Dr. Dvorkina (Primary Care Doctor) of Century Medical & Dental Center