A dietitian is a nutritionist with an advanced degree and experience treating a wide range of disorders. Treatment options include food, supplement, and lifestyle changes. Our nutrition specialist in Brooklyn practices holistic nutrition, which means he considers your entire life when making recommendations to improve your health. A dietitian-nutritionist works closely with the other primary care doctor to supplement medical interventions and medications you may need.
Note: Century Medical and Dental Center's dietitians and nutritionists accept all major insurance plans, including Medicare, Medicaid, HIP, Emblemhealth, GHI, MetroPlus, and Fidelis, and have offices in Downtown Brooklyn, Flatbush, Gravesend Fort Greene, and Midtown Manhattan. Our top-rated doctors provide a full range of medical procedures and are among the best nutritionists in the region.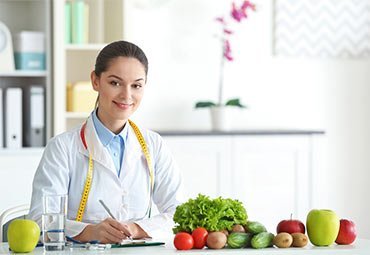 Dietitian & Nutritionist
A nutritionist is someone who has studied nutritional science. Many people, such as nurses, physician assistants, or personal trainers, study nutrition to complement and improve their previous schooling and health care services.
However, a registered dietitian has a four-year degree in dietetics or nutritional science, followed by an accredited supervised practicum. A dietitian must pass a national exam to become a Registered Dietitian Nutritionist (RD). Your doctor in Brooklyn is an RD who follows a rigorous training schedule and adheres to continuing education requirements.
The Role of Holistic Nutrition
With the increased focus on holistic medicine among the general public, another certification group has recently been formed. This group has created the title Holistic Nutritionist. The term defines a way of practicing medicine that takes into account the whole person — physical, mental, social, and familial.
A holistic nutrition dietician focuses on natural and organic foods. Holistic supplements are also often incorporated into your daily routine and diet. A dietician and a holistic nutrition specialist can also help you focus on dealing with chronic health conditions.
Where a Dietitian Nutritionist May Work
Concern over good health has given rise to collaborations with many other specialty medical practitioners. Many health care providers understand the positive benefits of conscious diet and exercise and are willing to work with a dietitian nutritionist to serve their patients.
Previously, your specialist may have been solely concerned with diet and weight loss. Many different avenues of medical care now benefit from the knowledge that a good doctor provides. These areas include:
Your dietitian nutritionist counsels your family on nutrition for athletes, growing children, active adults, and the elderly. Expect guidance for nutritional support, diabetes education, or renal nutrition, as necessary. As a part of the Century Medical and Dental group, your specialist offers various services, all of which can keep you healthy and at your peak.
Services Offered by Your Dietitian Nutritionist
Your nutrition specialist helps you on your path to healthier living in a variety of ways. Nutritionists are experts in human nutrition and diet regulation. The use of food and nutrients to promote health and disease management is at the forefront of their practice. Services include:
Personalized diet preparation;
Weight reduction support;
Disease management;
Exercise suggestions through metabolic testing.
The Basics of Metabolic Testing
A Metabolic Assessment Profile, or MAP, is a precise measurement of your body's oxygen and carbon dioxide production. The measurements taken at rest and during high-intensity exercises show how efficiently your body processes and uses stored energy. Weight reduction only occurs when you're burning fatty acids and not glucose. Burning glucose only increases hunger.
Your dietitian can estimate the heart rate range that is most efficient for burning fat by assessing your oxygen output with special equipment that measures blood pressure, heart rate, inhaled and exhaled air, and blood lactate. An exercise program that promotes this efficient ability to burn fat raises the likelihood of excellent weight reduction support.
MAP testing can also tell you if you're getting enough of the proper nutrients. It allows your nutrition specialist to determine whether you need to address any other underlying issues hindering your weight loss goals, such as thyroid, hormonal, or insulin concerns.
Patient Experience
"Friendly doctors and staff! Office was clean and comfortable. Doctor was caring and knowledgeable, taking time to really listen to me and answer all my questions." - Katie Thigpen
Downtown Brooklyn
200 Livingston Str,
Brooklyn, NY 11201
Flatbush
770 Flatbush Ave
Brooklyn, NY 11226
Manhattan
827 11th Ave
Manhattan, NY 10019
Gravesend
260 Ave X
Brooklyn, NY 11223
Myrtle
180 Myrtle Ave
Brooklyn, NY 11201
Combining All the Measures into One Plan
Personalized diet coaching that factors in lifestyle, MAP indications, eating schedule, and food preferences increase your chances of making noticeable and lasting changes to your weight and health goals. You can get healthier and lose weight by combining these with the best proportion of the three categories of a healthy diet. The three categories include:
Macro-nutrients that encompass carbohydrates, fats, and proteins;
Micro-nutrients, including minerals, vitamins, and supplements;
Fiber for beneficial gut health.
Your doctor helps you tailor a plan that allows you to cook simple, healthy meals for yourself and your family while being aware of schedule constraints and budgetary concerns. Integrative medicine includes not only annual physicals, vaccinations, and normal laboratory testing for preventive measures but also health, nutrition, and diet. This health care path is being recognized as the most advantageous model for continued long-term health and disease management.
By accessing all these available tools, dietitians and holistic nutritionists work closely to provide you with the best education and options to make your health goals a day-to-day reality.