Do not let an unhealthy diet and use of harmful agents affect your mental and physical health. Schedule an appointment with the best family physicians in the region to know how Red Dye 40 can affect your brain health and result in behavioral problems or medical issues in the long run. The top family medicine doctor at the Century Medical and Dental Center addresses your concerns regarding this additive and guides you on artificial food coloring and its adverse reactions. They also help you identify their presence in food and avoid its potential dangers on mind and body.
What Is Red Dye # 40?
It is an artificial food coloring present in many eatables in grocery stores, particularly highly processed items. Even though it has been declared safe for human consumption and believed to pose little risk, Red Dye 40 has been linked with allergies, migraines, and behavioral issues, particularly in children with ADHD. It goes by several names and is commonly present in dairy products, sweets, snacks, baked goods, and beverages.
Take a good look at this list:
Pillsbury Pie Crust;
JIF Peanut Butter Bars;
Fruit Loops Fruit Snacks;
Lucky Charms;
Dannon Light 'n Fit White Chocolate nonfat yogurt;
Lipton Brisk Iced Tea;
Kraft Spicy Honey barbecue sauce;
Hershey's Lite Syrup (chocolate);
Kellogg's Nutri-Grain cereal bar (mixed berry).
Not only are these food items unhealthy, but they also have one common ingredient – the Red Dye 40. Studies reveal that breakfast cereals, juice drinks, soft drinks, baked goods, and frozen dairy desserts are big contributors of synthetic food dyes in the diet.
It may be a horrifying discovery, but it is the truth. The food industry dumps about 15 million pounds of artificial dyes into our food every year. Almost 40% of this artificial color is Red Dye 40, a petroleum-based substance present in most unnaturally red foods. The consumption of these dyes continues to increase as the production of foods that use them is also on the rise.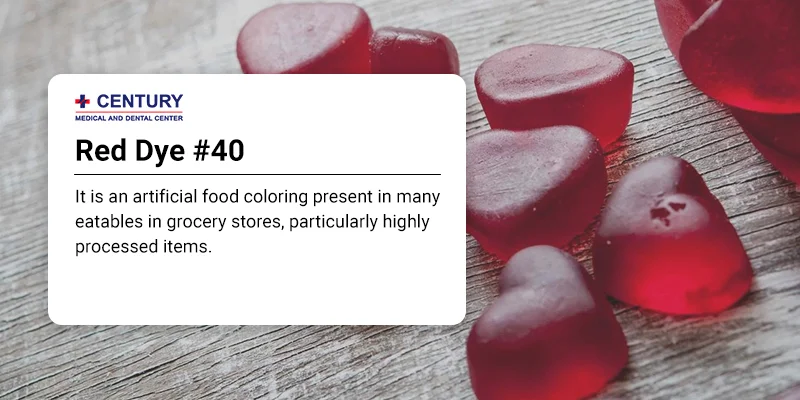 Red Dye 40 – Why It Is Used?
It is one of the nine certified color additives approved by the Food and Drug Administration (FDA) for use in foods and beverages. Red Dye 40 is the most widely used food color. It is also the most controversial due to its chemical composition and effects. It has been linked to allergies, migraine, and mental disorders in children, which makes it a sensitive issue.
Artificial food dyes are a cheap way for manufactures to make processed foods brighter and appealing, to attract more customers. Artificial colors provide a bright and uniform color to foods, as compared to natural options. The bright and glossy colors encourage the customers to make a purchase. Attracted by their colors, the customers get tempted to buy them.
Another reason artificial dyes are added to foods is that many processed foods do not contain the nutrients or the ingredients they claim to have. Even though Red Dye 40 is approved by the FDA for use in food products, it must be listed as an ingredient on labels. Despite this, it has been banned in several countries, at one time or another, for its health hazards.
Grocery Store Items That Contain Red Dye 40
Despite what you think, grocery store items are not free of this harmful agent even though they are not red. You will find this dye in brown, blue, green, orange, and even white food products, too. You may be shocked to know that combinations of artificial colors, including the Red Dye 40, are used to give pickles a more pronounced yellow-green color.
Red Dye 40 is present in a wide range of foods and beverages that include:
Candy;
Condiments;
Snack foods;
Baked goods;
Beverages;
Salad dressings;
Dairy products;
Frozen desserts;
Breakfast cereals;
Fruit bars;
Sauces.
You will be surprised to know that artificial coloring is not only restricted to food items. Many personal care products, such as toothpaste and mouthwash, contain synthetic dye. Even some prescription medications are laden with this stuff which makes it so dangerous.
Red Dye 40 and ADD/ADHD – What Is the Connection
Research indicates that children who suffer from ADD/ADHD may be adversely affected by artificial coloring, flavors, and the preservative sodium benzoate. These agents have been known to induce hyperactivity in children affected by ADD/ADHD.
Studies show that when children, who were initially diagnosed with ADD/ADHD, were given a diet free of Red Dye 40, it showed considerable improvement in their condition. These children were able to stop taking their prescription medication after the color was banned from their food.
Parents blame hyperactivity on their children after a sweet snack. But research tells us that it is not the sugar rush but the artificial food coloring responsible for the increased activity.
High intake of Red Dye 40 can also result in:
Upset stomach;
Jitteriness;
Nervousness;
Inability to concentrate.
Health experts believe that synthetic food dyes pose several risks to adults as well as children's health, including everything from allergies to cancer.
Red Dye 40 and Its Effect on the Brain
The brain is the most powerful organ in the body and the strongest hybrid electrochemical engine. It uses electricity and neurotransmitters to help you think, feel, and act. Artificial dyes can trigger mind storms. These are issues with the brain's writing or electrical activity.
Abnormal electrical activity can lead to changes in the patterns of the brain that causes mind storms and result in:
Unpredicted temper outbursts;
Depression;
Suicidal thoughts;
Panic attacks;
Distraction;
Confusion.
People with behavioral problems or other medical issues may be extra sensitive to artificial dyes like Red Dye 40 in their diet.
Brain imaging has revealed that Red Dye 40 can dramatically affect brain function. Brain SPECT imaging showed remarkable overall increased activity after exposure to artificial food dye. SPECT is a functional brain imaging tool that measures blood flow and activity in the brain. Taking away Red Dye 40 improved behavior dramatically.
Learn to Read the Labels
A relatively new field called nutritional psychiatry helps understand the significance of food for mental health, emotional wellbeing, cognitive function, and behavioral stability. You are what you eat, and you must make the best decisions about your health and life, eliminating potentially dangerous substances.
To get rid of this artificial coloring from your family's diet, you must learn to read the labels well. Red Dye 40 goes by many names, which often makes it difficult to catch it on the labels.
Even though the food manufacturers must list the dye on the nutrition labels, they are not obligated to specify how much it has been included. The best way to avoid these dyes is to stay clear from foods that contain them.
These ingredients on the labels identify the presence of Red Dye 40:
Allura Red;
Allura Red AC;
C.I. 16035;
C.I. Food Red 17;
FD&C Red No. 40;
Red 40;
Red No. 40.
Eliminating this dye from the diet can help determine if these artificial agents are the reason behind health problems and the concerning symptoms. Cutting down sugars, gluten, dairy, corn, and soy, as well as artificial colors, additives, and preservatives from your diet can help to notice if you feel any better. Adding these elements back, one at a time, and monitoring your reactions will indicate if you should permanently avoid that particular item.
Visit a primary care doctor at the Century Medical and Dental Center to learn more about brain health and how you can live a better quality of life by eating right. The experienced and board-certified doctor in NYC protects you and your family from illnesses and ailments by figuring out what you are going through. They offer the best advice for improving your lifestyle by making the right choices and eliminating potentially harmful elements from your life to ensure long-term health and wellbeing.
SHARE THIS POST
Page Updated on Dec 18, 2022 by Dr. Dvorkina (Primary Care Doctor) of Century Medical & Dental Center