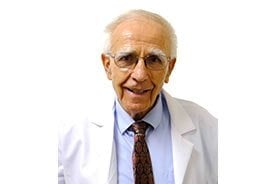 Ciril Godec, MD, PHD
About Brooklyn Urologist Dr. Ciril Godec
One of the most experienced internal medicine specialists at the Century Medical and Dental Center, Ciril Godec, MD, PhD, has more than 50 years of experience. As a board-certified urologist, he is unsurpassed in knowledge and experience.
He addresses a wide range of urinary disorders, and it's safe to say that there isn't much he hasn't seen before. Among the health issues he treats are:
Kidney stones
Bladder stones
Bladder infections
Blood in your urine
Overactive bladder
Urine leakage
Incontinence
Prostate cancer
Male-specific problems are common in Brooklyn and include erectile dysfunction, enlarged prostate, infertility, and testicular bladder syndrome. No matter what issue you're experiencing, Dr. Godec can help you.
Urology Treatment Procedures
An experienced urology doctor, Dr. Godec has an array of urological procedures at his disposal. Common urological procedures include diagnostic tests such as:
X-rays
CT scans
Uroflow tests
Cystoscopy
Urodynamic testing
Prostate exams
Ureteroscopy
Other procedures are for treatments, once a diagnosis is confirmed. These treatments include:
Varicocelectomy
Hydrocelectomy
Brachytherapy
Microwave prostate surgery
Greenlight laser prostatectomy
Laparoscopic kidney surgery
Laser and shockwave lithotripsy for kidney stones
Education and a Lifetime of Experience
Dr. Godec earned his Medical Degree (MD) from the University of Ljubljana. He finished his Ph.D. at Baylor University. He completed his internship and residency in the Department of Urology at the University of Ljubljana Medical Center. Now a US citizen, he's worked at many hospitals and schools, including service as the Chairman of the Department of Urology at Long Island College Hospital.
Dr. Godec is a member of a number of professional organizations, and he's received many honors and awards for his outstanding service. Experience his compassion and skill. If you need a urologist, schedule your appointment with the best Brooklyn urologist today.
---
Century Medical and Dental Center, an Article 28 Multi-Specialty Clinic, has been opened since 2000. For your convenience, you may visit any of our three Brooklyn locations. The doctors and staff speak multiple languages. All offices have convenient hours of operations:
Monday to Friday: 8:00 am to 9:00 pm
Saturday and Sunday: 8:00 am to 6:00 pm