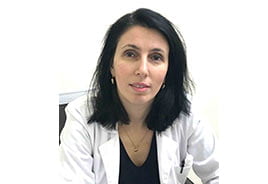 Dina Krupnik, NP
Board Certified in Internal Medicine
Krupnik, NP works side by side with other
internist doctors
at Century Medical and Dental. Krupnik, NP accepting patients in Gravesend and Downtown Brooklyn locations and may make a referral to other specialties.
EDUCATION
06/2010 – 05/2015
BSN, MS in Adult Health Stony Brook School of Nursing, NY
09/2010 – 01/2012
B.A. in Biology (3.8 GPA) CUNY, Hunter College NY, NY
Academy of Pediatric Medicine (3.7 GPA) St. Petersburg, Russia
Studied medicine for 5 years, but did not graduate, as full course is 6 years.
Did not finish due to my immigration to the US.
Classes in: Internal Medicine, Surgery, Pediatrics, Pharmacology, Pathology, Ophthalmology, forensic medicine, etc.
09/1990 – 07/1994
R.N. (4.0 GPA) Medical College in St. Petersburg, Russia
CERTIFICATION/LICENSURE
BCLS 12-Lead EKG Interpretation
ACLS Infection Control
CCRN Child Abuse
Basic ECG Certification Moderate Conscious Sedation
Beth Israel Health Care System acknowledgement as a Nursing Preceptor
AWARDS/HONORS
Dean List, Spring of 2001 and Fall of 2001 Semesters
Member of "Golden Key" Society since 09/2001
The Teddy Salmon Award for Excellence in Biological Sciences 04/2002
Magna Cum Laude – Bachelor of Science, Stony Brook University 05/2012
CLINICAL ROTATIONS
Primary Care Rotations
Century Medical & Dental Center, Inc.
Proficient in initial assessment, differential diagnosis and follow ups.
– 240 Hours – 20 patients/day
Avenue X Medical Management
Diverse adult population
– 140 Hours – 15-18 patients/day
Shore View Nursing Home
Focus on Gerontology and Rehabilitation
-180 Hours – 20-25 patients/day
Specialty Rotation – Gynecology
Century Medical & Dental Center, Inc.
Proficient in annual examinations, including clinical breast exams, pap smears, contraceptives evaluation, assisting my preceptor during colposcopies, cyst drainage.
– 120 Hours – 20-25 patients/day
EXPERIENCE
Century Medical & Dental Center, Inc. N.P.
Multi-Specialty Diagnostic and Treatment Center, Brooklyn, NY
06/2015 – Present
NY Methodist Hospital – R.N.
Brooklyn, NY
05/2005 – Present
Beth Israel Medical Center, Kings Highway. Division – R.N.
Brooklyn, NY
02/2003 – 04/2005
IBS (International Bio-immune System) – Research Assistant
Great Neck, NY
Biomedical research on development of the vaccine against lung/cervical cancer
01/2002 – 01/2003
American Museum of Natural History – Internship Lab Technician
The Frozen Tissues Lab, New York, NY
09/2001 – 12/2001
NY Community Hospital of Brooklyn – Volunteer in the ER
Brooklyn, NY
01/2001 – 08/2001
"Karbra" Company – Office Clerk
New York, NY
02/2000 – 02/2001
The Jewish Immigration Agency – Medical Consultant/R.N.
St. Petersburg, Russia
03/1997-10/1999
Pediatric Hospital Named by Saint Maria Magdalene – Staff Nurse
Department of Surgery – Urology
St Petersburg, Russia
07/1996 – 06-1997
ACTIVITIES
Member of Quality Assurance Committee:
Implement and Reinforce new policies within cardiac catheterization lab department
OTHER
Fluent in conversational and medical Russian.