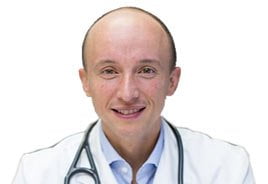 Igor Grosman, MD
About Brooklyn Gastroenterologist Dr. Igor Grosman
A board-certified gastroenterology specialist, Igor Grosman, MD, treats those having any digestive or gastrointestinal issues. Gastroenterology is the medical specialty that cares for everything connected to your digestive system. Conditions related to gastroenterology include:
Constipation
Celiac disease
Stomach ulcers
Irritable bowel syndrome (IBS)
Hemorrhoids
Hepatitis
Abdominal pain
H. pylori infections
Colon polyps
Colon cancer
Inflammatory bowel disease (IBD)
Along with his gastroenterologist colleagues at the Century Medical and Dental Center in Brooklyn, Dr. Grosman has access to state-of-the-art diagnostic equipment and techniques. As a result, he makes an accurate diagnosis of the source of your symptoms.
Curing You with the Latest Procedures
Dr. Grosman performs a variety of gastroenterology-related procedures to diagnose and treat your condition. While a colonoscopy — which screens your large intestine for signs of bleeding, polyps and cancer — is the most common, other available procedures include:
Gastroscopy
Sigmoidoscopy
Double-balloon enteroscopy
Liver biopsy
Endoscopic ultrasound
Endoscopic retrograde cholangiopancreatography
A gastroscopy, like a colonoscopy, is normally a diagnostic procedure. An endoscopic retrograde cholangiopancreatography uses both endoscopy and fluoroscopy to diagnose pancreatic disorders, such as gallstones and cancer of the main pancreatic duct and bile duct.
Education and Training in Gastroenterology
After finishing his Bachelor of Science degree in Biology at Long Island University in New York, Dr. Grosman earned his Doctor of Osteopath (DO) degree from the New College of Osteopathic Medicine. He completed his residency in internal medicine at the North Shore University Hospital NYU School of Medicine. After becoming a primary care doctor, he also completed fellowships in gastroenterology and hepatology in the North Shore-LIJ Health System.
He was Resident of the Year in 2006 and Fellow of the Year in 2007. He lives in Brooklyn, where he's been practicing since 2007. He is fluent in English and Russian, and he knows basic Spanish. Let Dr. Grosman treat your distress.
---
Century Medical and Dental Center, an Article 28 Multi-Specialty Clinic, has been opened since 2000. For your convenience, you may visit any of our three Brooklyn locations. The top medical doctors and staff speak multiple languages. All offices have convenient hours of operations:
Monday to Friday: 8:00 am to 9:00 pm
Saturday and Sunday: 8:00 am to 6:00 pm