The mission of Brooklyn Physical Therapy is to provide each patient with an effective and research-based treatment that will address their functional limitations in a very compassionate and endearing manner. We are committed to delivering the highest quality care in a supportive, comfortable environment. With over 15 years of expertise in Physical Therapy and Comprehensive Rehabilitation, our expert physicians have been providing outstanding care to people of all ages, addressing a vast scope of rehabilitation requirements following injury, surgery or for chronic conditions.
Our advanced diagnostic techniques enable our therapists to identify the impairment sources, and develop personalized plans for each patient using evidence-based treatment techniques that restore function and prevent disability. We provide goal-oriented programs that utilize a multidisciplinary approach to treatment, giving patients an active role in their own care.
Physical Therapy Procedures & Services
Our highly skilled team of physical therapists in Brooklyn remains current in the ongoing advances in order to deliver the most appropriate, effective and compassionate care to each of our patients. Our Brooklyn physical therapists offer a full range of physical therapy services and procedures including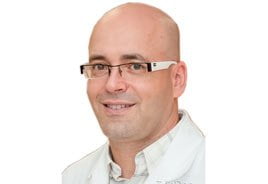 Pavel Khromchenko, DPT
Musculoskeletal & Orthopedic Rehabilitation:Lower back pain, upper back pain, neck pain, fractures, dislocations, muscle strains and tears, tendon and meniscus injuries, tendonitis, osteoarthritis and bursitis
Vestibular & Balance Rehabilitation:Vertigo, Vestibular & Balance Disorders, Gait Abnormalities, Reduced Vision
Sport, Trauma & Post Surgical Rehabilitation:PT services in sport events, Pre-surgical and post-surgical rehabilitation (Joint replacement, ACL repairs, Rotator Cuff repairs, etc.), MVA & Work related injuries
Neurological Rehabilitation:CVA, Parkinson disease, MS, Hemiplegia, Paresthesia
Cardio-Vascular Rehabilitation:CHF, angina pectoris, recent heart attack, coronary artery bypass graft surgery, balloon angioplasty, pacemaker implanted, stable chronic heart failure, peripheral arterial disease.
Pediatric Rehabilitation:Developmental Disorders, Cerebral Palsy, Scoliosis, Torticollis
Fitness and Wellness consultation:Weight Reduction & Control Program, Post Treatment Individually Designed Exercise Programs
Functional Capacity & Ergonomic Evaluation:Functional Capacity tests, Consultation for ergonomic design
ACADEMIC PREPARATION
DOCTOR OF PHYSICAL THERAPY (DPT), State University of New York at Stony Brook, Stony Brook, NY, 2006
BACHELOR OF PHYSICAL THERAPY (B.PT.), Sacler Faculty of Medicine, School of Health Professions, Department of Physical Therapy, Tel-Aviv University, Israel, 1996
ACADEMIC CERTIFICATE, Moscow Medical Stomatological Institute Moscow, Russia, 1989
CONTINUING EDUCATION
Therapeutic ball techniques for children with CP, Lichtenstaedter Hospital, Israel, 1995
Upper Quadrant Examination &Rehabilitation an Integrated Approach, Asaf-Harofeh Medical Center, Israel, 1996
Pediatric/Early Intervention Treatment, Maccabi Medical Center, Israel, 1996
Functional Orthopedic Rehabilitation, Asaf-Harofeh Medical Center, Israel, 1996
Spinal and Peripheral Mobilization course based on concept B.Mulligan, Maccabi Medical Center, Israel, 1996
Lower Quadrant Examination &Rehabilitation an Integrated Approach, Asaf-Harofeh Medical Center, Israel, 1997
Special equipment for children 0-5 years old, Maccabi Medical Center, Israel, 1997
Taping, Bandaging & Bracing (Treatment, Evaluation & Prevention), Maccabi Medical Center, Israel, 1997
New Concepts in Electrotherapy, Tel-Aviv Medical Center & Research Fund, Israel, 1997
Torticollis: Diagnosis, Assessment and Treatment of infant, Maccabi Medical Center, Israel, 1998
McKenzie Certification Program for Lumbar, Cervical & Thoracic Spine, McKenzie Institute, USA, 2000-2002
Female Pelvic Floor Dysfunction. Urinary Incontinence. Philadelphia, PA, USA, 2004
Vestibular Rehabilitation, ScottPT.com, USA, 2008
Assessment, Interpretation, & Management of Balance Disorders. Micromedical, Chicago, USA 2008
Neuroimaging and Rehabilitation Series. APTA, USA 2009
Geriatric Neurology: Falls, Prevention and Balance. Education Resources, Inc., Staten Island, NY 2010
Yoga Therapy in the Classroom. Education Resources, Inc., Staten Island, NY 2011
Vestibular Rehabilitation: Evaluation & Management of Individuals with Dizziness & Balance Disorders. Education Resources, Inc., Staten Island, NY 2012
Manual Therapy for Geriatric Patients. Great Seminars & Books, Inc, Freehold, NJ 2014
Functional Taping Techniques. Physio & More, Tel Aviv, Israel 2015
Total Motion Release Adult – Level 1. TMR Seminars, Raleigh, NC 2015
Preventing Medical Errors for Physical Therapy, ContinuingEducation.com, 2015
HIV/AIDS in the New Millennium, ContinuingEducation.com, 2015
Ethics for Physical Therapist, Reliaslearning.com, 2015
LANGUAGES
Fluent in English, Russian and Hebrew.
LICENSES
Physical Therapy licenses of New York State (#019225)
Physical Therapy licenses of New Jersey State (#40QA00840600)
Physical Therapy licenses of Florida State (#PT30475)
PROFESSIONAL MEMBERSHIPS
American Physical Therapy Association (APTA)
New York Physical Therapy Association (NYPTA)
Israel Physical Therapists Organization
The Vestibular Disorders Association (VEDA)
PARTICIPATING PROVIDER
Medicare
Medicaid
GHI
Empire Blue Cross/ Blue Shield
1199 BNF
Touchstone
CenterLight
Early Intervention
Affinity
Neighborhood
VNS
ElderServe
VillageCare
Horizon
Amerigroup / Health Plus
MagnaCare
United/Oxford/Americhoice
HIP
Health Net
Elderplan
Vytra
Fedelis
Emblem/ Palladian/ HealthCarePartners
Metroplus
HealthFirst
DOE (Department of Education)
Cigna
Care Connect
We're extremely proud of our Brooklyn Physical Therapy doctors. They're professionals on the cutting edge of their field.