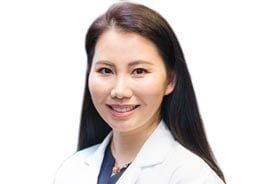 Nancy Chen, MD
Board Certified in Gastroenterology
Caring for the people of Brooklyn and Staten Island, NY, Dr. Nancy Chen is a renowned internist and gastroenterologist. Dr. Chen received her medical degree from the Rosalind Franklin University of Medicine and Science. She completed her residency in internal medicine and a fellowship in gastroenterology at Rutgers, the State University of New Jersey.
Dr. Chen is skilled in her medical domain and welcomes patients for the treatment of a range of common and specialized conditions, including colonic polyps, diarrhea, ulcerative colitis, hemorrhoids, and gallstones. She is certified in gastroenterology by the American Board of Internal Medicine and is a member of the American Gastroenterological Association, the American College of Gastroenterology, and the American College of Physicians. She is fluent in English, Chinese (Mandarin), and Chinese (Shanghainese).
Dr. Chen encourages open communication with her patients which allows her to guide them through their treatment as an active participant in their own wellbeing. She is enthusiastic and detail-oriented in conducting patient needs assessments, as well as in providing accurate results and recommendations for the development of appropriate patient treatment.
Board Certifications
American Board of Internal Medicine
Gastroenterology (Internal Medicine)
Professional Memberships
American Gastroenterological Association
American College of Gastroenterology
American College of Physicians
American Medical Association
Gastroenterology Procedures & Services
Our highly skilled team of gastroenterologists in Brooklyn remains current in the ongoing advances in order to deliver the most appropriate, effective and compassionate care to each of our patients. Our Brooklyn gastroenterologists offer a full range of gastroenterology services and procedures including
Esophagus, Stomach and Duodenum Endoscopy and Biopsy
Colonoscopy
Small Bowel Endoscopy
ERCP( Endoscopic retrograde cholagiopancreatography)
TRANSFUSION OF PACKED CELLS