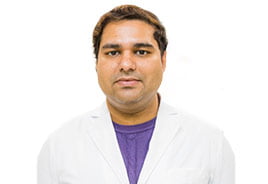 Rohit Farzala, PT
About Brooklyn Physical Therapist Dr. Rohit Farzala
Rohit Farzala pursued physical therapy from Guru Gobind Singh Indraprastha University, New Deli, India in 2008. He also holds fellowship in spine rehabilitation and hand rehabilitation from Indian Spinal Injury Center, New Delhi. He has worked in wide array of physical therapy setups and across various specialties both in India and the United States. He has experience in pediatrics, skilled nursing geriatrics, home health care geriatrics, orthopedic outpatient, and vestibular rehabilitation. His special interest is use of Manual therapy skills in treating wide range of musculoskeletal condition. His special interest is use of Mullingan's and Maitland's mobilization techniques, Muscle energy techniques, and functional patterns.
Work Experience
Physical Therapist
ACE Healthcare Resources,LLC – New York, NY
August 2019 to Present
Evaluation of patients from diverse demographic background suffering from common musculoskeletal condition.
Interpreting referrals, and examining patients accordingly followed by making a rehab diagnosis and constructing a Plan of Care.
Employment of various manual therapy techniques such as Mulligan's, Maitland, MET, MFR etc. and therapeutic exercises for best patient outcomes.
Patient education and Home Exercise Program training.
Aids and PTAs supervision. Electronic documentation of every patient encounter including evaluation, progress report, daily notes, discharge report, reassessment.
Physical Therapist
PhyWorld – New Delhi, Delhi
March 2019 to July 2019
Outpatient physical therapy setup with intense focus on manual therapy, osteopathy including craniosacral therapy, and acupuncture including dry needling.
Evaluation and treatment of general and surgical neuromuscular conditions.
Electronic documentation of every patient encounter.
Patient HEP training and education.
Physical Therapist
Western Connecticut Home Care – Danbury, CT
June 2017 to December 2018
Admission and case management of adult and geriatric patients referred by the network hospitals and Physicians. Establishing Plan of Care, modifying treatment plan as required, supervision of PTAs, structuring Home Exercise Program and training patient/family. OASIS documentation including Start of Care, reassessment, daily clinical notes, discipline/agency discharge. Maintaining strong and religious communication with Physicians, RN, OT, MSW, PTA and other care team members regarding patient status. Participating in case conferences and providing feedback on patient's status, especially on patients with complex medical and challenging socioeconomic background.
Physical Therapist
Health Pro Rehabilitation – Cromwell, CT
March 2017 to June 2017
Evaluation and assessment of long-term residents and patients admitted to the SNF for   short term rehabilitation for optimization of functional mobility, supervision of PTAs, necessary computerized documentation pertaining initial evaluation, progress notes, reassessment and discharges.
Physical Therapist
Windsor Rehabilitation and Healthcare Centre – Windsor, CT
January 2016 to January 2017
As a travel PT employed by iTrace Research foundation, contracted by encore rehabilitation for the SNF for providing Physical Therapy services to long term residents and patients with sub-acute care needs of adult and geriatric population with orthopedic, neurologic, vestibular conditions.
Physical Therapist
Delhi Council for Child Welfare – New Delhi, Delhi
October 2013 to October 2015
Physical Therapy services provided to pediatric and adolescent population with poor socioeconomic background admitted to the NGO for developmental and neurological disorders including Cerebral Palsy, Hemiplegia, Attention Deficit
Physical Therapist
Manchanda Healthcare – New Delhi, Delhi
January 2013 to June 2013
PT evaluation and treatment of adult and geriatric population in an outpatient setup suffering from common orthopedic conditions by judicious use of Maitland, Mulligans, Muscle  Energy Techniques, Electrotherapy and various therapeutic exercises. Also dealt with Post-surgical Physical Therapy for various orthopedic surgeries.
Volunteer Physical Therapist
Dr. Baba Saheb Ambedkar Hospital – New Delhi, Delhi
May 2012 to July 2012
Served as a volunteer Physical Therapist in 500 bedded acute care hospital both in outpatient and various inpatient departments including ICU. Supervision of PT Interns and helping the head of the department in department administration.
Education
Transitional Doctor of Physical Therapy in Present
Utica College – Utica, NY
September 2016 to Present
Certification in Orthopedic Manual Therapy
Capri Institute of Manual Therapy – New Delhi, Delhi
July 2019 to July 2019
Indian Spinal Injuries Hospital
Fellowship: Hand Rehabilitation – New Delhi, Delhi
December 2012 to January 2013
Fellowship: Spine Rehabilitation
Indian Spinal Injuries Centre – New Delhi, Delhi
October 2012 to November 2012
Bachelor's in Bachelor of Physiotherapy
Guru Gobind Singh Indraprastha University – Delhi, Delhi
August 2004 to August 2007
Skills
documentation (3 years)
geriatric (3 years)
outpatient (Less than 1 year)
pediatric (2 years)
therapeutic exercises (6 years)
Physical Therapy
Rehab
Home Health
Microsoft Office
Home Care
Certifications and Licenses
PT New York
February 2015 to Present
PT Connecticut
June 2018 to June 2019
PT New Jersey
September 2019 to Present
Assessments
Medical Terminology — Highly Proficient
January 2019
First Aid Skills — Proficient
January 2019