Visiting a dermatologist becomes necessary if you notice significant changes in your skin. Moles, abnormal patches, and stubborn acne or breakout can be dangerous and cannot be treated at home or with over-the-counter medications, and you need immediate medical assistance. Even if you do not have insurance, you can find a dermatologist within your budget or a care provider who accepts sliding scale payments, installments, and even medical credit programs and get treated for your ailment. Untreated or poorly treated skin problems can lead to complications like skin damage and cancers that require invasive treatment. Call the Century Medical and Dental Center now to learn what type of insurance plans are accepted. Schedule an appointment with an experienced and board-certified dermatologist to have your skin thoroughly examined for accurate diagnosis and analysis.
The skin is the body's first line of defense and deserves good care. Dermatologists are highly trained and skilled skin doctors and provide treatments for a full range of skin disorders and help to protect your skin from harsh outside elements. There are several reasons to schedule a visit to a dermatologist. They include stubborn acne or breakout, hair loss, unnatural skin tone or moles, and skin damage.
A visit to dermatologist costs slightly more than visiting a primary care doctor due to their specialization and skill level. You must not put off a visit to a dermatologist just because you are not insured, as it could turn dangerous and lead to long-term or invasive treatments.
Why Visiting a Dermatologist Is Important?
Most people think they only need to visit a skin specialist if they are having trouble with skin or other serious problems. What they do not understand is that the dermatologist provides full-body skin checkups to look for signs of skin cancer and other skin diseases and conditions.
It has been observed that as dermatology visits are often not covered in healthcare plans, people prefer to stay away from dermatologists. Without insurance, the cost of visiting a dermatologist can be overwhelming, especially if you need repeat sessions or prescriptions to maintain healthy skin.
How Much Does a Dermatologist Visit Cost?
On average, initial consultation with a dermatologist may cost somewhere around $150 to $200. However, the cost will likely depend on the location of the provider and what you are seeking treatment for. There are other factors too that affect the cost of an appointment with the skin care doctor. They are for prescribed medications and any additional tests performed during the appointment. The best practice is to call up the dermatologist you plan to visit and ask for prices upfront to avoid unpleasant shocks.
Find out how much it costs to visit a dermatologist with no health insurance. Also, you can look for structured payment plans or other payment options that make these dermatology appointments affordable for you.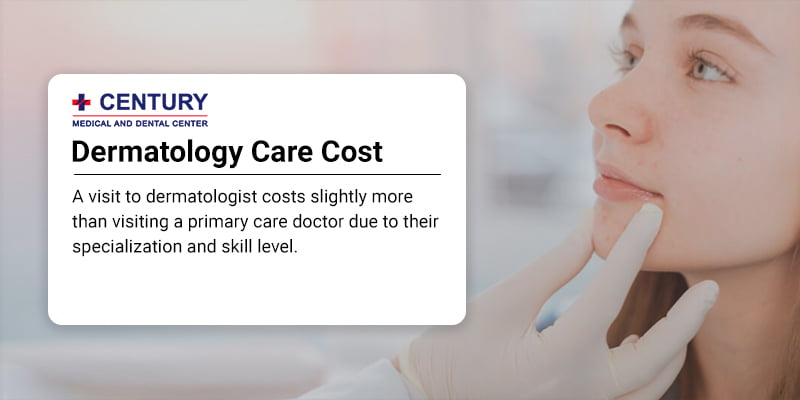 Insurance and Dermatology Care Cost
In the United States, dermatology costs and payment options often correlate directly to whether you have an insurance plan. A study revealed that while 91.5% of the people were subscribed to an insurance plan in 2018, almost 30 million people did not have health coverage. This makes it tough for them to visit a doctor and seek treatment if they fall sick or suffer from some skin disorder.
Some plans do not cover essential healthcare, including dermatology. Patients who need to visit a dermatologist may also need a referral from a primary care doctor or authorization from their insurance company first. If you are insured, the co-pay to visit a skin care specialist usually costs anywhere between $20 to $40, which is a big relief, but you need to undergo a process to schedule an appointment.
Patients without insurance can end up paying an estimated cost of about $150 and in some cases even more. In rural areas, some patients may have to pay higher fees, depending on many factors. It is essential to know that follow-up sessions and various treatment procedures performed at the dermatologist will be based on the skin condition and affect the overall costs.
Factors That Influence the Cost of Dermatology Appointments
Three main factors affect the cost of a dermatology appointment that you should keep in mind if you are not covered by health insurance. They include:
Your geographic location
The specialty of the dermatologist
Your condition or skin ailment
Location
Dermatologists' charges depend on the areas where they practice. They keep the following factors in mind when determining how much they should charge:
The cost of living
Economic conditions
What their competitors are charging
The local patient base
If the area has tough competition among dermatologists, you can expect the doctors to charge less for common services and procedures. However, if you live in a big and expensive city where rents are high and paying wages costs more, then you should expect higher fees.
Specialties
A dermatologist will charge more if he or she has specialized in a rare skin condition or a unique surgical technique or has the most advanced diagnostic and treatment equipment. As they often receive several referrals a month, they do not worry about keeping their competition against dermatologists who are not focusing on a niche specialty within the field of dermatology.
Your Condition
Some skin conditions are more expensive to treat than others, particularly, if they are rare or painful or require special tools. If you are seeing a skin doctor for some specific problem, you will be willing to pay for expert advice and treatment to seek relief. Other conditions such as acne or psoriasis often take several sessions with the doctor, which means you would need to keep some money aside for follow-ups and procedures.
Tips for Choosing a Dermatologist on a Budget
Best medical help is necessary for everyone, even if they are not insured. You can choose a good dermatologist on a limited budget by playing smart, keeping your eyes open and doing your homework.
Here are some tips on choosing the best dermatologist on a budget:
Do some research – Before making an appointment with a dermatologist, check out all the dermatologists in your area or nearby areas and see what they are charging for their services. Some clinics offer discounts or work with their patients on a payment program, so it is necessary to be upfront about your budget and see what you come up with.
Focus on low-cost, or community health providers – Low-cost or community health providers serve patients with no insurance or financial issues. You can look forward to getting expert advice regarding your dermatology issues from them. You can search for low-cost and free clinics online too.
Payment plan settlement – Some dermatologists accept sliding scale payments, installments, and even medical credit programs to help patients who cannot pay hefty amounts at once. You can negotiate a payment plan with the dermatologist ad spread out the payments over some time for your convenience.
Many people are reluctant to visit a skin specialist, even when they have some skin rash or a breakout due to the high fees and long-term treatments. Do not let lack of insurance keep you from seeking medical help as it could result in skin problems and even complications like cancer if they are not diagnosed timely.
Seeing a dermatologist without insurance can be expensive, but you can find a reasonable one or one that accepts payment plan settlement to ease the burden of high cost. The expert skin care specialists at the Century Medical and Dental Center use the most accurate diagnostic tools and tests to determine your skin condition and find out if it is just a routine change or something serious. They take care of a variety of skin conditions and help you look your best through aesthetic and cosmetic treatments and solutions that keep your skin healthy.
SHARE THIS POST
Page Updated on Dec 18, 2022 by Dr. Dvorkina (Primary Care Doctor) of Century Medical & Dental Center