Pain in your back can result from problems affecting the muscles, bones, or nerves that restrict movement. Kidneys are also situated towards the back, underneath the ribcage, and sometimes it becomes hard to tell if the pain you are experiencing is coming from the back or kidney. If your back pain is persistent or you feel the pain is coming from the kidneys, get it checked by a doctor. The experienced and board-certified urologists at the Century Medical and Dental Center evaluate the symptoms you are having and help you figure out the source of the pain. Identifying the type of pain and where it is coming from can play a key role in timely treatment and long-term relief.
Kidneys are essential and play a crucial part in normal body functions. They filter toxins and extra fluids from the body to ensure it does not result in any infections or diseases. Some common causes of kidney pain include UTIs, kidney infections, and kidney stones.
Kidney pain is often mistaken for back pain as the kidneys rest against the back muscles, and it often becomes difficult to differentiate between the two. Unlike back pain, which usually occurs in the lower back, kidney pain is deeper, and higher up the back. The pain may also progress to other areas, such as the abdomen or groin. Knowing about the signs and symptoms can help distinguish between the two and seek the best treatment.
What Is Kidney Pain?
Kidney pain is discomfort that comes from the area where the kidneys are located. It is often described as a dull ache in your sides, back, or belly. The pain in these areas is not always a sign of a kidney issue, and it could be resulting from backache too.
People often mistake kidney pain for back pain. There are some differences in how kidney pain feels and where it is experienced as compared to back pain. Kidney pain can be caused by swelling or blockage in the kidneys or urinary tract. Other symptoms such as fever, vomiting, or painful urination are clues that the pain is related to a kidney problem. Kidney pain has many possible causes, and it could be serious. Consult your healthcare provider if you notice pain and believe it is coming from the kidneys.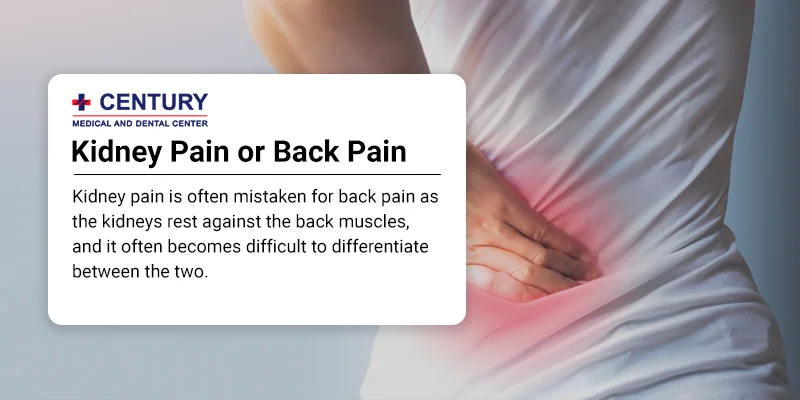 How to Determine If It's Back Pain or Your Kidneys
Back pain can be felt at any place in the back, from the top of the spine by the base of the back to all the way down to the bottom of the spine, near the tailbone. Possible causes of back pain can include damage to the nerves, muscles, disc, or any of the spine vertebrae.
Unlike back pain, kidney pain occurs in specific areas. Kidney pain is usually limited to the region where the kidneys are found, on either side of the spine, at the base of the ribcage. Depending on the cause, you may feel pain on one or both sides of the spine. Kidney pain is usually deeper and higher up the back, but it can also radiate to other areas such as the sides, abdomen, groin, or thigh, depending on the severity of the infection.
Type of Pain
Back pain may vary from gradual pain that remains contained in the area of inflammation, as is the case with muscle or ligament strain, to numbness and tingling that is common with sciatica pain. This type of pain can come and go with movement and treatment.
Kidney pain is usually sharp if it is coming from a kidney stone and a dull ache in case of an infection. In most cases, it is constant. It will not worsen with movement or go away without treatment. Large kidney stones can result in more intense, sharp pain that becomes even more painful as the kidney stones begin to pass.
Time
Back pain can come and go, and it can also get triggered by certain movements such as bending over or sitting for too long. In certain cases, back pain also goes away on its own.
Pain associated with kidneys remains a dull and constant reminder, and it does not change with activity. Kidney pain can last for as long as you do not seek treatment for it. You will not find any relief unless the stones are removed, or you treat the underlying cause.
Symptoms
Other symptoms you may experience with back pain include:
The painful spot looking swollen and feeling tender to the touch
A muscle spasm in the painful area
Numbness or weakness in one or both of your legs
Back pain does not have any accompanying symptoms unless it is coming from some underlying conditions. You may experience ache or stiffness along the spine, sharp and stabbing pain in the back, or difficulty standing up straight or tingling in the back that spreads to the limbs.
Kidney pain is far more likely to have accompanying symptoms that include:
Fever and chills
Nausea and vomiting
Cloudy or dark urine
An urgent need to urinate
Pain when you urinate
A recent infection in your bladder
Blood in your urine
Small kidney stones that look like gravel in your urine
These symptoms can help differentiate between the two conditions and determine what you may be suffering from.
Causes of Pain
Common causes of back pain include:
Stress and strain on back tissue
Lifting excess weight, or using incorrect lifting practices
Poor posture
Prolonged standing or sitting
Muscle spasm
Direct injuries to the back, like fractures or falls
Damaged, dislocated, or ruptured discs
Abnormal curvature
Spine tumors
Common causes of kidney pain include:
Urinary Tract Infections (UTIs)
Kidney stones
Kidney infections
Blood clots in the kidneys
Trauma or injury to the kidneys
If you have a pre-existing condition, you can better understand what is causing the pain.
Effects of Pain
Constant pain in your back can result in many other problems that affect your quality of life. Severe musculoskeletal back pain comes with:
Inability to move
Inability to function normally
Severe Kidney pain can result in:
Bad breath
Metallic taste
Confusion
Irregular heartbeat
Muscle cramps
Shortness of breath
Swelling of the legs, ankles, or feet
When to See a Doctor for Your Pain?
You may be able to treat mild pain at home but if it does not go away and occurs frequently, make an appointment to see a specialist. If you cannot determine the cause of your pain, visit your primary care doctor for evaluation and treatment. Pain of any kind should not be left untreated, as it could be a sign of some underlying medical condition.
Seek immediate medical attention if you have persistent pain in the kidney area or back pain along with the following symptoms:
Fever
Discolored urine
Painful urination
Blood in the urine
A repeated urgent need to urinate
The appearance of kidney stones in the urine
A general feeling of illness or lethargy that will not go away
If you have kidney pain, it could be resulting from a kidney infection or stone and should be carefully checked by a doctor. Musculoskeletal pain also needs medical attention. It could limit your movement and even spread to other parts of the body, causing irreparable damage.
The expert urology doctors at the Century Medical and Dental Center provide the best care and guidance to people suffering from high blood pressure and symptoms of kidney pain. They use the most accurate diagnostic tools to determine if you have a kidney infection or stones in your kidney and work hard to find the underlying causes behind your pain. Schedule an appointment with the top urologist NY to pinpoint the source of your pain and get the best solution for it. Recognizing the difference between kidney and back pain can lead to early diagnosis and better treatment outcomes.
SHARE THIS POST
Page Updated on Dec 18, 2022 by Dr. Dvorkina (Primary Care Doctor) of Century Medical & Dental Center