Rapid Flu and Strep Testing
Too often, you may decide to avoid or delay a doctor's visit because you don't think you have the time. Maybe you believe that you're just being a baby about being sick. But the flu can really take its toll on your schedule and your overall well-being. Your doctor at Century Medical and Dental Center appreciates patients who prefer early intervention, rather than waiting until a condition worsens. When you catch the flu early with rapid flu and strep testing for you and your family, you recover quicker. You avoid more complicated treatments and more doctor's appointments. Call today for your test.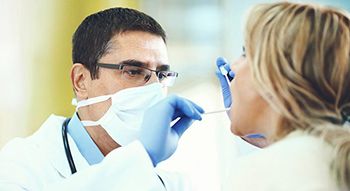 The flu can lead to days or maybe even weeks of aches, coughing, runny nose, nausea and other uncomfortable symptoms. Thankfully, there's rapid flu and strep testing so that you can start treatment as soon as possible. You don't have to wait until you can barely get out of bed.
Because of the flu's annual occurrence, especially in winter or if you have kids, many people recognize the effects of the flu or strep throat coming on. The flu can be self-limiting, which means that a healthy person can feel better in a few days or weeks with proper rest.
But some people are more at risk for complications, hospitalizations and in some cases, death. It's possible, especially if you're older, have certain heart problems or have a weak immune system. Rapid flu and strep testing has been shown to reduce hospitalizations and complications because of the quick diagnosis and immediate treatment following the test.
Proven Results from Your Family Doctor
The Rapid Influenza Diagnostic Test is a quick biochemical test that's done by your doctor at Century Medical and Dental Center. It quickly analyzes secretions from your nose or throat for antigens of two viruses that cause the flu: Influenza A and Influenza B. The Rapid Antigen Detection Test analyzes the same substances for the bacteria that cause strep throat: Streptococcus Group A.
Rapid flu and strep testing comes in three forms: dipsticks, cassettes and cards. Your Brooklyn doctor places the sample directly into the dipstick or puts the sample onto a nitrocellulose strip and then into the cassette or card. The procedures take 10 to 20 minutes to complete. Commercially available tests and materials are regulated to meet certain criteria.
Timeliness Is Vital to Treatment
You don't have the time to be sick. At Century Medical and Dental Center, rapid flu and strep testing isn't just easy to get, it provides results quickly. That means you can start specific, targeted treatment immediately.
A quick visit to your doctor for the tests provides all the needed information to ensure that a diagnosis is reached and your treatment is effective. Because rapid flu and strep testing has to have a certain level of accuracy and because your doctor is able to examine you, you walk out of the office with a treatment plan to beat the viral or bacterial infection.
The Rapid Flu and Strep Tests
There is virtually nothing you need to do to prepare for your rapid flu and strep testing. Everything you need is right in your nose and throat. While rapid flu and strep testing is most effective within a few days of infection, come in to see your doctor as soon as you start feeling any symptoms.
After taking your medical history and doing a thorough physical exam, your doctor may suggest rapid flu and strep testing. The goal is to rule in, or rule out, the flu or strep throat. For the procedure, you only need to be still while your doctor uses two long sterile swabs to take samples from your nose or the back of your throat. You may gag a bit or feel a little discomfort, but it's much less uncomfortable than being sick with the flu or strep throat.
The collected samples are labeled and tested to see whether they contain the antigens for the influenza virus or the streptococcus bacteria in two different tests. With minimal risks and maximum benefits, you should have a diagnosis and treatment plan you can start immediately if the tests come back positive.
Patient Experience
"Friendly doctors and staff! Office was clean and comfortable. Doctor was caring and knowledgeable, taking time to really listen to me and answer all my questions." - Katie Thigpen
Downtown Brooklyn
200 Livingston Str,
Brooklyn, NY 11201
Flatbush
770 Flatbush Ave
Brooklyn, NY 11226
Manhattan
827 11th Ave
Manhattan, NY 10019
Gravesend
260 Ave X
Brooklyn, NY 11223
Myrtle
180 Myrtle Ave
Brooklyn, NY 11201
Get Back to Your Life
Once your doctor has a diagnosis, the next step is developing a treatment plan specific to what you have. Antivirals and antibiotics shorten the days and severity of the symptoms. With medicine, fluids and rest, your body heals much more quickly than if you just rode out the illness.
Rarely, you may receive a false positive, meaning the test is positive but you don't have the flu or strep. A false negative means that the test came back negative, but you are indeed infected. In these cases, your doctor relies on his clinical acumen to treat you or suggest further testing based on his findings.
Contact your medical practitioners in Brooklyn at Century Medical and Dental Center at the very first sign of the flu. With proper treatment, not only will the flu run its course in a much shorter period of time, but you improve your chances of not developing further complications, such as pneumonia or rampant infections that really lay you up. Get rapid flu and strep testing and get back to your life.