Fibers are important nutrients of plant origin that unlike other constituents of the food pass through our entire GI tract without being digested.
Fibers are broadly divided into two categories, soluble and insoluble fibers and are well known for the prevention and treatment of constipation, thus keeping an intact digestive system. They are also found to have a well-established role in the prevention and treatment of diabetes, obesity as well as cardiovascular diseases.
Types of Fibers
Soluble Fibers
Soluble fibers swell up by absorbing water when they come in touch with it and are mainly helpful for the prevention of obesity, diabetes and decreasing cholesterol levels.
They form of gel-like substance, thereby decreasing the process of stomach emptying. In addition, it gives you a sensation of fullness in the stomach. As a result, you want to eat less, which over a period of time will result in a significant weight loss.
A delay in the gastric emptying causes interferes with the absorption of cholesterol from the stomach, thus decreasing the level of blood cholesterol, thereby preventing events such as heart attack and stroke occurring secondary to an elevated blood glucose levels.
They also interfere with the absorption of glucose from the stomach, thus preventing the sudden rise in blood glucose levels right after taking the meals in patients suffering from diabetes mellitus. In addition, insulin sensitivity is also increased by some unknown mechanisms.
They are also found to promote the growth of human-friendly bacteria in the intestine, thus boosting the immune system and preventing us against infections.
Sources of Soluble Fibers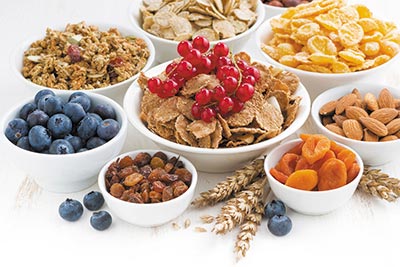 The main sources of soluble fibers are as under
Oatmeal
Lentils
Apples
Oranges
Oat Bran
Nuts
Beans
Dried peas
Blueberries
Cucumbers
Carrots
Insoluble Fibers
These types of fibers are insoluble in water and are best known for their laxative effect, thus helping in the prevention and treatment of constipation. In addition, they are also found to have a cardioprotective as well as immune-strengthening effects.
Sources of Insoluble Fibers
The common sources of insoluble fibers are as under
Whole wheat
Whole grains
Wheat bran
Corn bran, seeds
Nuts
Barley
Broccoli
Cabbage
Onions
Tomatoes
Carrots
Cucumbers
Green beans
Dark leafy vegetables
Fruits
Root vegetable skins
Recommended Amount of Fibers
The minimum recommendation of daily fiber intake in women under 50 years of age is about 25 grams and 21 grams in case of women above 50 years of age. In the case of men, it is about 40 grams if you are less than 50 and 30 grams if you are above 50.
To conclude, fibers are important for the prevention and treatment of conditions such as constipation, diabetes mellitus as well as obesity and to get maximum benefits we must make them an integral part of our regular daily diet.
To learn more about adding fiber into your diet, speak with our dietitian nutritionist at Century Medical and Dental Center (Downtown Brooklyn, Gravesend, Flatbush, Fort Greene and Midtown Manhattan) today.
SHARE THIS POST
Page Updated on Dec 18, 2022 by Dr. Dvorkina (Primary Care Doctor) of Century Medical & Dental Center