Do not let your allergies turn life-threatening and cause serious harm. Symptoms like skin rash, nausea or vomiting, or shortness of breath can lead to anaphylactic shock in case of hypersensitivity to food, medicine, insect bite, or some other elements that lead to an allergic reaction. EpiPen is an injection containing epinephrine, a chemical that narrows blood vessels and opens airways in the lungs to reduce the severity and treat allergy symptoms. Schedule an appointment with an allergy, asthma, and immunology doctor at the Century Medical and Dental Center to know if you need an EpiPen and how to make sure you have it handy in case you suffer an allergic reaction.
EpiPen is an allergy pen highly recommended for severe allergic reactions. It is prescribed by an allergist or doctor to potentially save the lives of people experiencing anaphylaxis, a serious condition identified by skin rash, nausea or vomiting, or shortness of breath.
Using epinephrine or the EpiPen injection device immediately after exposure to all allergy triggers can reverse the symptoms of severe allergic reactions and help to save a life.
What Is an EpiPen?
EpiPen is a pocket-sized, auto-injectable device. It is essential for people who require a measured dose of the lifesaving drug epinephrine to control severe allergy symptoms.
EpiPen is one of the brand names of devices generically known as Epinephrine Auto-Injectors. This medication helps the body block the progression of the allergic response and constricts the blood vessels, leading to increased blood pressure and decreased swelling. It relaxes the muscles around the airway to relax, keeping them open and working normally.
Epinephrine prevents the release of more allergic chemicals that control the intensity of the allergic reaction. It is the only medication that works on the entire body and stimulates all organs and systems to help with anaphylaxis, making it one of the most sought-after treatments for allergic reactions.
When Is an EpiPen Used?
EpiPen is the first-line treatment for severe allergic reactions to:
Insect bites;
Food items especially nuts, dairy, shellfish, and other products;
Drugs and medication.
Epinephrine, the drug in the EpiPen, is another term for adrenaline. In case of an unexpected event such as an allergic reaction, adrenaline is released in your body to initiate a fight or flight response. Epinephrine adds adrenaline to the body to fight the harmful substance.
Doctors recommend waiting between 5 and 15 minutes to determine if the epinephrine has taken effect before giving a second dose. If the symptoms are not improving or they seem to be coming back, you can shorten the time window.
Doctors recommend EpiPen for saving lives of patients who suffer from anaphylaxis symptoms that include:
Skin rash;
Nausea or vomiting;
Trouble breathing;
Dizziness or fainting;
Swollen tongue or throat;
Low blood pressure;
Difficulty breathing and shock.
It slows down the reaction that the allergens are creating in your body. Epinephrine is a lifesaving medication that fights off the substance, which leads to an adverse reaction in your body.
Do not wait to take epinephrine promptly in an allergic reaction when there is more than one mild symptom. The earlier you give epinephrine, the better it can control the symptoms. The longer you wait, the more likely the reaction will progress and require multiple doses. Some patients start with very mild symptoms, but they can get very sick quickly. The key is to handle things before they get serious.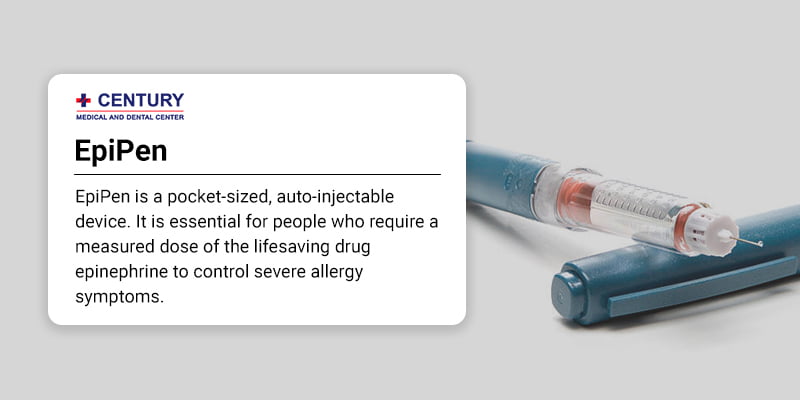 How to Use an EpiPen
EpiPen injects a shot of epinephrine into your bloodstream to prevent anaphylaxis. Doctors recommend inserting the pen into your middle or outer thigh, even through clothing if needed. It is better to avoid injecting the device into any other body area.
The EpiPen Auto-Injector device is a disposable single-use system. It should be used only one time. Read and carefully follow instructions for use or any guidelines that have been provided with the medicine, or consult your doctor to ensure optimal results.
It should be kept in hand, in case, of an emergency. If an EpiPen has been prescribed for your child, it can be left with their school's nurse in the event of an emergency at school, while you should have one at home too. It is a fast-acting medication but not a permanent solution to allergic reactions. You should seek immediate medical care following the use of an EpiPen.
How to Know if You Need Injectable Epinephrine
If you suspect an allergy to any food item or other agent, consult an experienced and board-certified doctor to have your reactions and symptoms evaluated. The doctor will collect your medical history, perform a physical exam and even recommend diagnostic testing to know more about your allergies and the severity of the reaction.
If you are diagnosed with a food allergy, visit your doctor regularly for re-testing and oral food challenges to see if you have outgrown any allergy triggers or if your reactions have intensified. Epinephrine auto-injectors are specifically for patients who are at risk for anaphylaxis. In some cases, a prescription may no longer be necessary.
When Injectable Epinephrine Is Not Required?
Allergies are detected by proper consultation and appropriate testing by an experienced doctor. An active and healthy immune system and effective treatment options can desensitize the patients and protect them from critical reactions in the future. In such cases, injectable epinephrine is not needed.
Children diagnosed with allergies to egg or milk, often outgrow these allergies over time as they grow up. The allergist determines the need for re-testing and recommends a skin test, blood test, and oral food challenge to monitor your reactions. You may not need prescription medications or injectable epinephrine if your allergies can be successfully managed by an allergy and immunology expert.
What You Need to Do After Being Prescribed Epinephrine
If you have been diagnosed with the risk of anaphylaxis and prescribed injectable epinephrine, there is a lot that you need to do to ensure you are ready to take prompt action in case of an allergic reaction.
Knowing when and how to use your injectable epinephrine is very important. Learning the proper technique of using your specific device also plays a crucial role in getting timely relief. Your doctor will help you understand the signs of anaphylaxis and feel comfortable acting in case of an emergency.
Most deaths from anaphylaxis are caused by a delay in the administration of epinephrine. You should administer the medication even when in doubt as using it if not medically needed will not cause any harm but not using it can result in critical consequences.
Alternatives to Epinephrine Auto-Injector – Some Other Options
Sometimes cost, or availability is an obstacle to getting an epinephrine auto-Injector. It often makes it difficult for patients to obtain it at the right time. The good thing is that even with the shortage of products, there are options in injectable epinephrine, including EpiPen, Auvi-Q, and several generic choices.
The most important thing to know if you are switching devices is to learn the differences in the administration technique of each product. Consult your doctor before changing devices or taking an alternative to epinephrine auto-Injector. Make sure to learn about how it should be administered and what is the accurate dosage to ensure efficient results and long-term comfort.
Epinephrine is the best option for effectively treating food allergy, insect sting allergy, or other conditions that can turn life-threatening within a matter of seconds. Learn more about the EpiPen injectable device to know how it can help you in time of need. Discuss your options with an allergy, asthma, and immunology specialist to prepare yourself for an emergency. The experienced and board-certified specialists at the Century Medical and Dental will accurately diagnose your condition and help you understand the correct usage of the EpiPen injector to prevent and treat anaphylactic shock promptly.
SHARE THIS POST
Page Updated on Dec 18, 2022 by Dr. Dvorkina (Primary Care Doctor) of Century Medical & Dental Center