Kidneys are essential organs that play a significant role in your health and wellbeing with their complex network of blood vessels and intricate network of tubes that cleanse waste products and excess water from the blood. Do not let any disease or illness affect the functioning of your kidneys and damage them as it could result in life-threatening conditions such as renal failure or cancer. Schedule an appointment with experienced and board-certified nephrologists at the Century Medical and Dental Center to have your severe or complex kidney condition identified to get timely treatment for a better quality of life. The expert NY doctors specialize in treating diseases related to kidneys and ensure you find the best solution for your specific discomfort.
Kidney disease is a severe condition in which your kidneys slowly begin to fail. As a result, they cannot filter the blood and harmful toxins out of the body that buildup, which increases the risk of various infections and diseases. If your kidney disease continues to progress, you will eventually need to get dialysis or a kidney transplant to stay alive and live normally.
Stage 3 Kidney Failure
Kidney failure or end-stage renal disease is the last stage of chronic kidney disease. This condition occurs when the kidneys stop working, usually due to extended illness or damage. Stage 3 kidney disease means that the kidney's function is down by half. Most patients at stage 3 kidney disease experience ancillary problems like high blood pressure or bone difficulties.
There are five stages of kidney disease and failure. They are evaluated by an eGFR blood test that measures how well the kidneys filter waste from the blood. Stage 3 CKD means your eGFR lies between 30 and 59. An eGFR between 30 and 59 means that there is marked damage to your kidneys, and they are not working as well as they should.
It is necessary to see your doctor regularly to discuss any changes in your lab results or any symptoms you may be experiencing. Your goal at stage 3 is to slow down the progression of the disease and avoid further complications.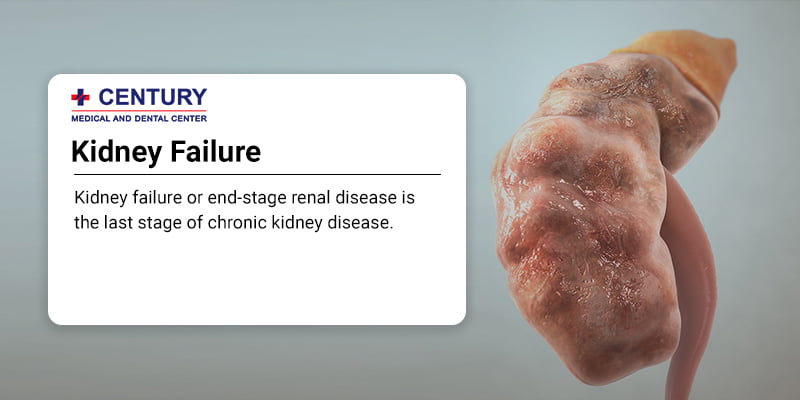 Understanding Stage 3 Kidney Failure
In stage 3 kidney failure, the kidneys are moderately damaged and not performing at their best. In the first part of this stage, the eGFR is between 45 and 59, but drops between 30 and 44 in later stages.
Symptoms of Kidney Failure
Many people at stage 3 kidney disease experience few symptoms, but they are more likely to have health complications as a result of kidney failure. Complexities resulting from kidney failure include high blood pressure, anemia, and bone diseases that further damage the body and lead to painful side effects if they are not addressed timely.
Symptoms experienced by people during stage 3 kidney disease may include:
Fatigue
Fluid retention and swelling
Shortness of breath
Kidney pain
Trouble sleeping
Muscle cramps
Changes to urination habits
It has been revealed that people at this stage of kidney failure may produce less urine but the urge to go to the bathroom and urinate increases. Also, when they urinate, it is a foamy liquid which indicates the presence of protein. In some cases, blood in urine is reported. Such symptoms make it difficult for people suffering from kidney disease to continue normal habits and routines. Medical care, as well as additional support, is required as the disease progresses.
The doctor uses the following tests to diagnose CKD stage 3:
Blood pressure readings
Urine tests
eGFR tests (done every 90 days after your initial diagnosis)
Imaging tests to rule out more advanced CKD
How to Manage Stage 3 Kidney Disease
Learning to manage your condition with substantial lifestyle changes is necessary to prevent kidney disease from worsening and turning life-threatening. Schedule an appointment with an experienced nephrologist to have your kidney function evaluated and to determine a treatment plan for it.
The kidney experts help you understand the changes or adjustments you need to make and how often you should have kidney function tested. Do not forget to tell your doctor about any medications you are taking, as blood pressure and diabetes medications can severely impact kidney performance and worsen your condition.
Treating Ckd Stage 3
Unfortunately, kidney disease cannot be cured, but stage 3 means you still have a chance to avoid further progression of kidney failure. Treatment and lifestyle changes are essential at this stage and help to slow down the symptoms and manage your condition, preventing drastic deterioration. The doctor will recommend using a combination of treatments and therapies to go through this challenging period.
Switching to a Kidney-Friendly Diet
Lifestyle changes include adopting healthy habits and switching to a kidney-friendly diet that keeps your disease from worsening and improves renal function. A kidney-friendly diet can prevent the buildup of certain minerals in your body to ease the strain on the kidneys and stop more toxins from damaging your system.
Most kidney-friendly diets are rich in fruits, veggies, low-fat dairy products, whole grains, fish, poultry, beans, seeds, and nuts. Foods that are higher in sodium, sugar, and fat, as well as red meat, should be avoided.
Here are some noteworthy changes you need to make in your diet to keep your kidneys healthy.
Controlled Intake of Sodium
Sodium affects your blood pressure and helps maintain the water balance in the body. Kidneys play a significant role in keeping sodium levels in check, as the accumulation of too much sodium can become a problem if your kidneys are not functioning normally. It can result in swelling, shortness of breath, and fluid buildup. It becomes necessary to control the intake of salt in your diet, keeping in mind the condition of your kidneys to ensure it does not cause any complications.
Limited Phosphorus and Calcium Intake
People with stage 3 kidney failure must limit their intake of phosphorus and calcium. Excessive phosphorus can increase the risk of heart disease if the levels go too high and the kidneys cannot process calcium due to undue strain as their efficiency is affected. Doctors suggest eating more fruits and vegetables, like corn and rice cereals, and cutting down on meat, fish, poultry, fish, sodas, and dairy.
Reduced Quantity of Potassium
Reducing the quantity of potassium is also advised as too much of this mineral can lead to additional heart problems. Bananas, potatoes, avocados, and melons should be switched with apples, cranberries, strawberries, plums, pineapple, boiled cauliflower, and other low potassium fruits and vegetables.
When to Visit a Nephrologist?
While some kidney diseases can be treated or managed by your primary care doctor, stage 3 kidney failure is severe, and you must consult a nephrologist. Chronic kidney disease has no cure, and the highly trained and specialized doctor will recommend a dialysis or kidney transplant to increase your lifespan and manage your condition.
In some cases, home or hospice care is also a viable option to make it easy for the patients to cope with their illness and make things as comfortable for them as possible. Doctors advise pain management services, mental health therapy, as well as spiritual counseling, depending on the patients' needs and progress.
Living with Stage 3 Kidney Failure
You can live with stage 3 kidney failure by following the doctor's advice regarding diet and lifestyle changes along with taking your prescribed medications. Making the necessary adjustments can help manage your CKD in a much better way.
Your doctor will also guide you regarding the following:
Exercise – at least 30 minutes of moderate activity on most days of the week is good for kidneys, heart, and overall body.
Blood pressure management – high blood pressure can be a precursor for CKD, and it can worsen your condition, so keeping a check on your numbers is very important.
Stress management – techniques to manage stress include exercise or yoga, getting better sleep, and taking the approved medications.
Quit smoking – smoking is very harmful to health, and it can cause further complications in case of kidney failure.
By working with a specialist and staying on top of lifestyle changes, you can manage your condition and keep it from worsening.
Having a stage 3 kidney disease does not mean your condition will automatically progress to kidney failure. Early diagnosis and immediate treatment can stop the disease from further damaging your kidneys and prevent the risk of further complications such as heart disease, bone fractures, and anemia. Contact the experienced and board-certified nephrologists at the Century Medical and Dental Center to seek more information about kidney failure and how to live a better quality life with progressing kidney disease. The top kidney doctors come up with customized care plans and offer guidance and support to help you in the best possible manner.
SHARE THIS POST
Page Updated on Dec 18, 2022 by Dr. Dvorkina (Primary Care Doctor) of Century Medical & Dental Center