Whether you are having your first baby, dealing with menopause, or anything in between like an STD or want to know more about reproductive health, you must work closely with an obstetric or a gynecologist to get the best medical help. The experienced, compassionate, and board-certified doctors at the Century Medical and Dental Center will help you with an unmatched level of guidance and care. You can look forward to getting a broader spectrum of routine health and care throughout your association with experts who provide an array of essential preventive procedures, tests, and diagnostics to maintain your overall health.
OB/GYN and a gynecologist have crucial roles in the overall health and wellbeing of women. An OB/GYN encompasses two specialties, obstetrics and gynecology while gynecologists specialize in gynecology only. The specialists offer comprehensive treatments and preventative care regarding reproductive health concerns and promote long-term family health.
Understanding what is wrong with a female body when something is not right requires specialized education and training. Despite the shared mission, there are key differences between the roles played by gynecologists and OB/GYNs. The key is to understand what each professional can offer and when to seek expert help.
A gynecologist is a doctor who focuses on the routine care of the female reproductive system, including diagnosis and treatment of diseases and disorders. An OB/GYN is a healthcare provider who practices obstetrics and gynecology, including pregnancy and menopause management.
It is significant to understand what they do and when you should consider seeing one. Identifying which specialist you need can help find the best doctor for your reproductive care.
What is an OB-GYN?
An obstetrician-gynecologist is an expert in female reproductive health, pregnancy, and childbirth. Some OB-GYNs offer a wide range of general health services similar to the primary care doctor, while others focus on the medical care of the female reproductive system.
These specialists are trained to handle potential complications or situations that happen before, during pregnancy, and during the birthing process. They include:
Ectopic pregnancy in which the fetus develops outside of the uterus
Fetal distress – signs before and during birth that indicate that the fetus is not be doing well
Placenta issues
High blood pressure that often leads to preeclampsia
Caesarean section
Prenatal care
Family planning
Postpartum depressions
Routine procedures for women's health such as mammograms, vaginal examinations
OB/GYNs are trained to work with patients of all ages, but they mostly work with women of childbearing age as well as those who are pregnant or just had a child. They offer patients preventative care and remedies for their enhanced reproductive health, including Pap smears, breast exams, and managing sexually transmitted infections.
Obstetrics is the branch of medicine related to medical and surgical care before, during, and after a woman gives birth. Obstetrics focuses on caring for and maintaining a woman's overall health during maternity. It includes:
Pregnancy
Labor
Childbirth
The postpartum period
OB/GYNs ensure their patients enjoy good health throughout pregnancy and childbirth. They perform ultrasounds and genetic screening, conduct routine checkups, and help women through vaginal as well as caesarean deliveries to keep an eye on the patients' progress.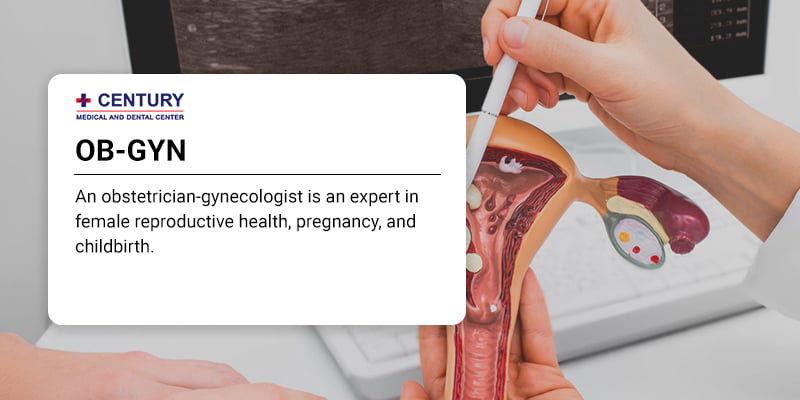 Procedures OB-GYNs Perform
An OB-GYN may be trained in major or minor surgery for both inpatient and outpatient procedures. Procedures include:
Dilation and curettage
Biopsy
Tubal ligation for female sterilization
Laser surgery
Hysterectomy or the removal of the uterus
Myomectomy or the removal of fibroids
An OB-GYN is also trained to manage your health during pregnancy, childbirth, and postpartum. Procedures during this time can include:
In vitro fertilization
Vaginal delivery
Caesarean delivery
Amniocentesis to determine sex and detect any abnormalities
Forceps and vacuum deliveries
With their essential role in the patient's life and healthy, OB/GYNs guide mothers safely through the entire experience from conception to delivery and the postpartum period. They offer services that also include fertility treatment, fetal diagnostic procedures, and neonatal intensive care unit (NICU).
What is a Gynecologist?
Gynecologists play a crucial role in female health from puberty through adulthood or from the time she gets her first period to post-menopause. They provide all the reproductive care required during this time and even help with family planning and the choice of contraceptives.
Gynecology is the branch of medicine that focuses on women's bodies and reproductive health. It helps with diagnosis, treatment, and care of any problems related to the female reproductive system, such as the vagina, uterus, ovaries, and fallopian tubes. It also includes screening and testing for issues related to breasts.
A gynecologist focuses on:
Maintaining a women's sexual and overall health & safety
Genetic screenings to identify risk factors for reproductive health concerns
Assessing bone density in older women to check for osteoporosis
Educating their patients on safe and healthy sex practices
Ensuring a woman's reproductive and overall well-being through gender-specific medical care
Along with these, the expert doctors also perform standard examinations, such as Pap tests and pelvic exams to provide the best care to their patients and help them enjoy excellent reproductive health.
You can also visit a gynecologist for diagnosis and treatment of many other conditions that are severe emergencies and need prompt medical attention. They include:
Cancer of the Ovaries, Uterus, Cervix, Vagina, or Fallopian Tubes
Prolapse – a condition, often after menopause, wherein the pelvic organs slip forward or downward within the body
Yeast or bacterial infections
Endometriosis – a distressing condition in which uterine tissue grows outside the uterus
Cervical and vaginal polyps
Fibroids – small tumors that develop in the uterus
Ovarian cysts
Fertility issues
Painful intercourse
Irregular menstruation or unbearable pain during menstruation
Other menopause-related issues
A gyne doctor also performs surgical procedures related to reproductive organs such as a hysterectomy, tubal ligation, and labiaplasty. It has been noticed that many doctors combine the obstetrician and gynecologist specialties to offer comprehensive care to their patients.
Difference Between Obstetrics and Gynecology
OB/GYNs and gynecologists share the common goal of caring for female health. The difference lies in the practices of each type of doctor.
Obstetrics deals with the care of the pregnant women, the unborn baby, labor and delivery, and the immediate period following childbirth. The obstetrician ensures that mother and child get the best prenatal care to accomplish labor and delivery without complications. In case of any problem, the obstetric is equipped and trained to deal with it, quickly and safely.
Gynecology, on the other hand, deals with any conditions concerning the reproductive organs including the uterus, fallopian tubes, cervix, ovaries, and vagina. A gynecologist may also treat related problems in the bowel, bladder, and urinary system since these are closely related to female reproductive organs.
To be certified as an obstetrician or a gynecologist requires a minimum of 4 years of residency training after attaining a general medical degree. The two specialties are closely related, and most of these specialists provide care in both areas. While 90% of gynecologists also deliver babies, obstetricians limit their practice to pregnancy and childbirth, hence they are known as OB/GYN.
Understanding the difference between an OB/GYN and a gynecologist can help you get the best preventative care for treating health and medical issues related to reproductive organs and issues relating to pregnancy, fertility, menstruation, and menopause. Schedule an appointment with a top-rated obstetric and gynea specialist at the Century Medical and Dental Center to discuss your health concerns and get the best advice to maintain overall health. The specialist doctors guide you from your first menstrual cycle to your menopause and everything in between, helping you adjust to every phase of life.
SHARE THIS POST
Page Updated on Dec 18, 2022 by Dr. Dvorkina (Primary Care Doctor) of Century Medical & Dental Center