A visit to the gynecologist can help you learn more about your reproductive health and get screened for symptoms including pelvic, vulvar, and vaginal pain or abnormal bleeding from the uterus. The experienced and qualified gynecologists at the Century Medical and Dental Center address medical concerns regarding pregnancy, fertility, menstruation, and menopause, and many other problems. The top-rated doctors also perform a pelvic exam, Pap smear, and breast exam to screen for various types of infections and cancers to help you enjoy a better quality of life in the long run.
Gynecologists play a crucial role in a women's reproductive health. They deal with personal and sensitive topics and provide the best medical advice even on the most intimate issues that they cannot discuss with anyone else. Obstetrics care for women during their pregnancy, just after the baby is born, and also deliver babies. An OBGYN is trained to do all these things and help women feel better and healthier throughout their lifecycle.
An appointment with a gynecologist is not something to be dreaded, as it is commonly believed. It may be uncomfortable discussing your personal issues with a complete stranger, but it is not as bad. Knowing how an experienced and skilled doctor can help you and what to expect at your checkups can make these appointments easy and give you a chance to get the best out of this visit.
When to Visit a Gyno?
Women should start getting annual gynecology exams between 18 and 21 or when they become sexually active. A gynecological exam also becomes necessary if you experience symptoms, like irregularities in the menstrual cycle, unusual or severe vaginal or pelvic pain, abnormal vaginal bleeding or discharge, swelling, tenderness, sores, lumps, or itching or changes in the breast.
Visiting a gyno depends on your age, medical history, and any health concerns you may have. For teens, this visit may be a little talk with the doctors to establish a comfortable relationship for the future. You may need to visit a gynecologist if you are having some problems with your periods, becoming sexually active, or have some intimate issues that you cannot discuss with anyone else given their sensitive nature.
Even though it might seem scary, seeing a gynecologist is an essential part of maintaining your health, learning more about your body and how to keep it safe. Knowing when and how to make an appointment with a gyno can help you save time and ensure safety from various sexual diseases.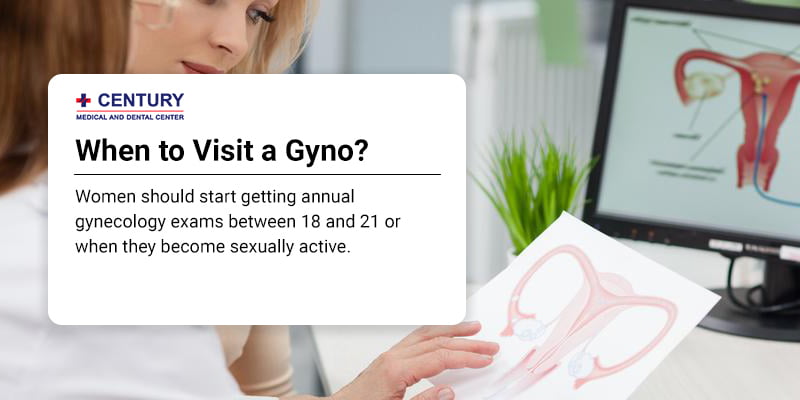 Preparing for a Gynecologist Appointment
There are a few essential things you need to keep in mind to prepare for a visit to the gynecologist.
Make sure that the gynecologist appointment does not clash with your period date, as it will make it difficult for the doctor to assess your reproductive health and perform an internal exam;
Avoid having sex, using a tampon or any vaginal lubricants or cleansers at least two days before your appointment as they can affect the accuracy of results;
Make an effort to recall your medical history, sexual history, and recent menstrual history, it will help the doctor in assessing and evaluating your reproductive health better;
Ask your family about any diseases or medical disorders that run in the family as they increase your risk of developing certain conditions, and with this information, the gynecologist can provide the best guidance.
There are many things to discuss with your gynecologist, from contraceptive options to family planning and irregular periods. Knowing what you want from this visit and planning ahead of time can make a gynecologist appointment a success.
What Happens at a Gynecologist Appointment?
Going for a gynecological visit means that you are going for a purpose. You as well as the gyno, should be aware of what will take place during this visit and how the exam will go.
If an exam is taking place, you must be aware of the following and ask the gynecologist about:
What type of exam it will be
How do these things work?
You must remember that nothing should be happening to you during the appointment unless you are comfortable or ready with it. Gynecologists understand this and respect your wishes. Discuss any reservations you have regarding the examination or the visit, and the doctors will do their best to put you at ease.
The appointment starts with a health check. The nurse will take your weight and blood pressure. You may also be asked for blood and urine samples to check for kidney health, various infections, and pregnancy. Then you will be taken for a physical exam.
The doctor will ask some personal questions that might seem awkward, but it is necessary to provide honest answers to get the best care possible.
The doctor will also ask you about:
Your surgical history;
Current medications you are taking;
Family history;
Your smoking, drinking, or drug habits;
Any medical issues you are facing.
Understanding what you are going through allows the doctor to provide the best medical care and advice regarding your reproductive and overall health and wellbeing.
A breast exam is done to check for lumps or abnormalities and thickening or discharge. The doctor will also examine the outside of your vagina for abnormalities, and take a look at your reproductive organs from the inside. Samples are taken from your cervix to look for abnormalities that signify cervical cancer or HPV.
Talking to Your Gynecologist
Use your appointment with the gynecologist to gather some information on your reproductive health. You can ask questions about your periods, sex, and whatever else you want to know. There is no need to feel embarrassed as the doctor already knows and has heard about it all.
The doctor will also ask many other questions to learn more about your condition and provide the best advice and care for your reproductive and overall health and wellbeing.
Questions can be about:
Your periods and any problems with them such as missed or heavy flow;
Vaginal Discharge;
Your sex life and how active you are;
The number of sexual partners you have now or had in the past;
Sexual issues and problems;
Sexually transmitted diseases (STDs) you are suffering or if you had in the past;
Use of birth control methods;
Vaccine history.
Not only can a gynecologist diagnose and treat STDs and other infections, but they also advise their patients on how to avoid getting them. Your gynecologist is your partner in reproductive health. You must not hide anything from your doctor and keep your annual appointments to discuss your health issues with the caregiver. If you face any problems during the visits, discuss them your doctor to avoid facing any complications.
The experienced and board-certified gynecologists at Century Medical and Dental Center deal with many issues women face in a lifetime. They take care of everything you go through from your teens to later years and screen your symptoms to ensure long-term wellness. Using advanced diagnostic methods, the top-rated gynecologists NY detect abnormalities with your reproductive organs and advice you on issues relating to pregnancy, fertility, menstruation, and menopause. With their knowledge and skill, expert doctors help you make healthy choices and provide information to ensure you live a better quality of life.
SHARE THIS POST
Page Updated on Dec 18, 2022 by Dr. Dvorkina (Primary Care Doctor) of Century Medical & Dental Center