Persistently chapped, cracked, and bleeding lips not only turn painful but also affect your overall appearance and personality. There is no need to worry about this condition and suffer unnecessarily as an effective and timely solution can provide relief within no time. Consult a board-certified and experienced dermatologist at the Century Medical and Dental Center to get the necessary treatment for your skin and lip conditions. The specialist will take a good look at your lips, determine the cause behind your discomfort and address your concerns, providing the best advice on taking care of your lips.
You may end up with chapped lips in winter when the weather is too cold, windy, and dry, or you may experience chapped lips in summers due to frequent sun exposure and dryness. If they are not treated timely or the right way, these cracked lips can turn irritating and, in some cases, even painful.
Dry winter can damage sensitive, exposed mucous membranes. The cold air and lack of humidity can make the lips crack and peel. The instinctive response is to lick your lips to add some moisture to them but it can lead to further dryness and other complications. Licking can make the skin peel and crack faster when it is cold outside. It is because saliva is acidic and further dries out the lips, and by licking them, you are only speeding up the process to chapped lips.
What Causes Chapped Lips?
Lips do not contain oil glands like other parts of the skin. It means they are at risk of drying out and becoming chapped and cracked. Lack of moisture can worsen the problem, whether it's weather-related or due to lack of hydration and self-care.
Common causes of chapped lips include:
Use of certain medications and supplements such as Vitamin A, Retinoids for treating acne, Lithium for bipolar disorder, and chemotherapy drugs
Dehydration
Malnutrition
Vitamin deficiency
Constant exposure to dry weather
Intake of too much salty or spicy foods
Infections or inflammatory diseases
Yeast overgrowth resulting from excessive drooling in your sleep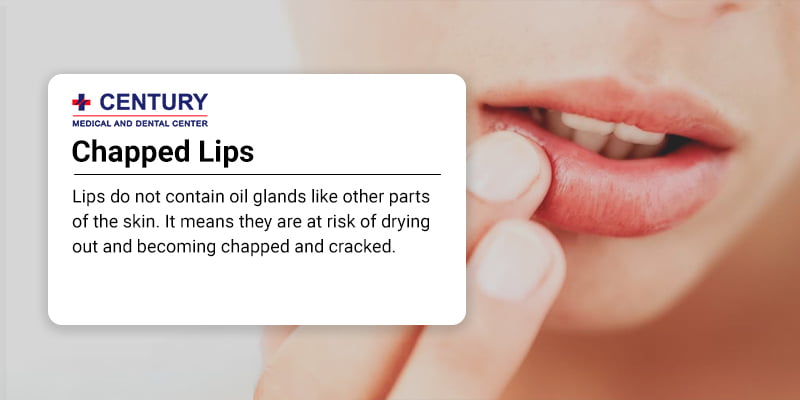 Are Chapped Lips Dangerous?
Chapped lips are irritating, look ugly, and begin to hurt if the skin cracks and bleeds, but this condition is not dangerous. Using a good quality balm with the right ingredients can help you deal with them.
In severe cases, you may develop lip inflammation, also called cheilitis. It is a condition that results in red, dry, scaling, and itchy lips. You may notice cracked skin at the corners of your mouth as well as across your lips. Cheilitis is linked to long-term sun exposure, infections, and inflammatory illnesses, including Crohn's disease. A patient suffering from cheilitis may require treatment with anti-inflammatory drugs or antibiotics.
Dental trauma, including missing teeth, can lead to excess saliva production, which transforms chapped lips into cheilitis. It usually occurs when bacteria enter the cracked skin on the lips and trigger an infection.
Symptoms of Chapped Lips
You may experience any of the following symptoms on or around your lips:
Dryness
Flaking
Scales
Sores
Swelling
Cracks
Other symptoms include:
Dark, reddish-colored lips
The white plaque on the surface
Lip ulcers
Lumps on the lips or beneath the lip surface
Effective Treatments for Chapped Lips
Chapped lips sometimes heal on their own but if you do not see them getting better in a day or two, try using a lip balm. Lip balms contain a combination of waxes and oils that form a protective seal over the skin and keep the moisture in the lips, protecting them from elements and giving them a chance to restore.
You can treat chapped lips with lip balms that contain lanolin, shea butter, beeswax, and ceramides, as they all lock in moisture and help your lips to heal. Products advertised as "moisture sealants" are the best for treating chapped lips.
The best time to apply a balm is before you go outdoors and at night before going to bed. This gives the product ample time to work and heal your chapped and rough skin. You can also use a humidifier at home as it keeps the skin moist.
Drink the recommended amount of water to keep your body and lips hydrated, as our body needs hydration to keep functioning normally. Persistent lip dryness can also be a sign of vitamin B and C deficiency or lack of iron, zinc, or folic acid in the body. Taking multivitamins can also help in this regard. Consult your doctor before starting on any medication to avoid complications like overdosing if you are already taking any supplements.
Things to Avoid
If you have persistent dry and chapped lips, stay away from products that contain the following:
Strong fragrances
Camphor
Eucalyptus
Citrus
Menthol
Mint
Cinnamon
Salicylic acid
Cinnamic aldehyde
They may cause further irritation instead of providing relief to your dry lips. They can lead to disruption of the skin barrier and loss of hydration, worsening the lip condition.
Also, avoid shiny glosses and oil-based products, as skin specialists believe them to be intense magnets for the UV rays of the sun. Experts believe glosses and oil-based products work like magnifying glasses to increase the sun's rays on your lips. Some lip balms also contain white petrolatum, which is a by-product of petroleum oil, and it can make chapped lips worse by irritating the skin.
Most important of all, avoid picking at dry, peeling skin on your lips. It can cause more pain, result in bleeding and make the healing process longer. Try to use a gentle scrub or washcloth and warm water to buff on the chapped lips to loosen and remove peeling skin. Apply the correct type of balm to protect your lips.
TTreatment of Chapped Lips
Dry and cracked lips can be treated at home. The first step is to make sure they are moisturized. You can keep your lips moisturized with lip balm. Make sure to check the ingredient of the lip balm, as some of them contain elements that can further irritate or dry your skin. If you have sensitive skin or allergies, you may be at greater risk of getting chapped lips when using these products.
Doctors recommend the following home remedies for treating your chapped lips:
Drink plenty of water
Avoiding licking, biting, and picking at your lips
Applying a non-irritating lip balm every two hours
Using a humidifier at home
Cover your mouth when heading out in extreme weather conditions
Staying away from allergens
Learning what is causing your chapped lips can help determine the most effective treatment to prevent and get rid of your dry, chapped lips.
When to See a Dermatologist?
Most of the time, chapped lips can be cured with a good quality medicated lip balm or by avoiding factors that cause this condition. If your lips turn painful, don't seem to heal, or show unusual discoloration or lumps, visit a dermatologist to get them checked and evaluated for any medical condition.
Your chapped lips could be caused by something other than the dry or cold weather. It could be an allergic reaction, yeast infection, or something more serious that is making you uncomfortable. The doctors also check for skin cancer or precancerous conditions that turn one or both lips scaly and dry. The expert dermatologist can detect the causes using the most accurate diagnostic tools and recommend the best ways to alleviate your distress.
Do not let chapped and dry lips affect your appearance and make you feel bad. Consult a dermatologist to get the best advice on treating these rough and cracked lips most effectively using the best quality products. The expert skin care specialists at the Century Medical and Dental Center figure out what may be the possible causes behind your discomfort. They also determine if any rare, underlying health condition is the culprit. Chapped lips are usually harmless, but it is essential to protect them from further damage with the best remedies. The top doctors NY come up with an effective treatment plan to heal your lips and make you smile more.
SHARE THIS POST
Page Updated on Dec 18, 2022 by Dr. Dvorkina (Primary Care Doctor) of Century Medical & Dental Center