If you are worried about a shrinking penis, a history of prostate cancer, unusual weight gain, and your inability to have a strong erection may be the factors you need to look into. When it comes to penis size, several factors can affect it or make it feel shorter. The top urologists at the Century Medical and Dental Center work with you to figure out why your penis is shrinking and what significant elements you need to look into to restore its length and functions. The experienced and board-certified specialist will discuss the treatment options that help you adopt a healthier lifestyle and enjoy a fulfilling sexual experience without worrying about your length and erectile dysfunction.
What Is the Average Penis Size?
According to urologists, the average penis size in the flaccid state is 8.8 cm or 3.5 inches. During the erect state, the average size was found to be 12.9 cm or 5.1 inches. At most times, the flaccid size does not correlate with the extent during the erect state as the penis tends to grow from the flaccid to the erect state as a part of the natural sexual process.
Men are concerned about their penis size. Many are also interested in obtaining a larger or longer penis, but in trying out approaches to enlarge it, they end up losing what they already have or with other erectile dysfunction problems. The length of the penis can decrease by up to an inch or so for various reasons. However, these changes to penis size are smaller than an inch. A slightly shorter penis will not affect your ability to have an active, satisfying sex life.
Why Is My Penis Shrinking?
Penis shrinkage is also known as a decrease in penis size. Sometimes this shrinkage is permanent, and at times it is the result of a treatable condition or due to lifestyle habits.
Penis size varies among men and in some cases considerably. While many men believe they have above-average size penises, most fall into the range experts consider the normal size. It is important to know that as men age, their penises and testicles experience some shrinkage.
Two conditions can get the penis shorter. They are:
Peyronie's disease
It is a condition in which the body starts forming scar tissues known as a plaque in the lining surrounding the corpora cavernosa, known as the tunica albuginea. The penis has two chambers known as the corporas that fill up with blood to give you an erection. Those two chambers are surrounded by an elastic layer called the tunica albuginea.
When this elastic tissue has an injury or a condition that develops a plaque or scar tissue, it fails to stretch and can result in pain, curvature, and a shorter penis. Bent or curved penis also appears short, and when it shrinks, it appears to shrink.
Erectile dysfunction
ED can also make a penis go short. According to healthcare experts, when the body stops having regular erections, the elastic tissue that stretches the penis from the flaccid state into the erect state can transform, and the penis loses its elasticity. If the penis is not elastic, it will not stretch when you get an erection, and you will notice that it is getting shorter.
Research has shown that longer periods of impotence or celibacy can also result in some loss to the size of genitals. Some men go through this as they age, but many can experience ED even at younger ages.
Some other reasons for penis shrinkage include:
Radical prostatectomy (RP)
Shortness of the penis is a common occurrence after removal of the prostate in patients suffering from prostate cancer. Research has reported that it can happen in 15-68% of the patients after prostatectomy. There is no known reason for this, but many theories connect the removal of the prostate to the short penis.
Some urologic scientists claim that the anatomy changes when the urethra is shortened. When the prostate is removed, the urethra needs to be connected with the bladder. After the prostate is gone, the nerves that help men get an erection are injured. It can lead to poor oxygenation of the smooth muscles inside the penis that can lead to fibrosis or scar formation, erectile dysfunction, loss of elasticity, and a shorter penis.
Overweight
Being overweight is not good for overall health as well as the penis and makes it look shorter. Male bodies gain weight in the lower abdomen, also known as the panniculus. Accumulation of fat in this area hinders the penis and limits its visibility, giving it a shrunken look.
Medications
Some medications can also cause penis shrinkage. They include attention deficit or hyperactivity antidepressants medications, antipsychotics, and some drugs prescribed to treat an enlarged prostate. It has been revealed that a majority of men taking medication for enlarged prostate experienced some form of sexual dysfunction.
Smoking
Chemicals from cigarette smoking can injure the blood vessels in the penis that prevent it from getting filled with blood and stretching to its length. Regardless of the stimuli and their effects on the brain, if the blood vessels are damaged, blood will not flow to the penis and it will not cause an erection. It will affect its size too.
Most causes of penis shrinkage, such as weight gain and smoking can be dealt with by making lifestyle changes. If medications are causing the penis to shrink, an adjustment in the dosage can reverse the problem.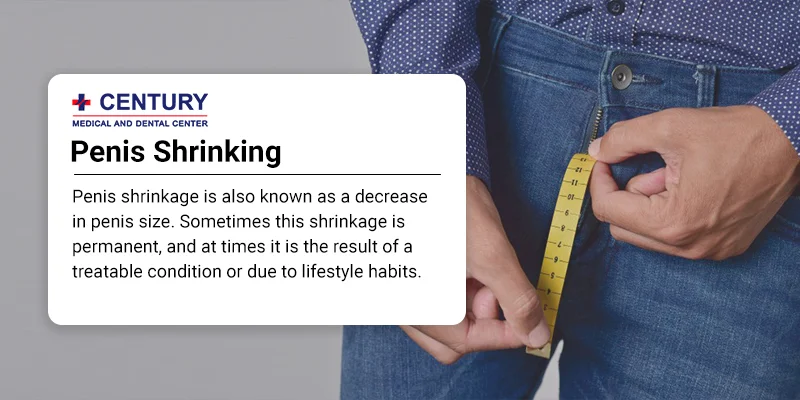 How to optimize the length of the penis?
If you are experiencing penis shortening after prostate surgery or being through any other medical condition, it may reverse in time. Penis shrinkage does not affect your ability to enjoy the sexual experience. If you are not sure about the reasons, and it is affecting your sex life, schedule an appointment with your primary care doctor. The doctor will look into the possible causes of your discomfort and develop a treatment plan to help you feel better.
Here are some specialists recommended treatments to optimize penis length.
Traction Therapy
It has been found that Peyronie's disease responds to traction therapy. It can be used alone or in combination with surgical and nonsurgical treatments such as Xiaflex intralesional therapy. Multiple types of traction devices are available that can be used to restore length and correct penile curvature.
Vacuum Therapy
A vacuum erection works by creating negative pressure inside the penis and "suctioning" venous blood into the penile shaft. With the vacuum pump inside, the penis can maintain an erection. It has proved effective for maintaining penis size and also helps with rehabilitation. It can help to keep the tissues elastic and healthy and offers the best alternative to a penile implant.
Surgery
Surgical procedures can give the appearance of a longer penis without affecting the penile size. They include ventral phalloplasty, dorsal phalloplasty, panniculectomy, among others.
Penile Implant
It is an effective way to keep your size or length. The inflatable penile prosthesis is a medical device that is placed inside the penis and works wonders for men with ED. The implant occupies the inside of the penile shaft in its entirety, and the penis will be in the long state all the time. It has proved to be most helpful for men concerned about their shrinking penis.
If you are worried about how your penis looks and think it is getting shorter, consult a board-certified and experienced urologist NY to learn more about your condition and its possible causes. Sometimes erectile dysfunction and other medical conditions or medications can result in a shorter penis and other related issues. The men's health specialists at the Century Medical and Dental Center use the most accurate diagnostic tools to discover what you may be suffering from and recommend the best treatment options to restore your confidence and sex life.
SHARE THIS POST
Page Updated on Dec 18, 2022 by Dr. Dvorkina (Primary Care Doctor) of Century Medical & Dental Center