The normal blood pressure number is less than 120/80 mmHg. If your blood pressure persistently remains higher, it can increase the risk of various problems such as heart attack, stroke, and abnormal heart rhythms that can also result in life-threatening consequences. Do not let elevated blood pressure levels put your heart and life at risk. Visit a cardiologist at the Century Medical and Dental Center for experienced advice regarding your heart health. The trained and board-certified doctors in NYC come up with effective solutions that include incorporating a healthy blend of drinks to treat ailments and conditions of the heart to help you live a better quality of life.
Hypertension is a problem that affects a large majority of the population. Most of us look for ideas and ways to keep hypertension to enjoy our lives to the fullest. If you are struggling with high blood pressure levels and looking for a quick and easy way to keep your blood pressure under control, drinking right can help you do it.
There is no single solution to controlling your high blood pressure that can yield desired results. Combining lifestyle changes and knowing what works for your particular symptoms can help you seek better health. Even something as easy and simple as drinking the right beverages can keep your blood pressure at healthy levels and prevent any complications.
Best Drinks for Lowering Your Blood Pressure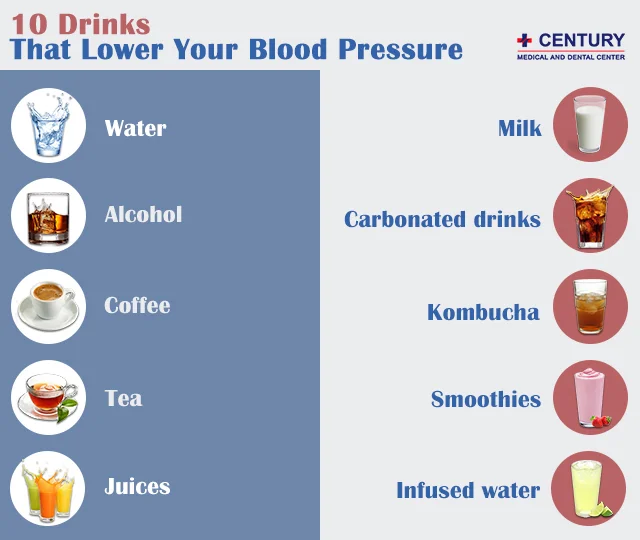 Drinks that lower blood pressure are rich in magnesium, calcium, potassium along with protein. They are low in sodium and contain no fats that make them a healthy choice for the heart.
It is essential to understand that the first glass may not do the trick. There is no need to get disappointed as a few changes to what you sip every day can make a significant difference and bring down your rising blood pressure in the long run.
Some great drinks that can bring down your blood pressure include:
Water
Water makes up about 73% of the heart which means there is no better way to control blood pressure than water. No other beverage is as good as pure, clear, and fresh water that is not only healthy for the heart but the entire body, including your brain.
Water is essential for keeping the body hydrated. In addition to this, it ensures the blood flows smoothly, without any obstruction to every organ or the body, and maintains healthy blood pressure levels. Experts recommend 8 to 10 glasses of water for adults, depending on their body weight and volume to ensure optimal wellbeing.
Research shows that adding minerals, such as magnesium and calcium to water can make it even more potent for lowering blood pressure.
Alcohol
Drinking alcohol is certainly not the best way to stay fit, but you will be surprised to know that alcohol intake in moderation can help keep your blood pressure in check.
Doctors believe that one drink a day for women and two for men do not harm heart health.
Coffee
Coffee has its benefits as well as harmful effects. As everyone responds differently to coffee, it becomes difficult to determine if it would work out for you or not. It is up to you to use it the right way to maintain good health and normal blood pressure levels.
If coffee makes you feel better, more alert and active, and ready to take on the day with enthusiasm, it can help you with your heart and overall health. However, if it makes you feel anxious, jittery, and out of sorts, it means it is not for you, and you should think about cutting back on it.
Tea
Tea has numerous health benefits. It has been used over centuries for treating headaches, body aches, lethargy, and other maladies. It is also popular for its therapeutic benefits for cold and flu. Long-term consumption of tea, at least for more than 12 weeks, has shown a drop in blood pressure levels.
Tea is packed with antioxidants which are very good for cardiovascular health.
Milk
Milk is a great source of calcium and proteins that are very important for an active heart. These days you can find a large variety when it comes to milk. You will find the vegan options, as well as the cow's milk, to suit your taste and needs, each with its benefits.
Unsweetened milk is the best as it will give you all the nutrients required to stay fit without increasing your blood pressure or sugar levels.
Juices
Fruit juice has some surprising health benefits even though they are a rich source of salt and sugar. The best way to drink juices is in their pure form, free of additives and preservatives, and by making them fresh at home.
Search shows that drinking tomato juice regularly can keep the blood pressure levels down but only with the unsalted variety. In the same way, drinking one cup of pomegranate juice for 28 days can lower blood pressure levels.
Carbonated drinks
Soda, pop, coke – they may have different names, but they are all the same. Sugar-laden drinks are bad for your health, and they can affect your blood pressure adversely.
The good news is you can still get your fizzy fix without going for the usual carbonated drinks. Drinking unsweetened and low-sodium sparkling water can help you stay away from sugar and keep your blood pressure in check too.
Kombucha
Many people are still unaware of the benefits of kombucha or fermented tea as they have no idea what it is even though they have seen it in the grocery stores.
The benefits of this drink lie in the probiotics it contains. Studies have shown their regular consumption for at least more than eight weeks can have a marvelous effect on your blood pressure. This fermented, probiotic tea can help in continuing healthy blood pressure.
Smoothies
May people take smoothies to be milkshakes, but they are not, and not all smoothies are the same. Blending up some heart-healthy fruits and vegetables like bananas, blueberries, beets, avocados, and kale is an easy way to create a healthy concoction that can substitute as a meal.
Smoothies pack a lot of nutrition, and they are a great way to lose those extra pounds. You can end up looking more stylish and fit while keeping your blood pressure levels in control at the same time.
Infused water
Water is without any doubt the best thing for the body, health, and blood pressure. Adding a little flavor to regular drinking water makes it easy to consume eight glasses a day and adds many benefits too. Lemon and limes are known to reduce blood pressure and make a glass of water more exciting.
It is up to you to find the best drink that not only tastes good but helps to lower raised blood pressure too. Drinking it regularly is the key to getting desired results, so pick up something that you can stick with to enjoy its results.
When making any changes to your diet, keep in mind that some heart-healthy beverages may interact with heart medications. It is best to consult your doctor before making significant decisions regarding your diet or lifestyle to avoid unexpected issues.
If you are fighting high blood pressure, drinking your way to it is the best option. Health experts believe that eating and drinking smart play a crucial role in lowering blood pressure, as they come with some essential nutrients. Learn how drinking right can keep your blood pressure levels in control and help you avoid risk factors with an experienced heart doctor. The top-rated cardiologists at the Century Medical and Dental Center work with you to guide you back to an active lifestyle by making healthy choices in life and staying away from factors that can land you in heart trouble.
SHARE THIS POST
Page Updated on Dec 18, 2022 by Dr. Dvorkina (Primary Care Doctor) of Century Medical & Dental Center