If pain in your arm or leg, weakness, and numbness are affecting your mobility and quality of life, contact your primary care doctor as you may have a slipped disc. The top pain relief doctors at the Century Medical and Dental Center work hard to diagnose your condition accurately and work out your symptoms to provide quick relief from pain. Using the most advanced equipment and multidisciplinary approaches, specialized doctors manage your condition with exceptional orthopedic care and minimally invasive spinal treatment options to help you get back into your normal routine.
Spinal discs are one of the most important structures in the spine. They sit between the vertebrae and offer a cushion, supporting and absorbing shocks to the spinal bones. Strong and flexible discs help the spine move and flex when we lift, twist or bend. Natural wear and tear that results from age, weightlifting, and daily activities make the spinal discs stiff and less flexible. They can no longer provide a sufficient level of support and cushion to the spinal bones.
In case of disc degeneration, the discs are vulnerable to injury and damage. A slipped disc in the back is a common spine injury, but it can land you in a lot of pain and discomfort if you are not careful.
What Is a Slipped Disc?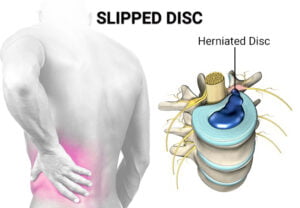 Also known as a herniated disc, bulging disc, protruding disc, or ruptured disc, this condition results from degenerative changes that cause the tough, fibrous outer shell of a disc to crack, tear or break. This break or tear in the outer shell of a disc releases its inner fluid into the spinal canal. Falls, sports injuries such as exercising too hard, and car accidents can lead to slipped discs. Lifting heavy, large objects the wrong way can also strain the lower back, resulting in a herniated disc.
Although a slipped disc most commonly develops in the lumbar or cervical spine, it can happen anywhere along the spine, depending on the type of injury or the tear. Most people do not experience any pain or symptoms in this condition, but significant pain, weakness and difficulty when walking or standing, and numbness are reported in many cases.
Knowing the signs and symptoms of a herniated disc can help to determine your condition better and seek the best medical care timely.
Here Are the 3 Signs That Indicate a Slipped Disc
1. Arm or leg pain, numbness, or weakness
As compared to what people believe, pain that extends to the arm or leg and causes numbness and weakness is a telling sign of disc herniation. Due to its connection with the spinal cord, back or neck pain is considered the most common sign of a slipped disc, but this pain can be identified in the extremities too.
Sciatica is one of the most common symptoms of a slipped disc in the back. When the inner material from a damaged disc leaks out into the spinal canal, it begins to irritate or compress the nearby nerves. When the disc fluid compresses the sciatica nerve, it results in one-sided pain, weakness, numbness, and tingling sensation that moves from the lower back to the buttock, thigh, and calf. Many people report sciatica pain as a constant deep ache or a sharp burning pain that strikes suddenly.
A slipped disc in the neck can also pinch or irritate the surrounding spinal nerves. Nerve compression in the cervical spine can result in one-sided pain, weakness, numbness, and tingling that begins in the neck and travels down to the shoulder, arm, and hand.
2. Pain during movement
A bulging disc can cause severe pain that worsens or strikes suddenly with certain activities. Pain that starts suddenly with movement is usually sharp, stabbing, or electric.
Movements or body positions that can trigger pain include:
Coughing or sneezing;
Sitting, standing, or walking for a longer time;
Bending or hunching forward.
Movement can start or worsen slipped disc pain as it places more stress and pressure on the already compressed or irritated nerves, which aggravate the situation.
3. Relief from pain with rest
Most people with slipped discs experience relief from pain when they take a rest. Lying flat on your back with bent, supported knees or sitting in a reclining chair can alleviate the downward pressure on the spine, which indicates slipped disc condition.
The signs of slipped disc and pain can vary from person to person. Seeing your doctor is crucial if the symptoms persist or the pain begins to affect your ability to control your muscles. Do not take the pain and other warning signs lightly, as they can worsen into lifelong complications if they are not treated right.
Treating Slipped Disc
You must seek prompt medical attention if you experience the symptoms of slipped disc. Many cases of slipped discs heal naturally within 6 weeks without surgical intervention. Your doctor will recommend a personalized treatment plan to help you make a full and speedy recovery.
However, if you experience mild to moderate pain and symptoms, your doctor may recommend the following treatment options for slipped disc:
Rest: Avoid high-impact activities that can increase the pain. Do not stay in bed all the time, as prolonged immobilization can land you with even more pain, stiffness and inflammation. Keep yourself active with low-impact activities like swimming or yoga as much as you can without pushing yourself or causing unnecessary discomfort.
Ice and heat: Ice and heat packs are a tested way to relieve inflammation, stiffness, and swelling and soothe the pain.
Medications: Mild to moderate pain can be controlled by over-the-counter medications such as acetaminophen or ibuprofen, but avoid taking too many pain relievers. If you are unable to bear the pain or the pain seems to be intensifying with time, visit your doctor to get a strong painkiller, muscle relaxant, or nerve pain medication.
Cortisone injection: Inflammation and irritation around compressed nerves in the spine can be temporarily relieved by corticosteroid injection. The injection only offers short-term relief but this gives your body the time to start the healing process, and you get a respite from the persistent discomfort.
Physical therapy: If needed, your doctor may also suggest a course of physical therapy to strengthen your muscles and joints. The experienced and trained therapist comes up with exercises specifically designed for your condition and shows you how to move the right way to relieve pressure in the spine and ease the pain. Therapy may include pelvic traction, gentle massage, electrical muscle stimulation, and stretching exercise to make you feel better.
Surgery: If your slipped disc continues to cause considerable pain and symptoms even after 6 weeks or it has shifted far out of place, surgery may be the last option. You will have to go through a minimally invasive spine procedure to remove part or all of a damaged disc. This procedure will decompress the pinched nerves and provide relief.
These surgeries are short and usually performed as outpatient procedures, so the patients can go home the same day. These procedures require small incisions and do not cause any muscle or tissue damage. You can look forward to getting back to your feet within a few weeks after recovery.
Diagnosis and treatment of spine and joint conditions is serious business, and only someone with exceptional orthopedic knowledge and experience can help to manage your pain and symptoms. Schedule your appointment with a top-rated pain management doctor in NYC to keep yourself active and healthy with the best tools and treatment options. The experienced and board-certified doctors at the Century Medical and Dental Center work closely with you to figure out the source of your pain and what it means. They come up with the best physical therapy, lifestyle changes, and medications to ensure you enjoy a better quality of life.
SHARE THIS POST
Page Updated on Dec 18, 2022 by Dr. Dvorkina (Primary Care Doctor) of Century Medical & Dental Center