Do not let the pain in your knees, back, hips, neck, or some sports injury prevent you from doing what you love. The pain management doctors at the Century Medical and Dental Center focus on finding the source of your pain and managing it with a full range of diverse treatments, including medication and alternative therapies. The top-rated specialists strive to keep you active by teaching you about your pain, lifestyle changes, and multidisciplinary approaches that can make a difference in improving your life. You will get access to the most advanced diagnostic equipment, rapid lab testing and dedicated rehabilitation experts who deliver the latest in pain relief options.
Why See a Pain Management Doctor?
Pain management doctors are specialized physicians who can evaluate, diagnose and treat pain most effectively. These doctors have advanced training that qualifies them as your best hope for help if you are suffering any kind of pain resulting from an injury or illness.
Pain relief specialists are fully qualified and trained to manage your symptoms and provide relief. They have over nine years of medical training. In addition to their education in medical school, they go through a one-year fellowship in pain management. They are board-certified in a specialty such as sports injury or cancer pain to provide the best advice to their patients.
Pain management doctors devote their time and expertise to taking care of patients who suffer from chronic conditions and come up with multiple therapies that work for them. These conditions are not only hard to detect, but also take months and years to treat either due to their severity or their complicated symptoms or lack of them.
Common conditions treated by these physicians include arthritis, fibromyalgia, migraines, sciatica, as well as many more.
What Do Pain Management Doctors Do?
Pain management doctors focus on diagnosing the specific causes of your pain and the underlying conditions behind them. Your back pain could be a consequence of many conditions ranging from poor posture at the work desk, some sports injury or illness to a herniated disc, to even a degenerative disease like arthritis.
Pain management doctors can treat many causes for pain and just as many descriptions. They provide relief for:
Acute, sharp, and strong pain that is less than six months old;
Chronic pain that lasts for more than three months, and begins to worsen even after the healing process has started;
 Pain resulting from various types of cancers that change from inflammatory to compression and neuropathic.
Once the specialist doctor identifies what is causing your discomfort, he will recommend the most targeted therapy based on their dedicated training and the latest research. Pain management doctors conduct their own trials and studies on patients who have not benefited from conventional treatments to develop new approaches to help them seek relief.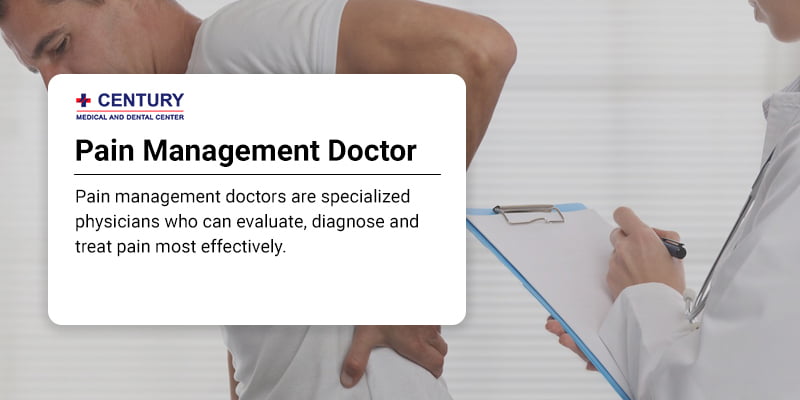 What to Expect From a Pain Management Specialist?
You can look forward to having your pain treated with the most carefully chosen treatment options and therapeutic solutions that can stop the pain at its source.
A pain management specialist also treats sudden pain problems, including:
Headaches;
Lower back pain;
Hip pain;
Neck pain;
Injury pain;
Arthritis pain.
The specialist offers a combination of medication-based treatments, therapies, and procedures to help patients seek quick and lasting relief. They also suggest lifestyle changes such as eliminating some foods from your diet or adding supplements or trying out some alternatives to monitor their effect on your condition.
Treatment Approaches Used by Pain Doctors
Pain doctors use diverse treatment approaches to alleviate your discomfort. They also work out interventional therapies to help you live a better quality of life by eliminating the exact location and origins of pain.
Pain management doctors take a diverse treatment approach to figure out what you are going through and guide you in the right direction. They take your medical history, examine you physically, and learn about the medication or therapies you have tried to understand your condition better and move forward in a step-wise manner.
Doctors start with basic prescription medications that include:
Nonsteroidal anti-inflammatory drugs (NSAIDs);
Muscle relaxants;
Anti-depressants and;
Injections that numb the pain, such as nerve blocks or spinal injections.
In severe cases, they recommend TENS (Transcutaneous electrical nerve stimulators units. These units use skin pads to deliver low-voltage electrical current to treat painful areas.
In addition to these medications, pain expert doctors also recommend physical therapy to see how patients respond to them. They may even change medication to notice any changes in the intensity or the frequency of pain.
Advanced treatment involves procedures such as radiofrequency ablation (RFA) or viscosupplementation. During RFA, heat or chemical agents are applied to a nerve to stop pain signals. It is used for chronic pain problems such as arthritis of the spine.
Viscosupplementation is the injection of lubricating fluid into joints, used for arthritis pain. At this stage, the doctor may also prescribe stronger medications.
Depending on the causes and type of pain you are going through, the specialist may put forward a treatment that involves an implant with a pain pump or a spinal cord stimulator, or neuromodulation. It can help to relieve pain at the level of the spinal cord, which is the control center of the body and senses and controls pain.
Regenerative or stem cell treatment is another option at this stage that is best for patients who are unable to find relief with any other option. If no other option works and your condition begins to affect your quality of life to a greater degree, surgery may be the last resort for alleviating your symptoms.
Alternative Therapies That Help With Pain Management
The pain-relief doctor may also include a variety of complementary therapies in your treatment plan. They include:
Massage;
Weight loss;
Acupuncture;
Physical therapy;
Exercise;
Yoga;
Diet changes;
Chiropractic care;
Meditation.
These therapies can reduce the amount of medication or injections you have to take or the procedures you have to go through. It can also save you from the harmful side effects of taking excessive pills and injections.
Coordinating several treatment options enable the doctor to find the best combination to eliminate pain from your life and give you a chance to live well.
When to Visit a Pain Management Doctor?
You should make an appointment to see a pain management doctor if:
You are suffering from debilitating types of pain;
Pain is ruling your life or limiting the number of activities you can be a part of;
Your primary care doctor has not been able to diagnose the cause of your pain;
Over-the-counter medications have failed to ease your symptoms;
You have been suffering pain for more than three months;
You have tried at-home or natural therapies, and they have failed to provide relief.
Pain management doctors act as the lead in your treatment plan. They also work with your primary care provider and other healthcare professionals to address any physical or mental health issues you have been going through.
What Are Pain Management Clinics?
Pain management clinics focus on the person and not just the pain. Along with medications, these facilities can help you manage pain with physical, behavioral, and psychological therapies for long-term comfort. They help eliminate pain from your life and improve your health and wellbeing, allowing you to become more mobile and functional and resume routine activities, without any dependency.
Schedule an appointment with a pain management specialist at the Century Medical and Dental Center to overcome your pain issues and enjoy better energy levels and life. Using top diagnostic methods and tools, the experienced and board-certified pain management doctor will accurately diagnose the primary causes of your pain and provide positive solutions that provide relief for your specific distress. Every treatment plan is uniquely designed to manage your discomfort effectively, keeping in mind your triggers to provide long-term relief and impact your health in a positive manner.
SHARE THIS POST
Page Updated on Dec 18, 2022 by Dr. Dvorkina (Primary Care Doctor) of Century Medical & Dental Center