6 Dietary Supplements That Can Improve Neuropathy
Comments Off

on 6 Dietary Supplements That Can Improve Neuropathy
Do not let neuropathy affect your life and work. Symptoms such as weakness, numbness, and pain are not only irritating but also lead to other problems that keep you from living a full life. Schedule an appointment at the Century Medical and Dental Center to have your condition diagnosed and treated by the top neurologists in Brooklyn NY. With an individual approach for each patient, you can look forward to getting the best solution for your specific discomfort by healthcare experts. The experienced board-certified physicians understand your health concerns and the urgency of what you are going through to manage your condition with dietary supplements.
Improving Neuropathy With Dietary Supplements
Neuropathy is used for describing several conditions that affect the nerves and can cause irritating and painful symptoms. It is a type of nerve dysfunction that results in weakness, numbness, and pain.
Neuropathy can result from diabetes too. In some cases, neuropathy occurs as a side effect of chemotherapy. Conditions such as lupus, Guillain-Barre syndrome, rheumatoid arthritis, and Sjorgen's syndrome can also result in nerve damage. While conventional treatments for neuropathy provide relief, research shows that using dietary or natural supplements is also a good option.
What Supplements Can Help Neuropathy?
Dietary supplements can help to manage neuropathy effectively when taken the right way. The good thing about nutritional supplements is that they have fewer or no side effects as compared to other medications or treatment methods. They can boost your condition by ensuring your body gets the required amount of whichever nutrient is lacking in your body. Taking these nutrients in supplement form benefits your health and wellbeing in various other ways too.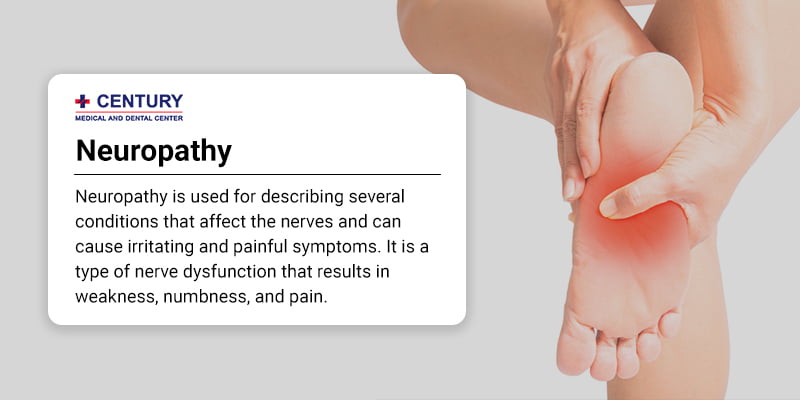 Dietary Supplements That Can Improve Neuropathy
Discussed here are some of the best dietary supplements for neuropathy that ease the discomfort associated with this condition and provide lasting relief. Talk to your doctor before stopping any conventional treatments or starting a nutritional supplement to learn about recommended dosage and correct usage for desired results.
Acetyl-L-Carnitine
Amino acid and antioxidant that creates healthy nerve cells, Acetyl-L-carnitine helps reduce nerve pain and raise energy levels. It has been found to relieve cancer-associated fatigue, as well as chemotherapy-induced neuropathy. Studies have shown that ALC can control pain and improve nerve function in people who suffer from neuropathy due to diabetes.
It can be taken in supplement form as recommended by the doctor. It is also present in foods like meat, fish, poultry, and dairy products.
Alpha-Lipoic Acid
It is an antioxidant known for enhancing nerve function and relieving nerve dysfunction symptoms such as burning and stabbing pains. It also keeps the blood sugar levels in check. It has been shown to reverse free radical damage and intensify the effects of antioxidants that can slow or even stop nerve damage in particular cases.
It can be administered intravenously, through a capsule supplement, or obtained by eating certain foods such as broccoli, red meat, liver, Brussels sprouts, spinach, and brewer's yeast.
B Vitamins
B vitamins are essential nutrients that make sure the body continues to function normally. They help the body convert food into energy, create new blood cells and maintain healthy skin cells, brain cells, and other body tissues.
Vitamins B-1, B-6, and B-12 are particularly beneficial for treating neuropathy and supporting healthy nervous system function. Vitamin B1, also known as thiamine, reduces pain and inflammation, while vitamin B6 preserves the converging nerve endings. Vitamin B12 helps to keep up proper neurological functioning, and its deficiency can lead to neuropathy.
Eggs, seafood, fortified cereals, vegetables, low-fat dairy products, and poultry are good sources of B vitamins. It can also be used as a supplement in cases of severe deficiency or as recommended by the doctor.
Curcumin
It is a strong antioxidant found in the herb turmeric. It is an essential part of cooking and used in many other ways too in various cultures. Known for its anti-inflammatory and analgesic properties, curcumin can prevent chronic pain associated with neuropathy if started early on and even delay its onset.
Curcumin is good for reducing pain and inflammation and shows marked improvement when taken regularly. It can be used as a supplement, or you can take 1 teaspoon of turmeric powder with 1/4 teaspoon fresh ground pepper three times a day, or use it as an herbal add-on to certain foods. Using fresh or powdered turmeric in tea, or egg salads, and yogurt smoothies is a simple way to include it in your diet.
Fish Oil
Fish oil is known for its anti-inflammatory properties and nerve damage repair. Research has revealed that fish oil can also delay the progression of neuropathy and even reverse it in some cases if it is detected timely. Fish oil plays a crucial role in promoting neuron outgrowth and helps to relieve muscle soreness and pain.
Salmon, sardines, mackerel, cod liver oil, herring, oysters, anchovies, or caviar are rich sources of fish oil. It can also be taken as a supplement if you are not a big fan of seafood. The omega-3 fatty acids found in fish oil are also present in walnuts, canola oil, chia seeds, flaxseeds, and soybeans.
N-Acetyl Cysteine
It is an antioxidant and amino acid that plays a crucial role in alleviating nerve pain and reducing inflammation. Research shows it can ease neuropathic pain, enhance motor coordination and prevent nerve damage. As it is not present in foods, it has to be taken as a supplement.
Glutathione
It is an antioxidant that is naturally produced by the body. It is an increasingly popular supplement, and certain foods such as okra, asparagus, and avocados, contain high levels of glutathione. The only problem is that it can break down with digestion, due to which it is often not absorbed by the body as it should. In such cases, taking it as a supplement may be the best way to get it in adequate amounts.
Research reveals that glutathione can help with chemotherapy-related neuropathy, diabetic neuropathy, and neuropathy resulting from unknown causes.
Magnesium
A study into neuropathy states that magnesium can help with chemotherapy-related neuropathy. It was revealed that people undergoing chemotherapy who took a magnesium supplement or a magnesium-rich diet were less likely to experience symptoms of neuropathy in the long run.
Dark chocolate, nuts, avocados, and legumes are good sources of magnesium.
Benfotiamine
It helps the mitochondria, the enzymes responsible for producing energy, repair themselves to some degree and generate energy. As the cells make more energy, the nerve cells can heal the cell wall and maintain the electrical gradient inside the nerve. It helps people suffering from neuropathy get rid of a lot of their symptoms.
Benfotiamine is present in foods like whole grains, meat, legumes, and nuts.
Neuropathy can be unpredictable and suddenly get better or worse. You may have to try several supplements before you see betterment in your condition. As contrary to what people believe, neuropathy is treatable and these supplements help in relieving neuropathic pain and prevent damage to the nerves. Consulting your healthcare provider about strategies for managing neuropathy the natural way can deliver efficient results.
Improving Neuropathy by Supplementing Deficient Vitamins
Some people develop neuropathy due to deficiency in some vitamins and essential nutrients. Taking supplements can help to reverse the symptoms of neuropathy or reduce them to a large extent. Some vitamin and mineral deficiencies that cause neuropathy include:
Vitamin B-12 – People who do not eat any animal products can suffer from B-12 deficiency. Shortage of vitamin B-12 can also lead to anemia.
Copper – Copper deficiency may damage nerves and lead to excess zinc in the blood. People with too little copper in their bodies may have to undergo lifelong treatment to maintain copper balance.
Vitamin E – It is an important antioxidant. Vitamin E insufficiency can damage the nerves. Unusual diets and other medical conditions may also lead to low vitamin E, and a disease called spinocerebellar syndrome can also cause vitamin E deficiency in the body.
Vitamin B-6 – Lack of vitamin B-6 in the body can cause peripheral neuropathy. A poor diet and eating disorders are the main reasons behind it.
Supplements should only be taken after the doctor's diagnosis and recommendation for maximum benefit. Overdosing of any supplement can result in serious health problems, including critical nerve damage.
When used in combination with complementary therapies, pain medications, and adaptive techniques, you can look forward to living a better quality of life. Learn about the healthiest foods that work best for treating signs of neuropathy damage.
The top-rated doctors and specialists at the Century Medical and Dental Center Brooklyn and Manhattan NY provide comprehensive medical care to ensure your overall wellbeing. Using advanced diagnostic methods, they work hard to determine the possible causes behind your pain and discomfort and come up with solutions to improve your neuropathy the natural way. The experienced neurologists provide complete information regarding the safety, efficiency, and dosage of the supplements considering your age, health situation, and neuropathy symptoms to provide quick relief.