If you want to stay healthy and eat right, including bananas in your diet may be the wisest choice as this super fruit contains several essential nutrients that keep your body fit and the mind active. All that goodness in bananas makes being healthy a little bit easier and a whole lot fun. The expert doctors at the Century Medical and Dental Center care for your mental and physical health and provide the best advice on what you should eat to keep yourself active and fit. Schedule an appointment with experienced and board-certified heart doctors to learn why you should eat bananas and how they can help you enjoy better heart health in the long run.
Bananas are healthy, delicious, and one of the most inexpensive fresh fruits that makes them an excellent choice when it comes to eating healthy. The good thing is that they are available throughout the year in every part of the world, making it very convenient to get them. Eating a banana a day can benefit you in more ways than one.
Bananas contain many essential nutrients. They are loaded with vitamin B6, vitamin C, dietary fiber, and manganese. Also, they are fat, cholesterol, and sodium-free, which makes them a healthy choice for people concerned with digestion, heart health, and weight loss. They contain traces of iron, zinc, iodine, and selenium too that the body needs to function well. With essential vitamins and minerals, bananas are the perfect snack to fill you up and keep you healthy.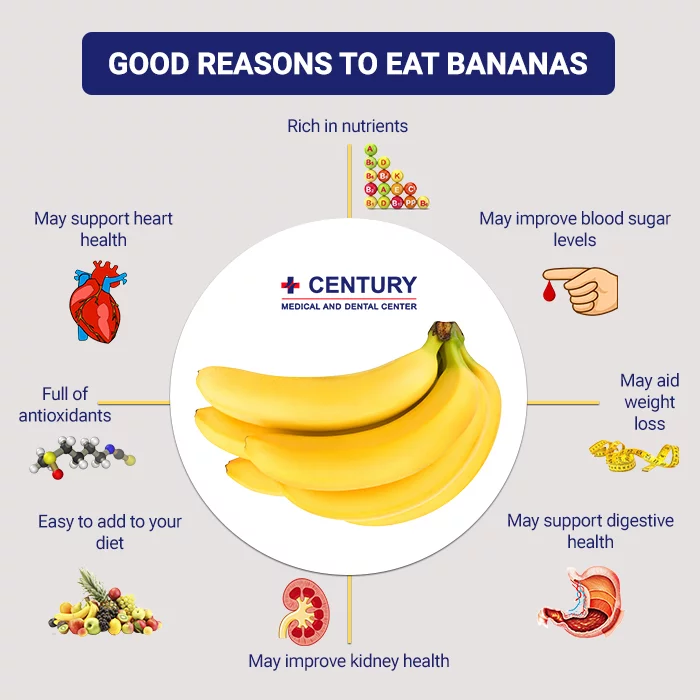 Health Benefits of Bananas
According to health experts, bananas are good for you, and there are many reasons to consume them. Here are some top health benefits of this fantastic fruit and why you should include it in your routine diet.
They are the best source of vitamin B6
Bananas are one of the best fruit sources of vitamin B6. Vitamin B6 obtained from bananas is easily absorbed by the body. A medium-sized banana can satisfy about a quarter of your daily needs of this essential nutrient.
Vitamin B6 helps with the following functions in the body:
It produces red blood cells
It metabolizes carbohydrates and fats and turns them into energy
It metabolizes amino acids
It removes unwanted chemicals from the liver and kidneys
It helps to maintain a healthy nervous system
Vitamin B6 is also very beneficial for pregnant women as it supports the baby's growth and development.
They Are Rich in Vitamin C
Bananas are healthy sources of vitamin C. A medium-sized banana can provide about 10% of your daily vitamin C needs.
Vitamin C is necessary for:
Protecting the body against cell and tissue damage
Keeping the immune system active and healthy
Enhancing the healing process
Helping the body absorb iron better
Increasing body density
Helping the body produce collagen, the protein that holds your skin, bones, and body together
Supporting brain health by producing serotonin, a hormone that controls our sleep cycle, moods, and experiences of pain and stress
They Contain a Good Quantity of Manganese
Bananas contain manganese, a nutrient that is good for your skin. It helps the body make collagen and protects the skin and other cells from free radical damage.
One medium-sized banana provides about 13% of your daily manganese needs.
They Contain a Good Quantity of Manganese
Bananas enable the body to maintain a healthy heart and blood pressure as they are full of potassium. This mineral is essential for heart health. It supports the body's circulatory system delivering oxygen to the brain. A medium-sized banana can provide about 320 to 400 mg of potassium which meets about 10% of your daily potassium needs.
Also, they are low in sodium which ensures that they do not pose any danger to your health. Low sodium and high potassium combination play a crucial role in controlling high blood pressure as it keeps the walls of the blood vessels relaxed for better circulation of blood.
They Aid in Digestion and Gastrointestinal Issues
Bananas keep the gut healthy and safe from harmful bacteria. They are known for aiding digestion and beating gastrointestinal disorders.
Bananas also help with gastrointestinal issues, including:
Constipation
Stomach ulcers
Heartburn
Diarrhea
Lactose intolerance
Well-ripened bananas have a type of fiber that restores and maintain regular bowel function. They are a natural course for improving the movement of waste through the bowels.
A medium-sized banana can provide about 10-12% of your daily fiber needs. Soluble and insoluble fiber plays a significant role in health. The soluble fibers help the body control blood sugar levels and get rid of fatty substances such as cholesterol. Insoluble fibers add weight and softness to stool, making it easy for you to have regular bowel movements.
They Are an Excellent Source of Energy
Bananas are energy boosters. They contain even more energy than expensive sports drinks and can help you get rid of lethargy and sluggishness much more effectively. Even people with diabetes can eat bananas in controlled quantities, after consulting their doctors.
Bananas are full of three natural sugars sucrose, fructose, and glucose that give you fat and cholesterol-free energy. It makes them ideal for children, adults, and athletes for breakfast as well as a midday snack for sports and after sports.
What Is the Best Time to Eat Bananas?
The best time to eat bananas depends on your nutritional needs and preferences. It is necessary to understand that the taste and nutritional value of bananas change as they ripen.
Newly-ripened bananas contain starch that does not digest in your small intestine and can pass into the large intestine. Such bananas are effective for maintaining a healthy weight as you stay full for longer. Also, newly-ripened bananas are less sweet than well-ripened ones as the starch has not broken down into simple sugars. Well-ripened bananas with dark patches on the skin are easy to digest and give the energy boost you need before playing sports or participating in some high-energy activity.
Who Can Eat Bananas?
Everyone can eat bananas as they are a super fruit with many potential health benefits and no health risks. They contain antioxidants that offer protection from all types of harmful agents and ensure good health.
If you suffer from a medical condition that causes high levels of potassium in the blood, you should take bananas only after consulting your primary care doctor. Even if you are diabetic, you can continue to eat bananas, as long as the carbohydrate contents are counted for.
Eating well can play a crucial role in managing your chronic conditions and preventing many health issues. The experienced and board-certified specialists at the Century Medical and Dental Center help you make the right food choices to enjoy good mental and physical health. Bananas are the super fruit that is healthy, quick, easy to eat, versatile in breakfast or snack and offers the right shot of energy to keep you going. You can strengthen your immune system and reduce the risk of diseases and digestion problems by including bananas in your diet. The top doctors will explain why bananas are good for you and how you can make the most of the protective impact of this superfood on your health.
SHARE THIS POST
Page Updated on Dec 18, 2022 by Dr. Dvorkina (Primary Care Doctor) of Century Medical & Dental Center