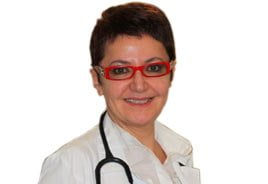 Anzhela Dvorkina MD
Dear Friends, I'd like to welcome you to the big family of our patients and personnel at our Primary Care Facility.
Medicine has been my passion and I have always had an endless love for the human race and my motivation to become an Internal Medicine Doctor. I have no doubt that you can find a good Family Medical Doctor in Brooklyn, but it is very difficult to find a specialist who is willing to be your friend and only yours.
In a modern world of our megapolis with a huge variety of the medical offices, hospitals, and centers it is very difficult to attract and impress with anything new and unusual. There are many great Internal Medicine specialists in our medical field working in Downtown Brooklyn, a lot of diagnostic tools, etc.
I'd like to offer an old fashioned but everlasting atmosphere of trust and comfort for all my patients. I'd like to welcome you to the our family of our patients and personnel.
Sincerely, Dr. Anzhela Dvorkina. Internal medicine doctor in Downtown Brooklyn location
---
Residency
1994-1997 Internal Medicine Brooklyn Hospital Center Brooklyn, NY
Certification
1997 – Board Certified in Internal Medicine
License
1997 – New York State # 206992
Member Of
American Medical Association
New York State Medical Society
Hospital Affiliations
Assistant Attending Brooklyn Hospital, Brooklyn, NY
Assistant Attending Methodist Hospital, Brooklyn, NY
Philosophy
All individuals over the age of twenty should have an extensive annual physical in order to maintain good health and prevent the disease process before it occurs. Visit your Internal Medicine Doctor.
Procedures & Services
Pain Management
Smoking Cessation
Immunizations
Insomnia
Incontinence
Erectile Dysfunction
Drug Screening
Anxiety Treatment
Depression Therapy
Alzheimer's Disease Treatment
Hypertension
Women's Health
Hyperlipidemia
Thyroid disease
Arthritis
Diabetic Educator and Nutritionist
Physicals
Urgent Medical Care
Health Risk Assessment
Gastritis
Constipation
Heart Disease
24 Hour Heart Monitor
Lung Function Testing
Minor Trauma Laceration
Nutritional Counseling