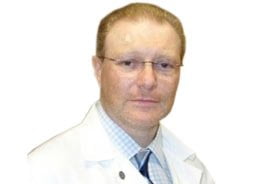 Boris Bentsianov, MD
About Brooklyn Otolaryngologist Dr. Boris Bentsianov
When something is wrong with your ears, nose or throat, you need an otolaryngologist like Boris Bentsianov, MD. Certified by the American Board of Otolaryngology and in practice since 1998, Dr. Bentsianov brings a high level of experience and skill to every one of his patients in Brooklyn.
There are many medical conditions that can affect your ears, nose and throat, and Dr. Bentsianov knows how to diagnose and treat each of them. Some of the more common conditions he addresses include:
Congestion
Polyps
Smell disorders
Allergies
Deviated septum
Larynx problems
Speech impediments
Benign tumors
Cancers
Facial deformities
Otolaryngology Diagnostics and Treatments
Dr. Bentsianov, along with his colleagues at the Century Medical and Dental Center, relies on diagnostic procedures to determine the source of your health problems. Part of this process involves taking your medical history. Before recommending further treatment, he performs procedures such as:
Physical exams
Endoscopy
Laryngoscopy
Lab tests
Sleep apnea tests
To treat these conditions (and more), Dr. Bentsianov offers a variety of procedures, including several surgical techniques. Your specific treatment depends on your medical problem. If you need reconstructive surgery — because of trauma, infections, tumors or developmental abnormalities — you're in luck, as Dr. Bentsianov is an expert in plastic surgery techniques.
A New York Education
Dr. Bentsianov received many honors and awards during his academic career. He got his Bachelor of Arts degree from the City University of New York. He earned his Doctor of Medicine (MD) degree from the State University of New York (SUNY) Science Center. He completed his internship at SUNY's Department of Surgery and his residency at SUNY's Department of Otolaryngology. Additionally, he passed his fellowship in neurolaryngology at the Center for Voice and Swallowing Disorders.
He currently works at the Century Medical and Dental Center, alongside a team of other specialists. He's also an Assistant Professor in the Department of Otolaryngology at the SUNY Downstate Medical Center. He's a member of the:
American Medical Association
American College of Physicians (associate member)
American Academy of Otolaryngology
He speaks English and Russian fluently. To address problems with your ears, nose or throat, make an appointment with Dr. Bentsianov, one of the best ENT doctors in Brooklyn.
---
Century Medical and Dental Center, an Article 28 Multi-Specialty Clinic, has been opened since 2000. For your convenience, you may visit any of our three Brooklyn locations. The doctors and staff speak multiple languages. All offices have convenient hours of operations:
Monday to Friday: 8:00 am to 9:00 pm
Saturday and Sunday: 8:00 am to 6:00 pm