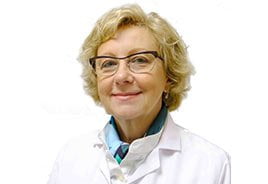 Lyudmila Trubetsky, PA
About Brooklyn Gynecologist Lyudmila Trubetsky
You can have gentle, experienced care with Brooklyn-based gynecologist Lyudmila Trubetsky, PA. As a Physician Assistant (PA), she's been treating women since 2003. At the Century Medical and Dental Center, she plays an integral role in a team of experts all under one roof.
As a gynecologist, she takes great care of pregnant women, always putting the safety of mother and child first. For example, she gives pregnant women instructions about how to get through their pregnancy smoothly. She also provides delivery services to women.
Brooklyn Gynecological Services
Gynecology deals with women's health and well-being issues. Some common issues include problems related to:
Menstruation, such as irregular or heavy periods
Sexually transmitted diseases (STDs)
Hormonal imbalances
Contraception
Fertility problems
Childbirth
Incontinence
Post-menopausal bleeding
To deal with these issues, Ms. Trubetsky performs a number of procedures to aid her diagnoses and to treat the conditions, such as:
Annual exams, including Pap smears and breast exams
Hormonal workups
Hormone replacement therapy
Bioidentical hormone replacement therapy
Endometrial biopsies
Medical abortion services
Pelvic ultrasounds
STD checks
Incision and drainage
Dilation and curettage (D&C)
Loop electrosurgical excisions
Tubal ligation
IUD insertion, check and removal
Transvaginal ultrasounds and sonohysterograms
Pregnancy tests and prenatal care
A Dedicated Physician Assistant
Ms. Trubetsky completed her Bachelors of Applied Sciences at Pace University in 2000. She then earned her license as a Certified Physician Assistant at the National Commission on Certification of Physician Assistants. She works to remain current in the ongoing medical advances in obstetrical and gynecological medicine.
At the Century Medical and Dental Center in Brooklyn, she works with a team of medical professionals to better help you reach your full health potential. For women having gynecological problems, reach out to Ms. Trubetsky, the top Brooklyn gynecologist. She can find what's wrong and treat it successfully.
---
Century Medical and Dental Center, an Article 28 Multi-Specialty Clinic, has been opened since 2000. For your convenience, you may visit any of our three Brooklyn locations. The doctors and staff speak multiple languages. All offices have convenient hours of operations:
Monday to Friday: 8:00 am to 9:00 pm
Saturday and Sunday: 8:00 am to 6:00 pm