Immigration Exam/Green Card Exam/Civil Surgeon
With so many details to cover and so much at stake, you don't want to take chances with any aspect of your application for immigration to the United States. When you or a family member is so close to completing all the necessary paperwork and interviews required of the U.S. government for entry as a legal immigrant, make sure that your medical papers are in perfect order. Rely on the expertise of the civil surgeons at Century Medical and Dental Center in Brooklyn to get it right for you and your family, so that your transition to citizenship or permanent residency is as smooth and uncomplicated as possible.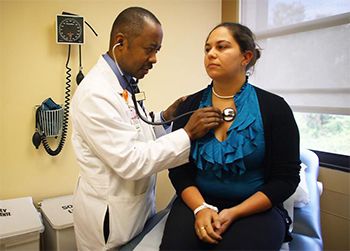 The United States Citizenship and Immigration Services (USCIS), a division of the Department of Homeland Security, often requires that you get an immigration exam verifying that you are healthy and don't have any conditions that would hamper your eligibility for citizenship. The green card exam for medical verification must be performed by a registered civil surgeon.
You'll find the help you need — including a qualified civil surgeon who can successfully fill out the Report of Medical Examination and Vaccination Record — at Century Medical and Dental Center. With three convenient locations in Brooklyn, this practice has many experienced doctors who know the proper procedures and processes necessary to make your application acceptable.
Civil Surgeon Responsibilities
The USCIS authorizes certain eligible doctors to perform the required medical immigration exams on behalf of the Secretary of Homeland Security. As required, they assess an applicant's health in regards to regulations as detailed in the report, labeled Form I-693. The civil surgeon's main duty is to declare the applicant free of ineligible health conditions, including:
Addiction or signs of drug abuse
Mental or physical disorders that are associated with dangerous behavior
Communicable diseases that could pose a risk to public safety
Lack of necessary vaccinations
To become a civil surgeon, your doctor must have worked professionally for at least four years and completed all necessary training, such as residencies and internships, or received a special designation as a civil surgeon. Additionally, a civil surgeon must:
Be a Doctor of Osteopathy (D.O.) or a Doctor of Medicine (M.D.)
Have an unrestricted license in the state where the green card exams are performed
Stay informed of changes and technical instructions as provided by the Centers for Disease Control and Prevention (CDC)
Immigration Exam Health Restrictions
The human immunodeficiency virus, commonly referred to as HIV, is not a restricted communicable disease as of January 4, 2010. Communicable diseases that could make you ineligible for immigration status include:
Tuberculosis that's become infectious
Syphilis
Gonorrhea
Leprosy
To test for tuberculosis, your civil surgeon performs the screening test called a Tuberculin Skin Test (TST), required for all applicants over the age of two. A chest x-ray may be given if there are any questions about the initial screening.
The physical or mental disorder clause refers only to those conditions that may lead to harmful behavior, which is defined as destruction of property or that poses a threat to the welfare of others. While this is often based on past deeds or a psychiatric diagnosis, clearer instructions are provided to your doctor in the CDC's technical manual. All applicants who are tested positive for drug abuse are ineligible for legal immigrant status.
Vaccination Requirements on Immigration Exam
Your doctor has the authority to waive certain vaccinations if they are not age-appropriate, if you're allergic to an ingredient in a vaccine, or if giving you the vaccination may cause a life-threatening condition based on your health. You also may receive a medical waiver if a particular flu vaccine is not available or if it's not flu season.
The CDC and provisions of the Immigration and Nationality Act (INA) stipulate that certain vaccinations must be up-to-date. These include:
Mumps, measles and rubella
Polio
Tetanus and diphtheria
Pertussis
Haemophilius influenza type B
Hepatitis A and B
Varicella
Influenza
Pneumococcal pneumonia
Rotavirus
Meningococcal
Patient Experience
"Friendly doctors and staff! Office was clean and comfortable. Doctor was caring and knowledgeable, taking time to really listen to me and answer all my questions." - Katie Thigpen
Downtown Brooklyn
200 Livingston Str,
Brooklyn, NY 11201
Flatbush
770 Flatbush Ave
Brooklyn, NY 11226
Manhattan
827 11th Ave
Manhattan, NY 10019
Gravesend
260 Ave X
Brooklyn, NY 11223
Myrtle
180 Myrtle Ave
Brooklyn, NY 11201
Once You Complete Your Medical Green Card Exam
Your Downtown Brooklyn medical practitioners at Century Medical and Dental Center are acutely aware of the formal procedures you must follow to successfully complete your immigration request. They carefully instruct you as to the steps you need to take once they've filled out your I-693. You must follow these instructions carefully.
It's your responsibility to turn in the medical form once your doctor finishes it. The completed, signed Form I-693 is given to you in a sealed envelope. You must leave this document sealed, as it's returned to you if it looks like it's been altered or opened. You have to mail the form to the correct filing office, along with your other immigration paperwork, specifically your Form I-485, or direct it to the address given you by USCIS when they asked for it in a Request for Evidence letter. You can also bring the sealed medical paperwork with you if you have an interview scheduled.
The timing of this process is critical because the date on your medical immigration exam must be within 60 days of your application filing. When you schedule your green card exam with your civil surgeon at Century Medical and Dental Center, let them know when you expect to apply, as some lab tests may take time to complete. There is no fee for filing the I-693 with the USCIS. Contact Century Medical and Dental Center for more information.