An increase in sedentary lifestyle and unhealthy diet choices is rising hypertension. High blood pressure is not good for health, and it can result in various complications that may turn life-threatening if they are not cared for timely. Schedule an appointment with an experienced and board-certified doctor at the Century Medical and Dental Center to have your blood pressure checked and learn which stage of hypertension you are suffering from to get started on treatment. Hypertension can cause considerable damage to your health if it is not detected timely. The top cardiologist will provide the best tips and advice on keeping it under control to help you live a long life with a healthy heart.
What Is Hypertension?
Hypertension or high blood pressure occurs when your blood moves through the arteries at a higher pressure than usual. This pressure depends upon the resistance of the blood vessels and how hard the heart has to work.
Hypertension is a severe condition, and it can lead to critical health complications if not controlled timely. It increases the risk of heart disease, stroke, heart failure, and kidney disease. Experts reveal that almost half of all adults in the United States suffer from high blood pressure, and many of these people are not even aware that they have hypertension.
Doctors classify blood pressure into four stages or categories. Treatment of hypertension depends on which type your pressure consistently falls in when readings are analyzed.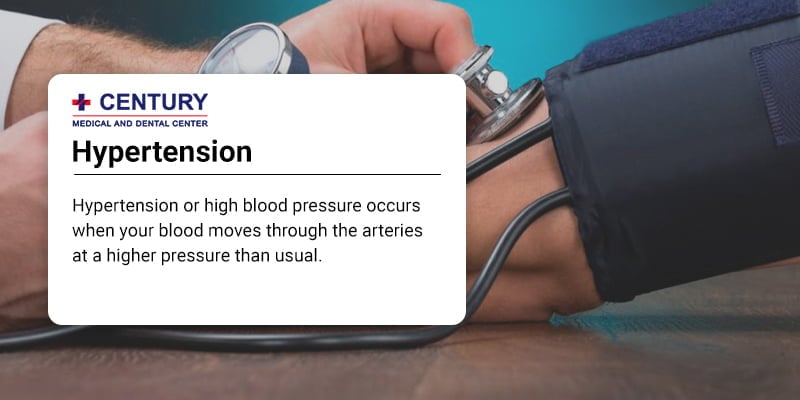 Here Are the Four Stages of Hypertension.
Stage 1 of Hypertension
The first stage of hypertension is referred to as the normal range. During this stage, your systolic blood pressure will be less than 140 mm Hg, while the diastolic pressure will be less than 80 mm Hg.
At this point, you do not require any treatment as the blood pressure is within limits. However, it is essential to monitor the blood pressure to ensure it stays normal.
Stage 2 of Hypertension
This stage is called prehypertension. The systolic blood pressure will be between 130 and 139 mm Hg, and the diastolic blood pressure will be between 80 and 89 mm Hg. Prehypertension is the stage before someone crosses into hypertension. If you are at stage two of hypertension, it means you are at risk of developing high blood pressure, but there is a chance that you can avoid it.
At this stage, there is some risk of heart disease or a stroke if you are not careful and take timely action. No medications are suggested in this phase as they cannot do much against potential strokes or heart disease. Physicians recommend lifestyle changes to improve your quality of life and avoid high blood pressure. Quitting smoking, changing the way you eat and making healthy choices are advised. Managing weight, and incorporating exercise or workouts in your routine also lower the blood pressure and help you stay away from hypertension.
Stage 3 of Hypertension
Stage three of hypertension is actually classified as stage 1 hypertension. Systolic blood pressure is between 140 and 159 mm Hg, and diastolic blood pressure is between 90 and 99 mm Hg.
At stage 1, you are in danger of several health complications due to moderate hypertension, and medications become necessary to keep the blood pressure down and reduce the risk of heart disease and stroke. Doctors recommend ACE inhibitors, angiotensin receptor blockers, beta-blockers, thiazide diuretics, and calcium channel blockers to keep the rising numbers in check.
You will also be asked to make diet and lifestyle changes that help you stay fit.
Stage 4 of Hypertension
Stage 4 is also known as stage 2 hypertension. The systolic pressure is at 160 mm Hg or higher while the diastolic pressure is at 100 mm Hg or higher. These numbers signify severe hypertension and should not be taken lightly. You will be most likely prescribed a two-drug therapy to keep the blood pressure in control.
Stage 2 hypertension increases the risk of coronary heart disease that can lead to a heart attack and stroke. Have your blood pressure checked regularly and follow a strict regime that includes diet change, exercise, and routine adjustments to keep your condition in check.
Other Types of Hypertension
Some other types of hypertension include:
Resistant Hypertension
It is high blood pressure, which is difficult to control and requires multiple medications. Hypertension is considered to be resistant when your blood pressure stays above the treatment target, even when you are taking three different types of blood pressure-lowering medications, including a diuretic.
Resistant hypertension is often tough to diagnose, and doctors have to search for factors that cause it. People with this type of hypertension can be treated with multiple medications or identification of a secondary cause.
Malignant Hypertension
It is the term used to describe high blood pressure that can cause damage to your organs. It is an emergency condition that requires timely treatment. Malignant hypertension is the most severe type characterized by elevated blood pressure, usually at >180 mm Hg systolic or >120-130 mm Hg diastolic that can have severe consequences.
Isolated Systolic Hypertension
In this condition, your systolic blood pressure will remain above 140 mm Hg, while the diastolic blood pressure will be under 90 mm Hg.
It is the most frequent type of hypertension found in older adults. It is believed to result from stiffening of arteries with age. Young people can also develop isolated systolic hypertension and increase their risk of stroke and heart attack as compared to those with normal blood pressure ranges.
Are You at Risk of Hypertension?
If you have a family history of blood pressure or some medical condition and want to know more about your risk of hypertension, monitor your blood pressure and consult your primary care doctor. The expert heart doctor will keep an eye on your numbers. He will also determine if you need to make lifestyle changes or medication to lower your blood pressure.
You must not take your rising blood pressure lightly as it can result in life-threatening consequences such as heart disease, stroke, and kidney failure.
Hypertension Treatment and Management
Hypertension can be prevented, managed, and treated with regular monitoring, medication, and lifestyle changes. Your primary care doctor can play a significant role in treating and managing your condition and help you live a better quality of life.
You can treat and manage your hypertension by:
Regular Monitoring
It includes keeping a track of your blood monitor and monitoring it regularly if you are at a risk
Measuring your blood pressure as per the doctor's advice
Lifestyle Changes
Making lifestyle changes can prevent hypertension and keep it in check. It includes:
Eating a healthy blend of fresh fruits and vegetables in your diet
Quitting smoking
Cutting back on sugars and carbohydrates
Drinking in moderation
Maintaining moderate weight
Controlling stress factors in life
Taking the doctor's recommended medication timely
Eating less salt and incorporating more potassium

Working out regularly to keep the heart healthy
Prescription Medication
Depending on your hypertension level and risk factors, a doctor may recommend one or more prescription medications to treat your blood pressure.
There are several types of medications that help lower blood pressure, and your doctor will prescribe the ones that work best for you. If your hypertension is secondary or linked to some other medical condition, the doctor will treat the underlying problem first. Take the medication regularly and make the necessary changes in your life to feel better.
Hypertension is regarded as the silent killer as it does not usually have any identifiable symptoms. Do not take your rising blood pressure readings lightly, as they can turn serious. Many cases of hypertension do not have a known cause, particularly if you live a sedentary lifestyle. If you have a family history of high blood pressure, heart conditions, and diabetes, get yourself checked to prevent hypertension, medications, and complications, including heart attack or stroke. The heart specialists at the Century Medical and Dental Center determine the causes behind your rising blood pressure and help you manage your condition the best way to enjoy a healthy heart.
SHARE THIS POST
Page Updated on Dec 18, 2022 by Dr. Dvorkina (Primary Care Doctor) of Century Medical & Dental Center