If your blood pressure has been creeping up over time or you are starting treatment for hypertension, having a blood pressure monitor at home is the wisest choice to keep track of your numbers. Choosing from hundreds of different models can be challenging, and sorting out can be a real challenge. Schedule an appointment with an experienced and board-certified specialist at the Century Medical and Dental Center to learn how to check blood pressure by yourself and get accurate readings with the best monitoring device. The best heart doctors help you stay healthy and prevent hypertension and its complications by choosing a validated and top-quality monitor.
High blood pressure is the leading cause of death and disability in almost every part of the world. It is necessary to understand that high blood pressure is something that can be controlled with careful monitoring and timely medical care. If you suffer from persistent high blood pressure, you should consult your primary care doctor to learn how you can keep an eye on the rising numbers and keep them in control.
Investing in a simple, inexpensive home blood pressure monitor is a sensible option as it helps to reach your blood pressure goals and maintain cardiovascular health. It is up to you to choose from manual and digital monitors. Ask your primary care doctor to know which device is better for home usage and how to use it for best results.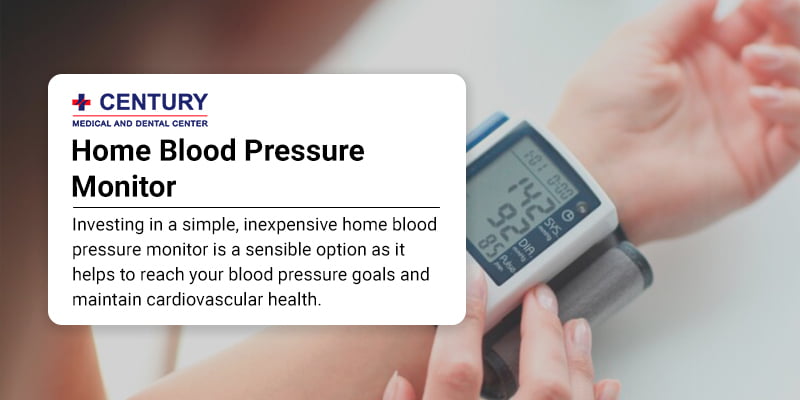 Why Monitor Blood Pressure at Home?
Healthcare experts believe that monitoring blood pressure at home can help you stick to a treatment plan and improve outcomes. Research shows home blood pressure monitoring can help people with hypertension and keep their condition under control. Self-monitoring can lead to lower numbers in both systolic and diastolic blood pressure. The study also reveals that using a home blood pressure monitor encourages people with uncontrolled hypertension to make an effort to focus on their health and heart.
For some people, home monitoring can play a crucial role in diagnosing hypertension in the first place. A series of readings over a week or so can give your doctor sufficient data to determine if there is a problem and diagnose it timely. It is especially effective for people who are just starting to take medications for blood pressure, and checking it regularly can help them see how well the therapy is working.
Although it is pretty easy to take your blood pressure at home with a reliable monitor, there is a lot of margin for error. Not every blood pressure monitor is a good one, and you can end up making mistakes if you do not have a reliable device or know how to get an accurate reading. You need to understand the significance of getting a good monitor and using it right to keep yourself healthy.
How to Buy the Best Blood Pressure Monitor for Home Use
Picking up a model with the features you need can make testing easy for you. There are many factors to consider that can help you select the best monitor.
Here are some doctors' approved tips on what to look for in a blood pressure monitor and how to find the right one for you.
Clinical Validation
You should only buy a product that has undergone clinical testing and satisfied the requirements of the medical authorities. The blood pressure monitor you choose should be safe and effective based on the self-reported data.
Some of the blood pressure monitors validated by the American Medical Association in partnership with the National Opinion Research Center at the University of Chicago are:
Omron 10 Series Wireless Upper Arm Blood Pressure Monitor
Omron Upper Arm Blood Pressure Monitor, 3 Series
Omron 5 Series Wireless Upper Arm Blood Pressure Monitor
Omron Wireless Upper Arm Blood Pressure Monitor, 7 Series
LifeSource Manual Inflation Upper Arm Blood Pressure Monitor with Automatic Digital Reading, Medium Cuff (UA-705V)
Omron Bronze Blood Pressure Monitor, Upper Arm Cuff, Digital Blood Pressure Machine, Stores Up To 14 Readings
Omron Platinum Blood Pressure Monitor, Premium Upper Arm Cuff, Digital Bluetooth Blood Pressure Machine, Stores Up To 200 Readings for Two Users (100 Readings Each)
Omron Silver Blood Pressure Monitor, Upper Arm Cuff, Digital Bluetooth Blood Pressure Machine, Stores Up To 80 Readings
A&D Medical Upper Arm Blood Pressure Monitor with Medium Cuff and Talking Function (UA-1030T)
These devices meet the criteria for clinical accuracy and have been recommended due to their data availability. Even if you are pregnant, have atrial fibrillation or large arm circumference, or want to use the monitor for a child, make sure to buy a validated device for usage in these conditions for accurate results.
Right Cuff Size
Wrong cuff size can lead to error and result in a reading that is too high if the cuff is too small. The cuff should fit snugly around the arm, but it should not be too tight. Consult your primary care doctor to know which cuff size would suit you right and give accurate interpretations.
You can also determine the circumference around your upper arm halfway between your shoulder and elbow and then choose a monitor with the appropriate cuff size.
Upper Arm Type
Wrist cuffs, finger monitors, and smartphone apps for blood pressure measurement are becoming popular, but they have not been adequately validated yet. You should not go for something that is not approved or reliable unless it is an exceptional case and you have an extra-large arm that does not achieve a proper fit with available cuffs.
Budget
You can purchase a reliable and trusted blood pressure monitor without denting your pocket. Check with your insurance company if they will cover the cost of the monitor, or you can pay for it yourself by making a sensible choice. Make sure to ask your healthcare provider about the right brand that has been validated and will give you accurate readings to keep an eye on your blood pressure.
Go For Features You Need
If you cannot read the small print, it is better to search for a monitor with a large display or one that will read the blood pressure aloud to you. Also, if there is more than one person in your house who requires blood pressure monitoring, look for a device that can store readings for multiple users.
Other features to look for when selecting a monitoring device include an irregular heartbeat detector, a risk category indicator, multiple cuffs, memory download capacity as well as data-averaging function.
Buying a blood pressure device that can be charged is a good option if you forget to buy batteries. Some devices can connect via Bluetooth to your smartphone and help you keep up with your measurements most efficiently. Talk to your primary care doctor to learn more about different types of blood pressure monitors and how they can help you stay healthy.
Clinical validation and correct cuff size are the most crucial features that can get accurate readings but the way you use it matters a lot too. Regardless of the type of device you choose, take it with you to your next appointment and have it checked against an in-clinic measurement to see if you are getting correct readings.
If the doctor has suggested you buy a blood pressure monitor to keep an eye on your heart health, make sure to buy the best device that offers precise readings. The right home blood pressure monitor will play a crucial role in ensuring long-term wellness and managing and treating various health conditions. If you have any questions regarding the type of device you should get or how to use it, consult an expert doctor at the Century Medical and Dental Center to learn which instrument would suit you best. The top specialists will guide you in the right direction and help you choose the best blood pressure monitor for your needs.
SHARE THIS POST
Page Updated on Dec 18, 2022 by Dr. Dvorkina (Primary Care Doctor) of Century Medical & Dental Center