Any pain that does not respond to rest or disappears within a few days should be evaluated by a doctor. If you are suffering from intense pain, cannot bend your knee or walk and notice swelling and deformity or any other painful symptoms, it is time to consult a pain management doctor. The knee specialists at the Century Medical and Dental Center work hard to figure out the source of your discomfort and come up with the best solutions to provide relief. The top knee doctors are highly trained in evaluating and treating a wide range of pain-related issues and strive to manage your condition to help you feel better.
Minor aches and pain are a part of life, especially if you live an active life or work on your feet. You must not postpone seeing a doctor about the discomfort you are facing as it may not go away on its own, specifically knee or joint pain. Knee pain that does not get better requires a visit to the doctor. Pain is your body's way of alerting you that something is wrong, and it should not be taken lightly or ignored as it could result in further complications and even the inability to walk.
Knee pain is a common problem that affects people of all ages. The knee is a very complex joint, and it can suffer several types of injuries. It can have different causes. Whether you are young or mature, you can experience knee pain at any stage. Younger people mostly experience knee pain from some injury or trauma, while the elderly experience this pain due to wear and tear and even arthritis.
Warning Signs You Need to See a Doctor for Knee Pain
It is essential to know that not all knee pain requires medical treatment. Most minor tweaks, sprains, and injuries can be treated at home with rest, compression, ice, and elevation. If you have suffered an injury to your knee or its surrounding joint in an accident or sport and the pain fails to go away, you must not waste time seeking medical help. The expert physician will take a good look at the joint to rule out structural joint damage as the cause of the pain before moving towards treatment options.
You should consult a doctor if your knee pain persists, even off and on, for more than a couple of weeks.
Schedule an appointment with your primary care doctor if you experience the following:
Redness, warmth, and tenderness in the knee
Significant swelling that is painful to touch
Intense pain
Inability to bear weight on the affected leg and stand or walk
Fever
Physical deformity in the injured area
Chronic knee pain that is not severe to warrant a trip to the emergency room or urgent care may be a sign of a degenerative condition. You should not ignore persistent or recurring pain in the knee joint as it could result in temporary or even permanent disability.
Osteoarthritis
It is one of the most common conditions that affect the knee, and it results from age-related changes to the protective cartilage of joints. Osteoarthritis is progressive, which means it will continue to get worse unless you take necessary measures to address it.
Rheumatoid arthritis can also affect any bone in the body and is one of the most debilitating forms of arthritis that can cause knee pain. Knee joints can become inflamed in rare cases during which septic arthritis can cause significant damage to the joint and result in painful symptoms. These conditions must be properly checked by a doctor, as they require specialized care.
If you have to take pain relievers more than a few times a month for knee pain, it is a warning sign that something is wrong, and you must visit a specialist doctor for diagnosis and treatment.
Other symptoms that require medical assistance include:
Stiffness in the knee
Swelling
Limited range of motion
These signs indicate an injury or other orthopedic condition and should not be taken lightly. Many people believe these symptoms to be signs of aging or part of growing up, but they could be a sign of something more serious. Being overweight or obese has nothing to do with chronic knee pain. It must be checked by an experienced physician. Chronic knee pain may be common, but it is not normal and should not be left untreated. There are several options to reduce or eliminate knee pain and keep you active on your feet.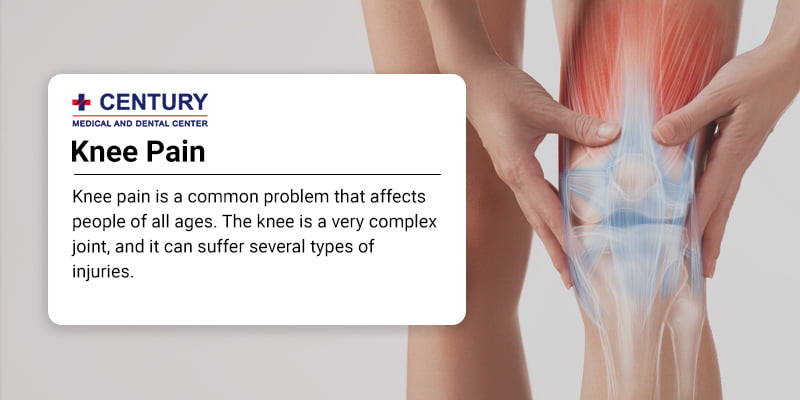 Key Facts to Know About Knee Pain
Knee pain is a common problem with many causes, from acute injuries to complications resulting from medical issues
Knee pain can be localized to a specific area of the knee or spread throughout the joint
Knee pain is often accompanied by physical restrictions
Only thorough physical examination will help in accurately diagnosing knee pain
The treatment of knee pain depends on the underlying causes
The prognosis of knee pain, even severe pain, is usually good, but in some cases, it may require surgery or other interventional therapy
Importance of Seeing a Knee Doctor for Pain Management
Knee pain can become a nuisance that can make you miss work or cut down on physical and fitness activities. Seeking prompt medical attention for uneasiness in the knee that persists longer than a week or two can help you feel better without any more suffering.
Leaving pain untreated or ignoring the discomfort may require aggressive and invasive treatments to get you back on your feet. You may have to work with physical therapists, hydro-therapists, or other health professionals to resume normal activities depending on the causes and severity of your knee pain. You should not ignore symptoms of knee pain as they may get intense and lead to irreversible implications.
Types of Doctors You Can Visit for Knee Pain
Pain in the knee can improve on its own or with conservative treatment at home, but knee ache resulting from conditions like ACL or meniscus tear require medical care and attention. Visit your primary care doctor for an initial consultation regarding joint problems. The doctor will check your knee and strive to diagnose the causes of distress. If pain relievers are unable to provide relief, he may recommend further testing to know what is causing the discomfort.
He may refer you to a knee specialist if you have some chronic knee problem resulting from the musculoskeletal system that comprises of bones, joints, cartilage, muscles, and nerves, including the knee. The specialist doctors can treat acute and chronic knee pain and enhance your quality of life. They can also guide you regarding preventative care to protect your knees from damage and make them last a long time without any discomfort or other symptoms.
Knee pain that occurs from some injury or an activity that is more strenuous than usual and affects the joint requires medical attention. You should not ignore persistent pain and the inability to put weight on your leg as it could result in further complications. The expert and board-certified pain management doctors at the Century Medical and Dental Center specialize in treating conditions that affect the hip and knee, among others. They utilize the best diagnostic tools and tests to determine what is functionally wrong with your knee. The top pain doctors strive to come up with the best treatment for knee injuries and pain to help you stay active on your feet.
SHARE THIS POST
Page Updated on Dec 18, 2022 by Dr. Dvorkina (Primary Care Doctor) of Century Medical & Dental Center