When to See a Board-Certified Allergist
Comments Off

on When to See a Board-Certified Allergist
If you feel you are always getting sick with a cough or head congestion or face breathing issues when the weather changes, it means you are suffering from allergies. Usually, symptoms of allergies develop due to seasonal changes and pollution, but if they begin to interfere with your day-to-day activities and affect your quality of life, you must consult a board-certified allergist. The highly experienced and trained specialists at the Century Medical and Dental Center go through your medical history and symptoms to determine the underlying cause and perform various tests to determine the triggers. After they have determined the causes, the allergists come up with a treatment plan, along with recommendations for adapting and dealing with the underlying reasons for lasting relief.
Asthma and allergic diseases are the most commonly faced health problems. An allergy arises when your immune system fails to respond correctly to an external irritant. Common allergy triggers include pollen, animal dander, dust mites, and molds. Some foods, particularly nuts, fish, eggs, and milk can also result in allergic reactions. Allergies can be a serious health matter. If you cannot find relief from over-the-counter medications or the usual care, seeking specialist help is the only solution.
What Is a Board-Certified Allergist?
An allergist or immunologist is a physician who has specialist training for diagnosing and treating allergic diseases, asthma, and diseases of the immune system. To become an allergist, an individual must graduate from college, medical school and undergo residency training in either internal medicine or pediatrics.
The road to becoming a board-certified allergist is long and requires years of education and training. An allergist has to spend at least eight to nine years learning. This learning process is necessary for cultivating the expertise to provide the highest quality of care for patients suffering from various sensitivities. The programs combine rigorous research in the field with intense training, specifically in allergy and immunology.
Why See a Board-Certified Allergist?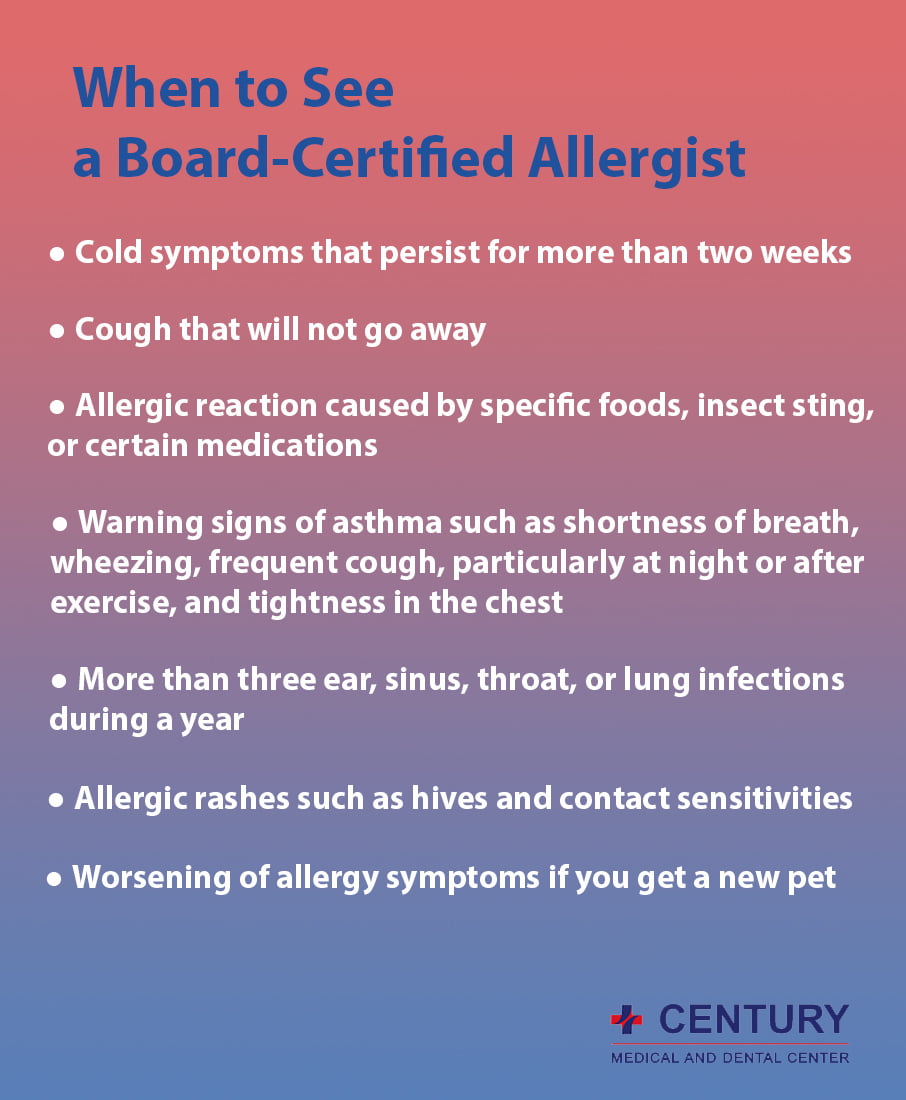 If you have been suffering year after year with allergy symptoms that affect your quality of life and disturb normal routines, visiting a highly qualified allergist or immunologist may be the best option to seek relief. No other physician is qualified to treat allergies diseases except a trained and board-certified allergist.
The certified allergists are experts who have met the highest level of nationally recognized standards and education. They have achieved expertise in the fields of allergy, asthma, and immunology. While all practicing physicians carry a medical license, the minimum requirement for offering medical care, board certification is a process that goes above and beyond the regular medical license, making the doctor a true expert of the field.
Allergies can be pretty intense and keep you from enjoying life. The specialist doctor can diagnose and treat all kinds of allergies, diagnose and manage asthma, prepare allergy shots, and manage complex immunodeficiency as well as many other conditions. They get to the root cause of your symptoms, identify the triggers and strengthen your immune system to fight the infections, and help you stay healthy.
The high qualified allergists can help you with the following:
Controlling allergies or asthma that interferes with everyday life;
Reducing the need for daily medications for treating allergies and asthma;
Searching for alternatives to antihistamines, decongestants, and other over the counter medications that are unable to control symptoms or lead to side effects like drowsiness or nervousness;
Treating infants or children with eczema;
Determining potential triggers for allergic symptoms or asthma.
Signs you need to see an allergist
Cold symptoms that persist for more than two weeks;
Cough that will not go away;
Allergic reaction caused by specific foods, insect sting, or certain medications;
Warning signs of asthma such as shortness of breath, wheezing, frequent cough, particularly at night or after exercise, and tightness in the chest;
More than three ear, sinus, throat, or lung infections during a year;
Allergic rashes such as hives and contact sensitivities;
Worsening of allergy symptoms if you get a new pet.
Ignoring or taking signs of allergies lightly can land you with further complications that become difficult to manage. Seeing an experienced allergist is the only way to have these problems addressed the right way.
Benefits of Seeing a Board-Certified Allergist
There are several benefits of seeing a qualified allergist. They include:
You get to work with a highly trained and informed physician who has attained the highest level of expertise to treat your health issues;
It confirms that your doctor is updated with the newest developments in this field; the physicians must maintain board certification through regular exams and clinical testing with an emphasis on the latest clinical advances, patient safety, communication, and medical ethics;
The specialist offers a higher quality of care; board certifications are an excellent indicator of the level of care you will receive from your physician;
They help manage your condition and control your symptoms that can turn life-threatening, especially in cases of asthma, food or medication allergy, and weakened immunity.
Board-certified allergists treat patients with many types and varying degrees of allergic conditions. They are just like medical detectives. They go through the medical history of the patients and diagnostic clues to solve mysterious symptoms and determine the real causes behind stubborn allergies.
How to Find a Board-Certified Allergist
Finding a good allergy specialist you can trust can play a significant role in getting rid of persistent or recurring allergies that affect your quality of life. When you start searching for an allergist or immunologist, you must look for someone whom you feel comfortable with and ready to embark on a journey to good health.
Top tips for finding an allergy specialist include:
Searching online for information about the doctors you are considering;
Asking people you trust for names of physicians and specialists they recommend;
Visiting websites that offer honest and unbiased reviews; you just have to enter the doctor's name to find out about their level of expertise, patients' experience, and overall rating;
Calling and asking questions or scheduling a visit at the clinic where you can ask about the doctor's experience and credentials;
Ask for a board-certified doctor for allergy, asthma, and immunology by calling up a hospital near you.
Thousands of people face allergy problems every year and seek the best healthcare providers who help them get rid of their symptoms and manage their conditions. It is important to find a qualified and trained physician who is board certified in his or her area of expertise to receive the best quality care and a permanent solution for your problem.
Research shows that specialty board certifications are associated with lower patient mortality, and shorter hospital stays for all specialists. Having recognized specialists looking into your condition can help to improve outcomes and provide effective relief.
Do not take your allergies and asthma lightly, as they can become a big nuisance and even turn life-threatening if you do not treat them timely. Consulting a specialized doctor with the right qualification and experience can help you get rid of allergies or manage them most effectively. The accredited and experienced allergists at the Century Medical and Dental Center are equipped to deal with all types of allergies and their related problems. They are familiar with the latest research and developments regarding allergies, asthma, and immunology diseases and help you feel better with the most effective treatments that relieve the painful symptoms. With accurate diagnosis and identification of the triggers, the top allergists in NY can improve your quality of life and prevent unexpected and annoying allergic reactions.