Sudden onset of unexplained back pain that lingers or is accompanied by other symptoms like chest pain, shortness of breath, and pain in the jaw or shoulders must be evaluated by an expert doctor. Schedule an appointment with Century Medical & Dental Center to know more about your heart health and cardiovascular system and how well it is working. Experienced doctors will use the most state-of-the-art diagnostic methods and accurate tests to rule out a cardiac cause for back pain. They will also check out potential causes of pain like injury to the muscles or spine to help you seek quick relief.
Back pain may be something more than a pulled muscle, nerve injury, or fatigue. Back and chest pain occurring together can be concerning as vital organs such as the heart may be at risk. Understanding the symptoms, underlying mechanism, and the cause of this type of pain can help to differentiate between a commonly occurring condition and a medical emergency.
Is Back Pain a Symptom of a Heart Attack?
For most people, warning signs of a heart attack include shortness of breath, chest pain, and nausea. They do not even think of back pain as a sign of a heart attack as it is not associated with internal organs. However, the latest research shows that back pain is one of the warning signs of heart attack, particularly in women.
Back pain is one of the symptoms, but it is not always an onset of a heart attack. You may be experiencing back pain due to a herniated disc or muscle strain. If your back pain is accompanied by other heart attack symptoms such as shortness of breath and chest pain, visit a heart doctor immediately to get emergency medical care.
Taking good care of the heart starts with knowing the symptoms that lead to problems. Identifying when pain back could be a precursor to a heart attack could help prevent this life-threatening condition and improve your quality of life. Understanding how a heart attack happens can help to explain the connection between back pain and heart attacks.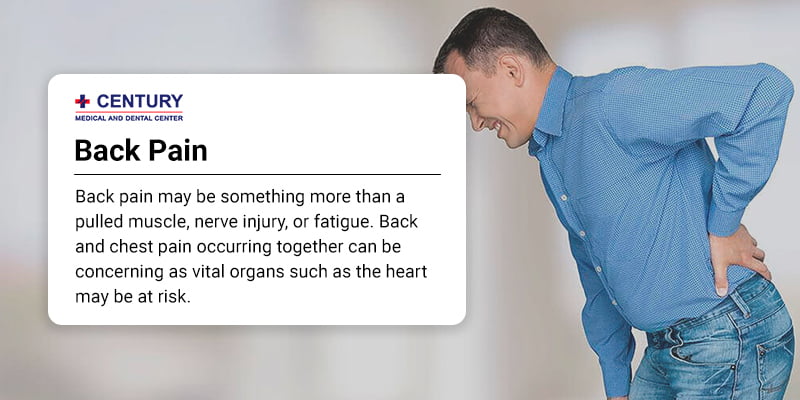 What Causes a Heart Attack?
Coronary artery disease is the most common form of heart disease. Coronary arteries are blood vessels that carry oxygenated blood to the heart. A heart attack occurs when the flow of blood to the heart is severely reduced or blocked. Blockages are caused by clots that build up due to plaque and other fatty materials and affect the blood flowing through the arteries.
Heart attacks are deadly not only because they diminish the blood flow but because they damage or destroy the heart muscle. When the heart muscle gets damaged, it is unable to pump the blood adequately to the rest of the body.
The Connection Between Back Pain and Heart Attack
When the blood flow in a coronary artery is blocked, it leads to chest pressure. Many people going through heart problems experience a sensation of pressure, cramping, or squeezing in the chest that becomes very uncomfortable.
This pain can also radiate to the back. It is the reason many people feel both chest and back pain before a heart attack. Sometimes this pain is only felt in the upper back. Some patients also reported a sensation of pain in their neck, jaws, shoulders, or abdomen.
Back pain that occurs with exercise and disappears with rest may also be a sign of a heart condition.
Development of Back and Chest Pain
The chest and upper back are close to each other and share many ribs that help to protect the same vital internal organs.
Some other biomechanics that contributes to back and chest pain include:
Muscle dysfunction
Nerve compression or inflammation
Problem with internal organs
Many other factors could also be involved with developing chest and upper back pain. There may be more than one cause or separate causes behind this condition.
Why Do Women Experience Back Pain More Than Men?
Not everyone experiences the classic symptoms of a heart attack, such as chest pain and shortness of breath. As compared to men, women are more likely to experience symptom clusters where multiple heart attack warning signs occur at the same time.
Many women experience a combination of the following symptoms:
Nausea
Vomiting
Dizziness
Shortness of breath
Fatigue
Stomach pain
Women often fail to realize these symptoms as a warning sign of heart attack as they occur more subtly and are usually mistaken for other ailments.
Back pain can potentially be a symptom of heart attack and heart disease. If you are committed to staying healthy, you can lower your risk of heart attack and many other health issues. Visit Century Medical & Dental Center, where the experienced heart doctor uses the most advanced diagnostic methods and accurate tests to check for heart disease. The heart doctor will recommend the most practical solutions including lifestyle changes and preventive therapies to minimize your risk of developing heart disease and manage your condition most effectively.
SHARE THIS POST
Page Updated on Dec 18, 2022 by Dr. Dvorkina (Primary Care Doctor) of Century Medical & Dental Center