Chest Pain
Chest pain can frighten anyone, raising levels of concern because of the common threat of a heart attack. But you may experience chest pains for other, sometimes unrelated conditions. When it comes to chest pain, a clear diagnosis is your best chance at reducing your risks of a heart attack, while clearing up or managing other medical issues. Contact your Brooklyn doctor at Century Medical and Dental Center for heart attack prevention treatment and relief from other uncomfortable symptoms.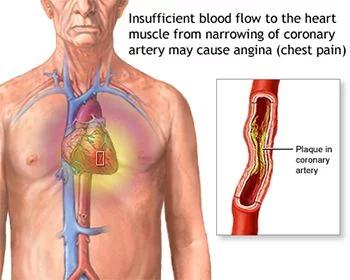 Chest pain occurs for a number of health reasons and in a variety of different ways — from a sharp stab to a dull ache. It can feel like a crushing or burning sensation. It can show up as a pain in the neck or jaw, and even radiate into your back or down either or both arms.
Unless you know that your chest pain is the result of a previously diagnosed underlying condition, take the symptoms seriously and seek emergency treatment. Your medical internist at Century Medical and Dental Center advises you of your heart attack risks, as well as the potential for chest pain from a condition that you're having treated. If you did experience a heart-related incident, follow up with your doctor shortly after you've been stabilized to prevent further attacks.
Causes of Chest Pain
Chest pain causes may arise from a deep tissue or blood vessel problem, but there are many possible causes, including anxiety or panic attacks. Blood clots in your lungs can cause chest pain. A collapsed lung can also lead to chest pain. Additional culprits include:
Heartburn
Gallstones
Stomach ulcers
Gastritis
Lung disease
Other gastrointestinal issues
Bone, muscle or nerve problems
You're at a higher risk of developing chest pains and a potential heart disorder if you:
Are between the ages of 40 and 60
Have elevated levels of lipids in the blood, especially cholesterol
Develop high blood pressure
Have diabetes
Smoke cigarettes
Are physical inactive
Are overweight or obese
Suffer with an aortic dissection, a hereditary disease that weakens the aortic artery wall
Use cocaine or other illegal substances, especially stimulants
Are a male age older than 50
Have a family history of heart disorders
Take drugs for cancer treatment
Use oral contraceptives
Symptoms of Chest Pain
Chest pain occurs anywhere in your front upper body, from the neck to the upper abdomen. You may feel it in a variety of forms — sharp, dull, burning, aching, stabbing or as a squeezing sensation. When you consider your discomfort, notice where and when the pain started, what it felt like and how the pain has changed or stabilized.
Common symptoms that are not life-threatening, but due to an underlying condition affect you in different ways, depending on the cause. For example:
Lung ailments usually cause symptoms to come on suddenly. The pain is accompanied by:
Shortness of breath
Fever or chills
A sharp pain when you breathe
Coughing or sneezing
A deep chest ache
A rapid heartbeat
Gastrointestinal issues or gastroesophageal reflux disease, known as acid reflux, leads to chest pain that originates from your abdomen. Symptoms include:
Your stomach contents come back up your throat, causing a sour taste in your mouth
Muscle spasms
Heartburn
Chest pain that worsens when lying down
Tightness on the upper side of your abdomen
Bone, muscle and nerve chest pain symptoms may be caused by:
A fall or accident injuring your ribs with pain that worsens as you breathe deeply or cough
Strained muscles from really hard coughing
Shingles that produce a band-like pain preceding a rash
When Chest Pain Does Indicate a Heart Attack
Most life-threatening causes of chest pain involve your heart or lungs. These causes can signal a serious problem with your heart that requires immediate medical help. Heart attacks are often caused by coronary artery disease, known as angina, and characterized by blocked blood vessels that damage your heart muscle.
The intense chest pain that comes from a heart attack is clinically called myocardial infarction — a reduction of blood through the vessels that feeds your heart. It leads to the death of heart muscle cells. Heart attacks are not a sudden occurrence. They usually build up over time as cholesterol forms a clot and other damage occurs inside the coronary arteries.
Patient Experience
"Friendly doctors and staff! Office was clean and comfortable. Doctor was caring and knowledgeable, taking time to really listen to me and answer all my questions." - Katie Thigpen
Downtown Brooklyn
200 Livingston Str,
Brooklyn, NY 11201
Flatbush
770 Flatbush Ave
Brooklyn, NY 11226
Manhattan
827 11th Ave
Manhattan, NY 10019
Gravesend
260 Ave X
Brooklyn, NY 11223
Myrtle
180 Myrtle Ave
Brooklyn, NY 11201
Chest Pain Treatment Options
Treatment for chest pain varies from medications to surgeries. Your treatment depends on your health and the underlying condition that's causing the pain. Your Brooklyn heart specialist may prescribe drugs for chest pain treatment, such as:
Artery relaxers like nitroglycerin, a tablet placed under your tongue
Thrombolytic drugs, which dissolve clot-blocking blood from the heart muscle
Blood thinners, including aspirin
Acid-suppressing medications
Antidepressants to help control panic attacks
Physiological or cognitive therapies may be in order if your chest pain is caused by anxiety or stress. Surgery as a chest pain treatment is reserved for the most dangerous causes. It may include:
Angioplasty and stent placement — when a blockage in an artery prevents healthy blood flow
Bypass surgery that creates an alternate route for blood around a blocked artery
Dissection repair to fix an aortic dissection from a ruptured artery
Lung re-inflation, when a tube is inserted in your chest to re-inflate your lung
Prevent Chest Pain with Regular Checkups
The issues that lead to a heart attack or cause you continued chest pain often are discovered during your routine physical.
Since your Brooklyn doctor is part of a multi-disciplinary team, referrals to specialists you may need can be a simple as a walk down the hall. Whether you're a regular patient or need care for chest pain, contact Century Medical and Dental Center today for an evaluation.