Cervical Cone Biopsy
There are times when image tests, like x-rays or MRIs, aren't sufficient. So if you receive an abnormal Pap smear result or a genital wart is discovered on your cervix, your Brooklyn gynecologist relies on a cervical cone biopsy. It's a minimally invasive procedure to remove a cone-shaped piece of tissue from your cervix in a safe and quick manner. Visit Century Medical and Dental Center for a thorough exam and expert treatment, even when you need a biopsy done.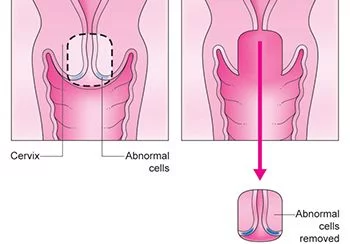 A cervical cone biopsy, also known as a conization, is a procedure to remove a cone-shaped sample of tissue from your cervix. The tissue is then sent to a lab for testing. Conization is usually done whenever abnormalities are detected to determine if abnormal cervical cells are cancerous.
To perform the biopsy, your top gynecologist at Century Medical and Dental Center, a multi-specialty medical practice in Brooklyn, follows a set number of steps to collect the tissue sample. Your doctor:
Administers anesthesia to numb the area around the cervix. You may need general anesthesia, which knocks you out completely, or just regional or local anesthesia.
Inserts a speculum into your vagina.
Uses a scalpel or laser to cut the tissue from your cervix. The collected tissue sample may range in size, depending on the size and location of abnormal cells.
Why You Need A Cone Biopsy
Doctors rarely resort to surgery, even minimally invasive surgery, without cause. In this case, the risks of not treating a dangerous disease or medical condition outweigh the minimal risks associated with this procedure. Most commonly, a gynecologist recommends cervical cone biopsies for several reasons, including:
You've had an abnormal Pap smear. If your regular Pap smear detected anything unusual, your doctor may perform a cervical cone biopsy to determine if the cells are pre-cancerous. Conization is one of the most effective ways of detecting and removing early-stage cervical cancer.
You've been diagnosed with human papillomavirus (HPV). Because HPV is an early indicator of specific types of genital cancers, your Brooklyn gynecologist needs to check your cervical tissue for early signs of cancerous cells.
You've been exposed to diethylstilbestrol (DES). DES, a synthetic form of estrogen once believed to prevent miscarriage, is now known to increase reproductive cancer risk. If your mother used DES during her pregnancy, your doctor monitors you for reproductive cancers.
You have genital warts. Genital warts cause pain or discomfort. But they can be safely removed during a cervical cone biopsy, which often diminishes your future cervical cancer risk.
Risks and Side Effects Associated with Conization
Cervical cone biopsies are relatively pain-free operations. You may feel some slight pressure during the procedure, but the anesthesia you receive is enough to eliminate any pain. Additionally, your doctor monitors you during the procedure.
The possible risks of cone biopsies include excessive bleeding, fever or infection, which accompanies all surgeries. But a cervical cone biopsy is a minimally invasive procedure, and the gynecologists at Century Medical and Dental Center have performed many of them. Complications are exceedingly rare.
Recovery After Cone Biopsy
After your cervical cone biopsy in Brooklyn, you're escorted into a recovery area, where you'll be monitored for a few hours before being sent home. Common questions about your recovery include:
Can I drive home after my biopsy? You cannot drive for 12 to 24 hours if you underwent general anesthesia. You have to arrange for a friend or family member to drive you home. But if you had regional or local anesthesia, you may drive yourself home.
Can I have sex after a cervical biopsy? Do not have intercourse until after your gynecologist allows it. You may need up to six weeks for your cervix to heal enough to participate in sexual activities.
Is there any lingering cervical biopsy pain? It's normal to experience some menstrual-like pain or cramping after the surgery, but you can mitigate this with over-the-counter pain medications.
How long does the bleeding last? Menstrual-like bleeding is normal for the first week after the cone biopsy, although spotting can last for up to one month.
When can I return to work? If your recovery is normal, you can resume your regular activities, including most jobs, a day or two after the procedure. Avoid lifting heavy objects for two weeks after the procedure.
Can I get pregnant after a cone biopsy? You need to speak with your gynecologist at Century Medical and Dental Center about your results of the biopsy first. But most women can have healthy, normal pregnancies after a cone biopsy procedure.
Cervical cone biopsies are a safe, effective way to treat symptoms like genital warts and detect cervical cancer. The specialists at Century Medical and Dental Center in Brooklyn believe that combining surgical expertise with top-notch gynecological care produces the best results. That's what makes this practice more effective.
Patient Experience
"Friendly doctors and staff! Office was clean and comfortable. Doctor was caring and knowledgeable, taking time to really listen to me and answer all my questions." - Katie Thigpen
Downtown Brooklyn
200 Livingston Str,
Brooklyn, NY 11201
Flatbush
770 Flatbush Ave
Brooklyn, NY 11226
Manhattan
827 11th Ave
Manhattan, NY 10019
Gravesend
260 Ave X
Brooklyn, NY 11223
Myrtle
180 Myrtle Ave
Brooklyn, NY 11201
Cervical Cone Biopsy vs. LEEP
Loop electrosurgical excision procedures (LEEP) are similar to cone biopsies in that both procedures remove a portion of your cervical tissue for further testing. While cervical cone biopsies are performed using a scalpel or laser, LEEP uses a thin electrified wire to make the excision.
Whether you need a cervical cone biopsy, a LEEP procedure or an endometrial biopsy, you get the best care and the best results at a clinic that puts multiple medical specialties in one location. Contact our Brooklyn medical specialists at Century Medical and Dental Center to schedule an exam today.