Abnormal Pap Smear
One of the main reasons to schedule an annual gynecological exam is to get a Pap smear test. When you visit your doctor at Century Medical and Dental Center, you get the best care and the most accurate results. But even abnormal Pap smear results don't signal life-threatening diseases such as cancer. While the presence of abnormal cells isn't always an immediate call for concern, the test is a critical piece of early detection practices that could save your life.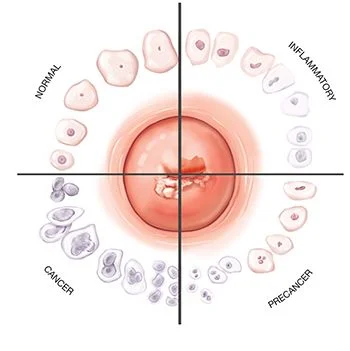 Receiving an abnormal Pap smear result doesn't necessarily mean that you have cervical cancer or another life-changing condition. Your top Brooklyn gynecologist at the Century Medical and Dental Center may discover that you have an infection, the human papillomavirus (HPV), inflammation or nothing at all. When tests are inconclusive, which is a common occurrence, you may need to repeat the Pap smear test in six months to rule out any serious complications.
A Pap smear isn't a diagnostic test, but rather a cancer screening technique to assess how vulnerable you are to getting cancer. You should be seeing your gynecologist for an annual physical exam, along with a Pap smear test, as soon as you reach 21 — or within three years of becoming sexually active.
Why Seek Pap Smear Results
There are many medical reasons to get regular Pap smear tests, such as:
You have a family history of cervical cancer, which means you're more likely to develop it too.
You've had any type of cancer diagnosis, including cervical cancer because once you have any kind of cancer, you're at a greater risk of developing other types.
Your doctor has found precancerous cells from a test.
Your mother took the controversial diethylstilbestrol (DES) drug, a synthetic form of estrogen that used to be given to prevent pregnancy complications.
You are HIV positive.
Your immune system is weak because of a recent organ transplant, chemotherapy or chronic corticosteroid use.
You have a history of smoking.
You have multiple, concurrent sex partners or indulge in sex without condoms.
If you're at high risk for cervical cancer, your doctor may recommend that you get a Pap smear test more often than once a year. After you reach the age of 65, however, you may not need to continue getting screened if you haven't had cancer of any kind. Ask your doctor about it at your next annual exam.
An Explanation of and Treatments for Abnormal Pap Smear Results
One in 10 Pap smear tests shows abnormal cell changes. Some of those results may be due to dysplasia, which is abnormal cells that indicate cancer. Most abnormal results, though, are caused by the human papillomavirus (HPV) or genital warts — a sexually transmitted infection that's caused by HPV.
Your cells may also look abnormal if you suffer from herpes, trichomoniasis, or bacterial or fungal infection. Tell your gynecologist about any itching, burning pain or smelly vaginal discharge you may be experiencing. Other reasons for an abnormal Pap smear include:
Atypical squamous cells of undetermined significance (ASC-US). This result shows changes in your cervical cells due to an HPV infection. While HPV has no cure, the infection can be cleared up with antibiotics or other treatments, such as the removal of genital warts.
Low-grade squamous intraepithelial lesions (LSIL). This result indicates that your cervical cell changes are mildly abnormal. HPV infection is usually the culprit, and the infection goes away on its own.
High-grade squamous intraepithelial lesion (HSIL). This result occurs when the cervical cell changes are so severe that your gynecologist might suspect pre-cancer or cancer cells are present. A biopsy is usually performed next, followed by cancer treatment if necessary.
Atypical glandular cells (AGC). This result involves the glandular cells that are found in the inner canal of your cervix and uterus. Changes to these cells are usually due to the presence of pre-cancerous cells that may be removed by a dilation and curettage (D&C) procedure.
Squamous cells cancer. This result happens when the abnormal cells have changed and disintegrated to such an extent that they must be cancerous. Squamous cells found in your vagina or cervix require cancer treatments, such as chemotherapy, as soon as possible.
Adenocarcinoma cell cancer. This result reveals a cancer of the glandular cells. The state of the abnormal cells is very similar to those found in squamous cells cancer, so they must be treated aggressively.
Patient Experience
"Friendly doctors and staff! Office was clean and comfortable. Doctor was caring and knowledgeable, taking time to really listen to me and answer all my questions." - Katie Thigpen
Downtown Brooklyn
200 Livingston Str,
Brooklyn, NY 11201
Flatbush
770 Flatbush Ave
Brooklyn, NY 11226
Manhattan
827 11th Ave
Manhattan, NY 10019
Gravesend
260 Ave X
Brooklyn, NY 11223
Myrtle
180 Myrtle Ave
Brooklyn, NY 11201
Additional Testing
Taking the Pap smear test again is the easiest way to rule out pre-cancerous abnormalities. The in-office procedure takes just a few minutes and is painless. You simply lie on a table with your feet in stirrups while your gynecologist collects a sample tissue.
Any suspicious abnormal cells may require further tests, such as:
Finding The Best Abnormal Pap Smear Specialist Near Me
When looking for further evaluation after receiving an "abnormal" reading from a regular Pap smear, choose an experienced OBGYN doctor who is among the best abnormal Pap smear specialist near you to provide expert analysis and additional testing as well as appropriate treatment.
Locate a multidisciplinary medical clinic offering a PAP smear near you and abnormal PAP consultations to rule out or detect complications and help you in your battle against cervical cancer if needed. The team at Century Medical and Dental offers exceptionally flexible scheduling options to guarantee your medical needs are addressed immediately and in a warm, inviting environment.
If an abnormal Pap smear during pregnancy was positive, you can safely repeat the test to rule out serious complications. You can also undergo the colposcopy procedure without complications; however, any invasive testing should only be done after your baby is born. For most women, giving birth often eliminates all the abnormal cells, as confirmed by Pap smear results after you deliver. To set your mind at ease over abnormal Pap smear results, talk to your medical specialist at Century Medical and Dental Center.