Annual Physical Exam
Depending on the type of health insurance you carry, most annual physical exams are covered in full. That's because insurance companies have recognized the importance of preventive steps that invariably lead to lower costs when serious, preventable diseases are avoided. When you rely on an internist for your annual exam, you also increase the odds of catching any condition in the early stages, when your chances of successful treatment are highest. If any condition is discovered during your yearly physical, there's a specialist at Century Medical and Dental Center who offers you the most effective treatment.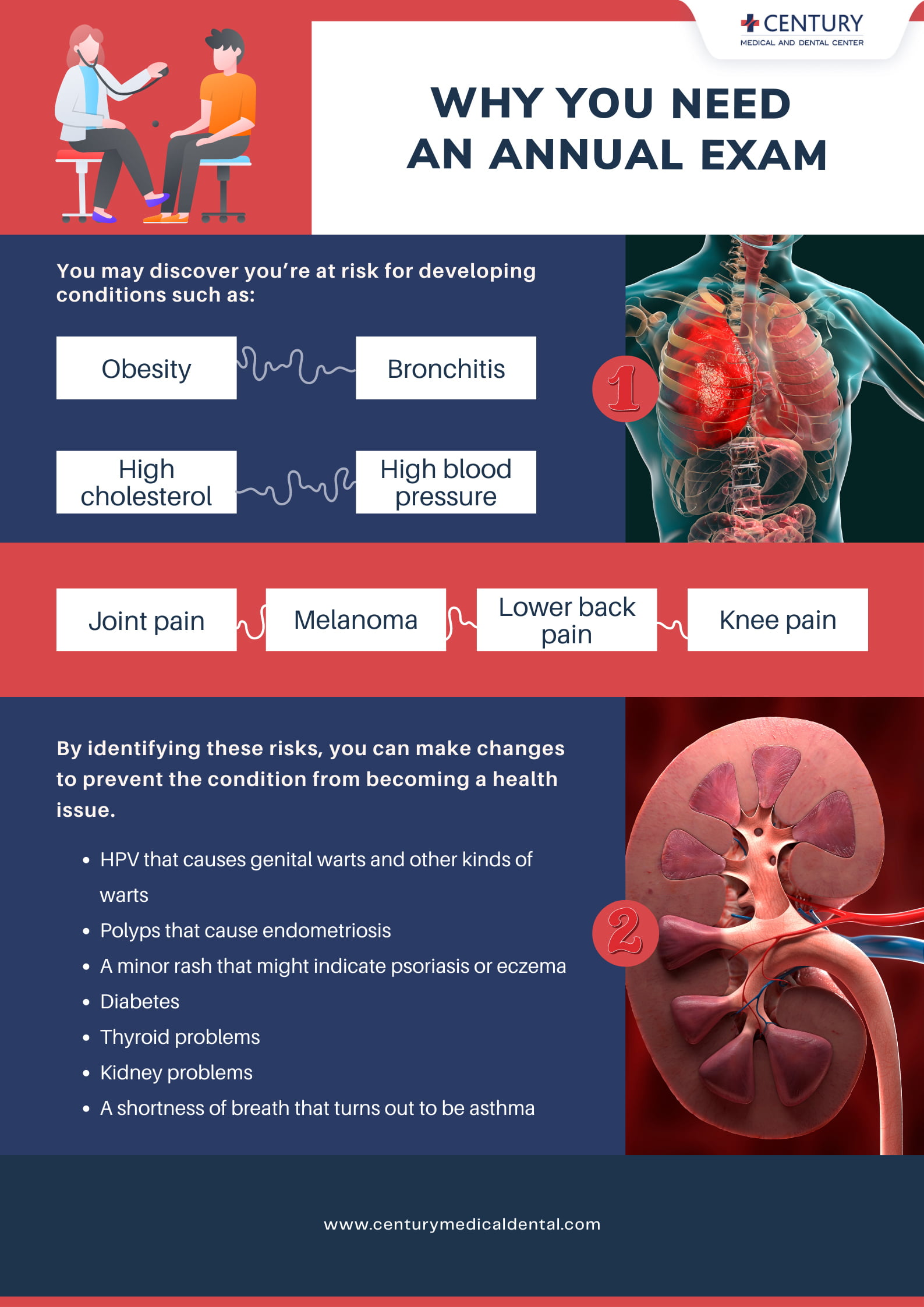 Traditionally, an annual physical exam occurs once per year at your family doctor or internist. It's a time when you receive a thorough physical, annual physical exam blood tests and comprehensive history of your health over the past year. While the practice of annual exams began with encouragement from life insurance companies, the American College of Physicians recommends that you follow your own doctor's suggestions as to how often and when he'd like to see you.
The Brooklyn internal medicine doctors at Century Medical and Dental Center welcome everyone into their care except children. Internists diagnose and treat every kind of condition, from back pain and urinary incontinence to skin cancer and pneumonia.
During your annual physical exam, you submit to a thorough examination. Your Brooklyn internist follows any leads from abnormal or unusual findings. Your doctor may even discover serious diseases that haven't even presented any symptoms yet.
Why You Need an Annual Exam
In addition to catching disease in the earliest stages, the annual check-up allows your doctor to assess your risk factors for developing challenging health problems in the future. By talking with you about your lifestyle, eating, exercise and sleep habits, for example, you may discover you're at risk for developing conditions such as:
By identifying these risks, you can make changes to prevent the condition from becoming a health issue. On the other hand, annual physical exam blood tests and examinations may reveal that you already have the markers of early onset for various conditions such as:
Early detection always is preferable to treatment of a full-blown disease with all the associated side effects of the condition and the treatment. Your chances of successful cure improve drastically when medical conditions are caught early.
Annual Physical Exam Procedures
By visiting your Brooklyn physician once a year for a routine annual physical exam, you build a relationship. When you have concerning symptoms, therefore, you feel comfortable addressing those with your doctor. Plus, your past medical records are readily available.
When you start a new job or apply for a life insurance policy that requires a physical, you know where to go to. School physicals for adolescents and exams required to play certain sports may also be performed by your Century Medical and Dental Center internist. A routine, sports or new employee exam usually consists of a conversation about your lifestyle and medical history, a set of tests and the physical examination that includes:
Checking your reflexes
Weighing in
Examining your mouth, ear, nose and throat
Checking your blood pressure and other vital signs
Listening for irregularities in your lungs and heart
Feeling the lymph nodes in your neck, groin and underarms
Checking your pulse and abdomen for abnormalities
Taking blood to test your cholesterol and triglyceride levels
Women should undergo a Pap smear test and breast exam, checking for signs of cancer. A careful examination of your skin may be included in the visit, looking for unusual growths. Every three to five years, you may undergo a bone scan to look for early signs of osteoporosis. Men often receive a digital rectal exam to check for growths that could indicate prostate cancer.
Patient Experience
"Friendly doctors and staff! Office was clean and comfortable. Doctor was caring and knowledgeable, taking time to really listen to me and answer all my questions." - Katie Thigpen
Downtown Brooklyn
200 Livingston Str,
Brooklyn, NY 11201
Flatbush
770 Flatbush Ave
Brooklyn, NY 11226
Manhattan
827 11th Ave
Manhattan, NY 10019
Gravesend
260 Ave X
Brooklyn, NY 11223
Myrtle
180 Myrtle Ave
Brooklyn, NY 11201
Prevention Is the Key to Maintaining Good Health
When your doctor realizes that you have risk factors for a disease during an annual exam, you may receive dietary recommendations, be sent to physical therapy to develop a preventive exercise program, or be given smoking cessation guidance. Drug or alcohol abuse may be addressed, as well as signs of mental distress like depression or anxiety.
The best annual physical exam includes a cancer screening and your annual flu vaccine. Depending on your age and risk factors, you may be offered other available vaccinations for shingles, pneumonia or HPV. While your doctors are ready to see you at any time for any reason, they'd much rather see you just once a year, knowing you're taking their sound advice and living the best quality of life possible. Contact your Downtown Brooklyn MD for your annual physical exam.