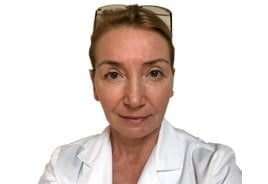 Irina Vozny, PA
About Brooklyn Gynecologist Irina Vozny
For a full range of gynecological and obstetric care, visit the Century Medical and Dental Center and ask for Irina Vozny, PA. A popular gynecologist, she provides experienced, gentle care for women of all ages. As a Physician Assistant, she's been practicing since 1999, but she makes it a point to stay up-to-date on all the latest research and techniques.
Ms. Vozny takes the time to talk with you about your issues and does the tests necessary to reach an accurate diagnosis. She treats a broad range of conditions and problems, including:
Menstruation issues, such as abnormal or postmenopausal bleeding
Sexually transmitted diseases (STDs)
Urinary tract infections (UTIs)
Incontinence or overactive bladder
Hormonal issues
Contraception
Fertility issues
Childbirth
Gynecological Procedures Performed
Ms. Vozny can help you with any gynecological problems you have. Come to the Century Medical and Dental Center in Brooklyn for a consultation and diagnosis. You can get help with:
Breast exams
Pap smear
Bone density tests
Prenatal services
Urine pregnancy tests
Dilation and curettage (D&C)
IUD insertion or removal
Birth control pill prescriptions
Pessary fit and insertion
Colposcopy
Urodynamic testing
Hysterectomy
Tubal ligation
Pelvic ultrasound
Intrauterine insemination
Transvaginal ultrasound
Hormonal workup
Hormonal replacement therapy
Dedicated to Medical Treatment and Knowledge
Ms. Vozny obtained her Associate of Science degree from Kingsborough Community College in Brooklyn. After that, she attended St. John's University to obtain her Bachelor of Science degree in their Physician Assistant Program. She continues to explore new ways of treating women.
She's certified by the National Commission on Certification of Physical Assistants. She's proud of the work she does at Century Medical and Dental Center. When you're satisfied at the end of the day, that's all that matters. Make an appointment with Ms. Vozny, the best rated gynecologist in Brooklyn.
---
Century Medical and Dental Center, an Article 28 Multi-Specialty Clinic, has been opened since 2000. For your convenience, you may visit any of our three Brooklyn locations. The doctors and staff speak multiple languages. All offices have convenient hours of operations:
Monday to Friday: 8:00 am to 9:00 pm
Saturday and Sunday: 8:00 am to 6:00 pm