The regular beating of your heart is a sign of life and health. If you are experiencing any abnormalities with your heartbeat or your heart is skipping a beat, do not let these unpleasant sensations increase or affect your life and work. Visit Century Medical & Dental Center for an accurate diagnosis of your condition and treatment plan to keep abnormal heartbeats under control. Our heart doctors will determine the risk factors and help you with strategies focused on maintaining a normal heart rate.
Heart palpitations feel like your heart is fluttering, throbbing, pounding, or skipping a beat. Most heart palpitations are not life-threatening, even if they are not pleasant feelings. Occasional palpitations only last a few seconds and usually do not require evaluations or treatment, but if your palpitations occur frequently and the heartbeat patterns become irregular, they are a cause for concern.
Dysrhythmia or an abnormal heartbeat requires medical attention as it may be a sign of some underlying medical condition.
Heartbeat and Heart Health – How Are They Connected?
Palpitations are a keen awareness of your heartbeat and help you understand its rhythms and performance levels. A heart can beat faster, slower, or different than usual for several reasons.
The heart supplies blood to the entire body. It is directly connected with many other vital organs. As a result, various health conditions can cause an irregular heartbeat that signifies an abnormal heart rhythm called arrhythmia.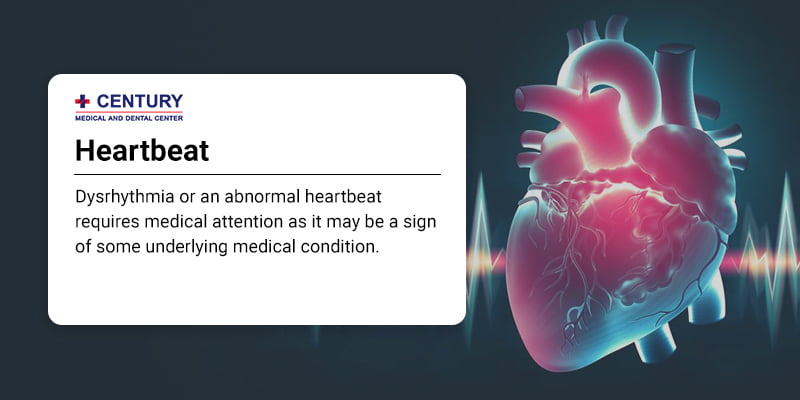 What Heartbeat Indicates?
Rapid or fast heartbeat – It can result from stress, caffeine, alcohol, tobacco, thyroid pills, cold medication, asthma drugs, or diet pills. Sometimes, low blood pressure, heart disease, and some heart rhythm conditions can cause rapid heartbeat at rest.
Slow or forceful heartbeat – It often results from heart rhythm problems such as bradycardia, in which the heart beats less than 60 times a minute.
Slow or forceful heartbeat – It may be a sign of irregular or fluttering heartbeat that is caused by atrial fibrillation (AFib), the most common type of abnormal heartbeat. Another heart problem, called premature ventricular contractions, can create this irregular beat.
It often becomes difficult for patients to explain how they are feeling. In the same way, sometimes it is also very challenging for doctors to understand what type of heart rhythm problem the patient is going through.
Symptoms of Palpitations
Heart palpitations can occur frequently or infrequently but the frequency of the fluttering or racing sensation does not show if these palpitations are serious or benign. The symptoms that accompany the palpitations help understand if they are a medical emergency or outcome of physical activity or stress.
Symptoms of palpitations include:
Dizziness
Light-headedness
Shortness of breath
Fainting
Palpitations can be a sign of heart problems. People who are already suffering from heart disease are more likely to suffer from palpitations. If your palpitations become frequent, worsen or last more than five minutes, consult a heart doctor to have your symptoms evaluated.
Other Factors That Affect Heartbeat
There are many reasons your heart might skip a beat, and not all of them are worrying.
The heart rhythm can change because of your emotional state, activity levels, or use of a certain medication or substance.
Women who are menstruating, pregnant, or in the perimenopause stage may experience heart palpitations due to the hormonal changes taking place in their bodies.
Some reasons you may experience heart palpitations that do not signify a heart problem include:
Emotions, such as stress, panic, or fear
Anxiety or panic attacks
Too much caffeine
Nicotine from smoking cigarettes or using an e-cigarette
Illegal drugs, such as cocaine
Diet pills
Overactive thyroid
Increased exercise
High fever
These conditions may not mean you have a heart problem, but they can still be bad for the heart if you are not careful. Smoking and using illegal drugs increase the risk of a heart attack.
Visiting a Doctor – Diagnosis & Treatment
The expert physician will collect your medical history and conduct an in-depth physical examination to know what you are going through. The physical exam includes listening to the lungs, evaluating the heartbeat and pulse rate to determine if further investigation is required.
The doctor may use some diagnostic methods and tests to determine the heart condition. They include:
An electrocardiogram (ECG or EKG) to check for arrhythmia or heart rhythm problems
Ambulatory monitors such as Holter monitor or Event monitor to look for abnormal heart rhythm
The doctor will make efforts to learn what is triggering palpitations in the first place and how to control the symptoms to alleviate your discomfort. Based on the test results, the doctor will detect irregularities in your heart function and recommend effective treatment depending on the severity of your condition.
Lifestyle Adjustments and Home Remedies to Lower the Risk of Heart Palpitations
Doctors recommend lifestyle adjustments and home remedies to lower the risk of abnormal heart readings.
They include:
Cutting down alcohol intake
Limiting caffeine
Avoiding energy drinks
Quitting nicotine or tobacco usage
Avoiding cocaine or other substances
Staying hydrated by drinking at least 8 glasses of water every day
Getting at least 7 to 9 hours of sleep at night
Reducing stress factors in life
Taking care of known factors can help relieve the unpleasant sensations and manage your condition without resorting to invasive treatment options.
Next time you feel your heart pounding, try these strategies:
Relaxation strategies like yoga, meditation, and deep breathing can bring your racing heartbeat back to normal
Drink some water if your heart flutters as dehydration is a major cause of palpitations in people who sweat a lot or take in more caffeine
Exercises like a brisk walk keep your heart healthy as it increases the heart rate that can prevent palpitations
They may bring in a lot of discomforts, but heart palpitations frequently are not dangerous and can be managed with lifestyle changes and at-home remedies. If they fail to provide relief, you should make an appointment to see your heart doctor know what you are going through. You know your body best and if something is bothering you, get it checked to prevent further complications.
Century Medical & Dental Center specialists will focus on your symptoms and assess the overall functioning of your heart to know more about your condition. Our team will come up with personalized prevention and treatment plans to alleviate your discomfort and improve your quality of life.
SHARE THIS POST
Page Updated on Dec 18, 2022 by Dr. Dvorkina (Primary Care Doctor) of Century Medical & Dental Center