Sciatica
Sciatica pain has a distinctive signature: it runs from your lower back down one leg. The pain can be intense or mild, and your treatment for sciatica reflects your symptoms. You may be guided to rest or you may need surgery. All sciatica pain stems from a compressed nerve: the sciatic nerve. Because there are many reasons for a compressed nerve, there are many forms of treatment. Get the right cure for your sciatica pain by calling the pain management experts at Century Medical and Dental Center.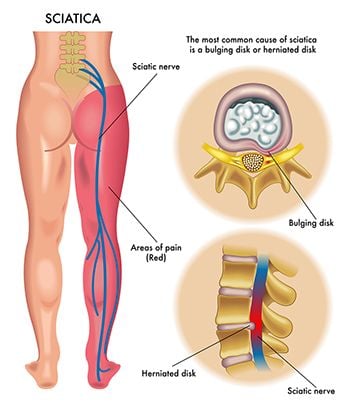 One of the most common forms of lower back pain, sciatica is a nerve impingement pain. Your sciatic nerve runs from your lower back, through your hips and buttocks, and down each leg. Usually, sciatica pain only affects one side of your body or one leg at a time. Sciatica pain often occurs from one of three causes:
A narrowing of the spine called stenosis
A herniated or bulging disc
Bone spurs
All three cause nerve impingement that results in pain, inflammation, numbness and/or discomfort. Most sciatica pain resolves with rest, relaxation, physical therapy and sometimes medication. If you have bowel or bladder problems or if you're plagued by continuing weakness in one leg, your Brooklyn pain management specialist at Century Medical and Dental Center, a multi-disciplinary practice, may suggest surgical or other interventional options, often available by doctors within the same building.
Symptoms of Sciatica Pain
If you experience pain and numbness through your lower back and down into one leg, you most likely have sciatica. The discomfort often appears in the back of your thigh and calf. The pain may feel dull and throbbing or more severe with a sharp or burning sensation. Some liken the pain to an electric shock. Prolonged sitting or standing, as well as coughing or sneezing, can aggravate sciatica pain symptoms.
The key difference between sciatica pain and other low back conditions is that you feel the pain only in one leg, hip, or side of your buttocks. Usually, mild sciatica resolves on its own, but contact your doctor immediately if the pain:
Suddenly becomes intense
Is accompanied by bowel and bladder issues
Follows a severe accident, fall or injury
Who's at Risk for Sciatica Pain?
Although anyone can lift an object incorrectly or develop protruding bone spurs, some individuals seem more prone to the need for sciatica treatment. Your chances of getting sciatica increase if you:
Fight weight problems, thereby increasing the stress placed on your lower back
Are an older individual who's experienced osteoarthritis, damaged discs, narrowing of the spine, or other spinal deterioration
Perform a job that requires you to sit for long periods of time
Have an occupation that requires lifting heavy objects
Suffer from other conditions, such as diabetes, which contributes to sciatica pain because of the resulting nerve damage
Your Brooklyn pain specialist may know of other contributing factors that prompt treatment for sciatica. Preventing further or permanent nerve damage remains your doctor's primary goal.
How to Treat Sciatica
Your pain management specialist conducts a thorough physical examination, assessing your pain, gait, numbness and leg strength. To check for bone spurs or herniated discs — or to rule out other conditions — your doctor may request x-rays, CT scans, MRIs or electromyography, a test that checks the electrical impulses to your leg.
Once he's made a diagnosis of sciatica, your doctor decides which of a list of treatment options is best for you. Normally, you start with the least invasive option before moving to more aggressive treatments if needed. The sciatica relief treatments include:
Rest
Activity modification
Heat to loosen muscles and relieve pain
Ice to reduce inflammation and numb your pain
Simple, gentle stretching to increase flexibility
Medications, such as over-the-counter pain relievers or prescribed anti-inflammatories, narcotics, muscle relaxants, anti-seizure medications or certain anti-depressants with pain-relieving properties
Therapeutic massage to help relax any cramped or tight muscles and ligaments
Physical therapy, which includes careful instruction regarding safe, effective exercise, posture improvement, and careful flexibility and strength training
Injections of pain relievers and steroids at the site of discomfort to reduce inflammation and encourage healing
Surgery in rare cases, especially when you experience bowel, bladder and other complications, to remove bone spurs or repair herniated discs
As Century Medical and Dental Center is a renowned physical therapy clinic, your treatment may likely involve some amount of PT. Physical therapy treatment has short-term and long-term effects to your health, making it an ideal choice for how to treat sciatica.
Patient Experience
"Friendly doctors and staff! Office was clean and comfortable. Doctor was caring and knowledgeable, taking time to really listen to me and answer all my questions." - Katie Thigpen
Downtown Brooklyn
200 Livingston Str,
Brooklyn, NY 11201
Flatbush
770 Flatbush Ave
Brooklyn, NY 11226
Manhattan
827 11th Ave
Manhattan, NY 10019
Gravesend
260 Ave X
Brooklyn, NY 11223
Myrtle
180 Myrtle Ave
Brooklyn, NY 11201
Finding Long-Term Sciatica Relief
The best treatment of any condition includes prevention of future incidents, especially after you've already experienced sciatica pain. While you can't always prevent sciatica, you can develop habits that benefit your back and give you the best chance for a pain-free existence. Good habits include:
Regular and effective exercise, including walking, biking, rowing and other flexibility and strengthening exercises
Finding ways to watch and maintain proper posture with lower back support, arm rests, and a chair base that allows you to swivel carefully and avoid uncomfortable twisting motions
Paying attention to lifting, twisting, standing and sitting motions that protect and care for your spine and the muscles involved
Finding a partner to help with any chores that involve lifting
Your spine benefits from regular exercise and stretching, especially forward, backward and from side to side. If you neglect these motions and then overextend your body, you're taxing the spine and begging for injury. Your Brooklyn pain management specialist works to maintain your spine's health and strength. Contact Brooklyn medical specialists for an appointment!