Arthritis/Osteoarthritis
Arthritis in all its varying types and sources share one common trait — pain in your joints. Untreated, arthritis has the potential of becoming a disability that changes your life. Decreased mobility, constant pain and discomfort, and other debilitating side effects eventually happen if you don't get the proper treatment. With a dedicated team of specialists in the multi-disciplinary practice at Century Medical and Dental Center, you have access to medical specialists in every aspect of your health to ensure that any arthritis side effects are minimized so that you can resume your normal level of activity.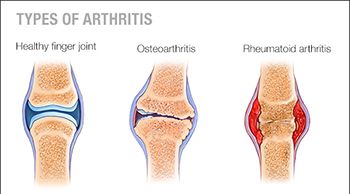 Arthritis is both a widespread and poorly understood medical condition of joint pain. First, arthritis isn't just one disease; it encompasses a wide range of conditions. In fact, there are more than 100 different kinds of arthritis and other similar joint inflammation disorders. More than 50 million Americans, including 300,000 children, suffer from some form of arthritis. Your general internist at Century Medical and Dental Center diagnoses and treats the most common forms of arthritis-related conditions, such as:
Osteoarthritis
Rheumatoid arthritis
Gout
Lupus
Fibromyalgia
Ankylosing spondylitis, which leads to back pain
Infectious arthritis
Osteoarthritis is the most prevalent form of arthritis. It's a degenerative joint disease caused by the wear and tear on joints over time. It usually worsens with age. Years of abrasion eventually break down the protective cartilage on your bones. Without this protective coating, your joints become inflamed, resulting in swelling, stiffness, and pain. While osteoarthritis can occur in any joint, it most frequently appears in the knees, hands, pelvis and spine.
Arthritis Causes and Risk Factors
The cause of arthritis depends on the type. While joint wear and tear is the primary culprit for osteoarthritis, researchers have begun to view the condition as a chronic disease rather than merely an inevitable mechanical process. Several different risk factors seem to accelerate cartilage decay, including:
Age. Osteoarthritis is highly correlative with age and years of use.
Genetics. Osteoarthritis tends to run in families. Healthy cartilage relies on the body's production of collagen. A deficiency in this protein is both inheritable and responsible for osteoarthritis in patients as young as 20.
Sex. Osteoarthritis occurs more often in women.
Injuries. A damaged joint is more likely to develop osteoarthritis at some point.
Overuse. Athletes who put excessive stress on individual joints or those whose jobs require difficult and repetitive movements wear the cartilage down more quickly.
Obesity. Carrying too much weight puts needless strain and pressure on the joints. Moreover, studies have shown that too much fat tissue can increase inflammatory chemicals that damage the joints, especially in your hands.
Bone defects. Some people are born with defective joints or weak cartilage.
Other diseases. Rheumatoid arthritis, diabetes, acromegaly (excess growth hormone), and hemochromatosis (excess iron) are all associated with an increased incidence of osteoarthritis. Rheumatoid arthritis is an autoimmune disease.
Arthritis Symptoms
Most forms of arthritis share similar symptoms of joint inflammation. But symptoms also may include:
Bone spurs. Small bumpy projections of bone can develop around a joint.
Abrasive joints. The bones of the joint seem to grate against each other when in motion.
Decreased range of motion. The joint becomes less flexible.
Tenderness and pain. The joint is painful to touch and hurts during movement.
Stiffness. Joint feels stiff, especially after periods of inactivity or sleep.
Pain. Arthritis pain may be acute or chronic. It can even lead to disabilities.
Rheumatoid arthritis symptoms usually come on quickly, while the symptoms of osteoarthritis develop slowly over time. These autoimmune disorders, including inflammatory arthritis disorders, may damage other parts of the body in addition to your joints, such as your ears, eyes and internal organs.
Arthritis Treatments
To rule out other conditions, such as rheumatoid arthritis and gout, your doctor may want to do some blood tests. He may also drain fluid from the joint to test for infection. The team at Century Medical and Dental Center is a multi-disciplinary group of experts, ideal for diagnosing and treating your condition —since so many different parts of your body can be affected by arthritis.
Your arthritis treatment largely depends on the type of arthritis you have. Infections are treated with antibiotics, while other types may respond best to disease-modifying anti-rheumatic drugs. All share the goal of reducing your pain and preventing further joint erosion.
Patient Experience
"Friendly doctors and staff! Office was clean and comfortable. Doctor was caring and knowledgeable, taking time to really listen to me and answer all my questions." - Katie Thigpen
Downtown Brooklyn
200 Livingston Str,
Brooklyn, NY 11201
Flatbush
770 Flatbush Ave
Brooklyn, NY 11226
Manhattan
827 11th Ave
Manhattan, NY 10019
Gravesend
260 Ave X
Brooklyn, NY 11223
Myrtle
180 Myrtle Ave
Brooklyn, NY 11201
Osteoarthritis Treatments
If you're suffering from osteoarthritis, your doctor may recommend a number of different therapies or treatments, such as:
Heat or cold applied to the joint
Exercise and physical therapy
Canes or crutches
Hyaluronic acid or steroid injections
Oral or topical medications
Bone realignment
Arthritis hip and knee treatment may include joint preservation or replacement surgery. Severe cases of arthritis in hands need treatment that may include reconstructive surgery, joint replacement and joint fusion. Whichever form of arthritis you have, seek treatment as early as possible to prevent a potentially disabling condition. When joint pain appears and doesn't subside within a few weeks contact our clinician for effective treatment designed for your specific case.