Medical Clearance, Pre-Surgical Clearance & Pre-Operative Clearance
Before you have any type of surgery, whether it's a major event or an outpatient procedure, you may need a pre-operative clearance exam. This type of medical clearance is for your own safety. Surgeons want to have as much information about you as possible before a procedure to minimize risks and surprises during the procedure. You can help them by having as much of your background information on hand as you can when you come in for your pre-surgical clearance exam.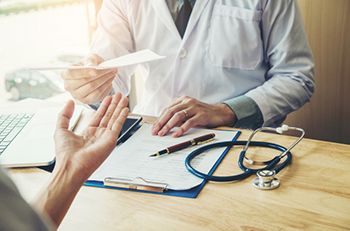 Pre-operative clearance, also known as pre-surgical or medical clearance, is a required examination that may come from your insurance company prior to having surgery. This exam allows your doctor to learn your health history and provide appropriate information to the surgeon performing your upcoming operation — or for himself if he will perform your procedure. Armed with this information, your doctor can mitigate the risks and complications associated with surgery.
Most of the specialists at Century Medical and Dental Center in Brooklyn prefer to perform pre-operative clearance exams about one month before the surgery is scheduled to take place. This gives both the assessing doctor and the surgeon adequate time to address any medical concerns and allows you to make any dietary or lifestyle changes they recommend.
This type of exam is not the same as an annual exam or a medical clearance exam you or one of your children is required to get before joining a sports league, renewing your driver's license or starting at a new job. The sole purpose of this examination is risk assessment before undergoing a surgical operation or invasive medical procedure.
What to Know for Your Pre-Surgical Clearance
This examination is almost always performed by your primary practitioner and not by your surgeon. During a pre-surgical clearance examination, your doctor asks you questions regarding your general health. Among the information requested, the doctor determines your:
Current height and weight
Exercise habits
Any medications or supplements you're taking
Known allergies
Normal diet
Prior surgeries and procedures
Whether or not you smoke
As part of the exam, your doctor also asks about your family health history, including any known occurrences of serious family illnesses or surgeries — especially related to the procedure you have scheduled. If you've had any chronic illnesses or serious medical conditions in your family, your doctor needs to know. Bring any pertinent information to your examination. The more information you share, the more likely your procedure will be successful.
The Tests to Expect at Your Pre-Operative Clearance Exam
Next, Your Brooklyn doctor takes your temperature, blood pressure, heart rate and other basic vital signs. Depending on the type of surgery you're having and your personal health history, your doctor may order further tests, including:
Imaging test, such as x-rays
Blood tests
Pulmonary tests
Cardiovascular tests
Diagnostic imaging tests, including magnetic resonance imaging (MRI) scans, computed tomography (CT) scans or ultrasounds
Nutritional assessment
Colonoscopy or upper endoscopy
The tests confirm the information you've provided or are medically necessary to uncover unknown dangers. The results prepare the surgeon for any issues related to your particular case and the procedure you're going to have.
After Your Medical Clearance Exam
Once your exam is over, your assessing physician works with your surgeon to determine if you're at risk for any surgical complications. Depending on the answers and test results, your doctor may require, not just recommend, lifestyle and dietary changes before surgery. For example, you may be disqualified from surgery for things like:
Before your surgery, you may need to abstain from alcohol, quit smoking, increase or decrease exercise, and stop taking current medications. At Century Medical and Dental Center, doctors work with you to understand and comply with all instructions. Don't stop taking medications on your own; only do so if your surgeon has instructed you to.
Patient Experience
"Friendly doctors and staff! Office was clean and comfortable. Doctor was caring and knowledgeable, taking time to really listen to me and answer all my questions." - Katie Thigpen
Downtown Brooklyn
200 Livingston Str,
Brooklyn, NY 11201
Flatbush
770 Flatbush Ave
Brooklyn, NY 11226
Manhattan
827 11th Ave
Manhattan, NY 10019
Gravesend
260 Ave X
Brooklyn, NY 11223
Myrtle
180 Myrtle Ave
Brooklyn, NY 11201
Does Pre-Operative Clearance Remove All Surgical Risks?
The short answer is: No, it doesn't. Receiving medical or pre-operative clearance doesn't mean and can't guarantee that you won't have any complications during or after your surgery. Every surgical procedure, even a minimally invasive procedure, carries some risks. But pre-surgical clearance is a way to identify and mitigate potential surgical risks.
If, for example, your assessing doctor finds out that you're taking an anti-coagulative, an antithrombotic medication or another type of blood thinner, your surgeon likely recommends that you stop taking that medication before surgery. These medications interfere with blood clotting, an important part of the post-operative recovery process. Stopping their use before surgery improves your odds of a successful recovery, but may induce other side effects as a result of the underlying condition for which you were taking the medication.
The specialists at Century Medical and Dental Center provide accurate and thorough pre-operative clearance for all of their patients. An advantage comes from having multiple medical disciplines in one umbrella practice. No matter what you need, there's a specialist for you. Contact one of the Brooklyn offices to speak with our general physicians in Brooklyn about when to schedule your medical clearance exam.