Physical Therapy Clinic
Physical therapy plays an integral role in so many phases of your medical treatment that it only makes sense to visit a practice that employs a multi-disciplinary approach to your healthcare. The physical therapy clinic at Century Medical and Dental Center is uniquely situated so that your doctor and physical therapist can collaborate seamlessly in your treatment. From injured athletes to seniors recovering from surgery, adults fare much better when their medical treatment is coordinated and targeted. Heal more quickly to resume your previous level of mobility with outpatient physical therapy at one of three convenient locations in Brooklyn.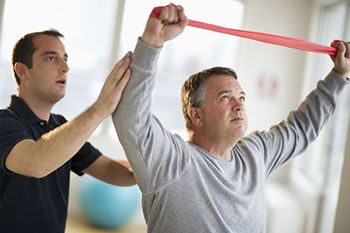 When you need physical therapy following a surgical procedure — to help you devise a practical exercise plan or to relieve suffering from back pain — you usually have to make an appointment for outpatient physical therapy at another location. And that means waiting and often continued pain and discomfort.
At Century Medical and Dental Center, with three locations in Brooklyn, the physical therapy clinic is in the same location as your doctor. A referral just might mean going down the hall, particularly if you need services right away. Additionally, if your Brooklyn physical therapist notices an unusual condition or believes you need further medical treatment, doctors are immediately available.
Get Coordinated Back Pain Treatment
Back pain is one of the most common complaints that drives Americans to the doctor. After being thoroughly evaluated by your back pain specialist and receiving a definitive diagnosis, physical therapy usually plays an integral role in your treatment.
Many back pain issues are resolved with physical therapy, while others benefit from pain prevention techniques you receive from an experienced physical therapist. Working closely with your doctor at Century Medical and Dental Center, you receive expert guidance for treating pain in your:
Services for Women
When you rely on the best gynecologist at Century Medical and Dental Center, part of your treatment plan may include physical therapy to either restore your body to its peak of health or to rehab following a procedure. You may need the coordinated services at an outpatient physical therapy clinic after being diagnosed or treated for conditions such as:
When your physical therapist is tied to a multi-disciplinary team like the one at Century Medical and Dental Center, your doctor and your medical records are readily accessible. You don't have to explain your symptoms all over again or try to remember everything your physician recommended.
Primary Care for Adults
Arrange a visit with your physical therapist when you visit your internist doctor for your annual physical exam. When you're being treated for a variety of conditions, the physical therapy clinic is easily accessible when you need it to run consecutively with treatment appointments with your doctor. At Century Medical and Dental Center, common conditions that benefit from PT include:
The physical therapists at Century Medical and Dental Center are trained in a variety of modalities that play a vital role in recovery from injury and illness alike. Whether you have an in-house referral or are just seeking the best PT in New York City, you'll find friendly, knowledgeable physical therapists who see a wide range of people, including:
Athletes
Weekend warriors
Workers with demanding physical jobs
Men and women who spend an inordinate amount of time sitting and working on computers
Aging adults
Those with mobility issues
Pregnant women and those who recently delivered
Patient Experience
"Friendly doctors and staff! Office was clean and comfortable. Doctor was caring and knowledgeable, taking time to really listen to me and answer all my questions." - Katie Thigpen
Downtown Brooklyn
200 Livingston Str,
Brooklyn, NY 11201
Flatbush
770 Flatbush Ave
Brooklyn, NY 11226
Manhattan
827 11th Ave
Manhattan, NY 10019
Gravesend
260 Ave X
Brooklyn, NY 11223
Myrtle
180 Myrtle Ave
Brooklyn, NY 11201
Exceptional Outpatient Physical Therapy
The physical therapy clinic at Century Medical and Dental Center uses the latest equipment and techniques to provide you with the best services, training and rehabilitation in Brooklyn. Services include:
Electrical stimulation tools, commonly called TENS, to treat pain while you rehabilitate
Weights and exercise bands to build supporting muscles, improve flexibility and restore mobility
Treadmills and exercise bikes to improve your cardiovascular system and help you lose weight
Treatment tables used for light massage and for isolating damaged muscle groups
Mobilization belts and bars designed to support your while you regain your balance
Exercises and stretches that a trained therapist helps you master so you can continue them at home
The best physical therapists work in concert with your primary care physician to design the most complete recovery and rehabilitation program for your specific needs. Outpatient physical therapy at Century Medical and Dental Center provides that multi-disciplinary support so necessary for success.
While your diagnosis doesn't define you, your condition requires specific, targeted PT to get you back to your active lifestyle with as little pain as possible. Contact Brooklyn physicians at Century Medical and Dental Center to resolve your medical issues and recover successfully.
Page Updated on Sep 1, 2022 by Dr. Dvorkina (Primary Care Doctor) of Century Medical & Dental Center