Cystocele (Anterior Prolapse)
A cystocele, also called anterior prolapse, occurs when the wall between your vagina and bladder weakens, allowing your bladder to slip. It's an uncomfortable condition that affects your urinary tract and causes pain during sex. But the gynecologists at Century Medical and Dental Center in Brooklyn have solutions that range from strengthening exercises to surgery, depending on the severity of your condition. Call today for an assessment.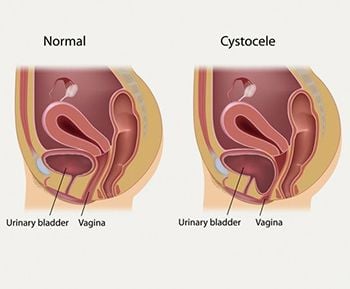 Between a woman's vagina and her bladder lies a wall of muscle called the pelvic floor. This supportive tissue helps hold your bladder in the correct position within the abdomen wall. As a result of age, natural childbirth or other conditions, this wall of muscle can weaken over time, allowing the bladder to slip down into your vagina. This condition is called a prolapsed bladder or an anterior prolapse.
Any event that causes severe straining can weaken your pelvic floor muscles. Natural childbirth, chronic constipation or lung conditions that lead to violent coughing fits are known causes. Lower estrogen levels after menopause may also contribute to weakening these muscles.
A pelvic prolapse involves multiple organs because it's not unusual to have more than one organ involved in prolapse conditions. For example, both a cystocele and rectocele prolapse involve fallen pelvic organs, but a rectocele prolapse affects your posterior or behind, resulting in a bulging rectum, while a cystocele prolapse affects your anterior or front, resulting in a fallen bladder.
Symptoms of Anterior Prolapse
Mild cases of a cystocele prolapse often exhibit few symptoms. Sometimes, you won't experience any symptoms. If your pelvic floor muscles continue to weaken, however, you may notice:
Feeling full or a sense of pressure on your lower abdomen or vagina
A continuing need to urinate
Leaking urine when laughing, coughing, sneezing or even lifting heavy objects
Discomfort or pain when laughing, coughing or during other stressful actions
Having to fight urinary tract infections frequently
Pelvic pain, along with possible urinary leakage during sex
As the prolapse progresses, you may notice a bulge or ball protruding from your vagina that's often painful. Additionally, standing for long periods of time increases the severity of your symptoms.
Causes of Cystocele
As you age, your pelvic floor muscles can be strained and weakened. Injury or trauma may compromise these muscles as well. Other causes of anterior prolapse include:
Being overweight or obese
Carrying a child to full term and having a natural, vaginal childbirth
Straining from chronic constipation
Lung conditions that cause coughing, such as smoking or bronchitis
The repeated improper lifting of heavy objects
You may be more likely to develop anterior prolapse or other pelvic prolapse conditions if you had a hysterectomy or have a family history of prolapse conditions. Your chance of developing a cystocele prolapse increases as you age.
Treatment of Anterior Prolapse
Your gynecologist at Century Medical and Dental Center performs a thorough exam and then discusses your symptoms with you to determine the severity of your discomfort. If you've experienced frequent bladder infections, your doctor may suspect an anterior prolapse. The earlier you catch your condition, the more options your Brooklyn specialist has for treatment.
Treatment options always start conservatively, although if your symptoms are severe enough, surgery may benefit you. Your treatment may include:
Physical therapy exercises, including Kegel exercises, to train your muscles to flex and relax on command and strengthen the floor of your pelvis.
A supportive device called a pessary, which is a silicon or rubber ring inserted into your vagina that holds your bladder in place. You remove the custom-fitted device to clean it and reinsert it as needed. Many women use these temporarily to postpone surgery or until their pelvic floor muscles strengthen.
Estrogen therapy —including pills, creams or rings — to raise estrogen levels and give your pelvic muscles the hormones necessary to remain strong. Since estrogen decreases after menopause, many women find this therapy reduces their symptoms.
Patient Experience
"Friendly doctors and staff! Office was clean and comfortable. Doctor was caring and knowledgeable, taking time to really listen to me and answer all my questions." - Katie Thigpen
Downtown Brooklyn
200 Livingston Str,
Brooklyn, NY 11201
Flatbush
770 Flatbush Ave
Brooklyn, NY 11226
Manhattan
827 11th Ave
Manhattan, NY 10019
Gravesend
260 Ave X
Brooklyn, NY 11223
Myrtle
180 Myrtle Ave
Brooklyn, NY 11201
When Surgery Makes Sense
Severe anterior prolapse symptoms may require cystocele surgery. If you're past childbearing age and your condition also involves a prolapsed uterus, your doctor may suggest a hysterectomy. Otherwise, your doctor tightens muscles and ligaments, lifts the bladder back in place, and may use a tissue graft by accessing your abdomen vaginally.
Your doctor usually performs this surgery on an outpatient basis with pain and bleeding resolving within two weeks. Normal daily activities and intercourse may resume after six to eight weeks' recovery time. But you should postpone surgery if you're planning on becoming pregnant. A hysterectomy removes your uterus so you can't conceive, and cystocele surgery may interfere with getting pregnant.
Prevention of Prolapse Conditions
If you're susceptible to a prolapse or have recovered from a previous prolapse incident, you must do what's necessary to prevent another episode. Reduce your risk of further prolapse conditions by:
Losing weight or watching your diet to avoid future weight gain
Performing Kegel exercises regularly
Treating or controlling constipation through diet or medication
Using proper lifting techniques or refusing to lift heavy items at all
Treating and controlling any coughing conditions, such as bronchitis
Ceasing cigarette smoking
While an anterior prolapse isn't usually a life-threatening condition, symptoms make life uncomfortable and possibly embarrassing. Your Downtown Brooklyn clinician offers effective treatment options to manage, treat and prevent prolapse concerns. Contact Century Medical and Dental Center today to make an appointment.