Sclerotherapy for Varicose Veins
While small varicose veins and even smaller spider veins may pose no more than a cosmetic issue for you, you don't have to live with the skin discolorations. Call Century Medical and Dental Center to talk with a vein specialist about sclerotherapy for varicose veins. It's a relatively simple outpatient procedure that can rid you of the unsightly veins forever. The process even works on many of those tougher, painful, large varicose veins that have been causing you so much discomfort.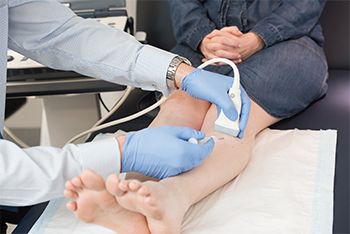 It's possible, and even likely, that you can get rid of varicose veins in as little as two weeks. Injection sclerotherapy for varicose veins may take as a long as month to fully work, but that's preferable than living with the unsightly, often painful blood vessel disorder for your whole life.
Sclerotherapy, also used to effectively remove spider veins and the web-like red veins that sometimes appear on your face, is a safe treatment of choice for your top rated vein doctor at Century Medical and Dental Center. The Brooklyn medical team, which has three convenient locations, is a multi-disciplinary practice that employs a wide range of specialists. When you visit for your next annual physical exam, ask your Brooklyn internist if you're a good candidate for vein sclerotherapy.
Eligibility for Sclerotherapy for Varicose Veins
While varicose veins are a common side effect of pregnancy, you need to wait at least three months after you deliver before you're eligible for the procedure. As long as you're breastfeeding, you can't receive it either. Very often, you may find that bulging veins dissipate on their own after you lose the baby weight.
There are no problems posed for women taking birth control pills. But if you've ever experienced a blood clot, you may be ineligible for the sclerotherapy injections, depending on where it occurred and how severe it was. Additionally, if you have heart disease and may one day need a vein for a bypass surgery, it's best not to remove certain veins, even if they're varicose. Your vein specialist provides you with all the necessary facts before proceeding with any treatments.
Why Consider Sclerotherapy
Sclerotherapy for varicose veins typically is reserved for treating smaller varicose veins and spider veins, which usually only pose cosmetic issues. At the same time, removing small varicose veins prevents them from turning into major painful conditions.
When you want to improve your appearance by removing spider veins, sclerotherapy is an ideal choice. Although not as painful as large, bulging veins in your legs, smaller varicose veins can still cause discomfort, making the treatment valuable. Symptoms typically relieved by the procedure include:
Leg cramps at night
Aching at the site of the varicose veins
Inflammation and swelling
Burning sensations
How to Get Rid of Varicose Veins
Sclerotherapy is performed right in your Brooklyn doctor's office. It takes less than an hour, and you can resume your normal activities later that day. No anesthesia is required, but your vein doctor may give you a mild sedative if you're nervous or sensitive. The process is fairly straightforward:
You lay on your back while slightly elevating your legs.
Your doctor sanitizes the area to be treated with alcohol and inserts a very small needle that contains the vein removal solution directly into the blood vessel. The solution may contain a dose of lidocaine to reduce any discomfort.
After withdrawing the needle, your doctor massages and applies compression to the area to move the solution through the vein. A compression pad may be applied while other veins are treated.
The solution used in sclerotherapy irritates the vein's lining so much that the flow of blood is blocked and the vein swells shut. It doesn't take long for the damaged blood vessels to turn into a scar and be absorbed into your system. And that's the end of your varicose vein.
Risks and Side Effects
Side effects are greatly mitigated when you rely on the expertise of the renowned vein doctors at Century Medical and Dental Center. They use ultrasound to minimize risks even further, as the images help your doctor inject the solution in the correct spots. Common side effects are temporary and usually recede within a couple days. They include:
While more severe complications are rare, they may include:
A blood clot that needs to be drained
Air bubbles that may cause dizziness, nausea or headaches, but typically disappear with no further treatment
An allergic reaction that may cause hives or other symptoms, but symptoms usually disappear without any intervention
Inflammation that may be warm to the touch and mildly uncomfortable, which anti-inflammatory over-the-counter medication relieves
Results and Follow-Up
Very small spider veins and varicose veins usually disappear completely within two to six weeks. Larger varicose veins may take up to four months to dissipate fully. While you may need additional treatments to remove especially difficult veins, they usually don't ever come back.
You must wear compression stockings and avoid strenuous activities for about two weeks. If you have darker skin, you should avoid letting direct sunlight hit the area that's being treated for a couple weeks because UV rays can cause even darker spots to appear on your skin. Your Brooklyn MDs  provides you with directions for how to prevent varicose veins in the future. To learn more about vein sclerotherapy contact Century Medical and Dental Center today.