Osteoporosis
As with all medical conditions, osteoporosis is much easier to treat successfully in the earliest stages, when it's called osteopenia. Very often, you can reverse the bone-weakening condition with simple lifestyle changes. Once your bones have progressed to the late stages of the disease, you may need medication to strengthen them. Your doctor at Century Medical and Dental Center looks for signs of low bone density as part of a normal exam. You may not be experiencing any symptoms, but your doctor is more aware of your risks.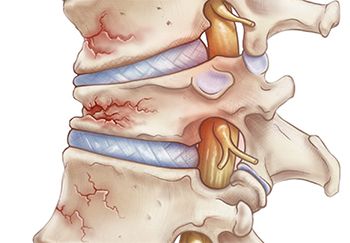 Osteoporosis is a medical condition that causes a thinning and weakening of your bones. It affects more than 53 million people in the United States. When you have this disease, your bones can become so fragile that they break easily — not only from falls, but from activities as simple as coughing or bending. Osteoporosis can affect any bone, but it most often affects your wrists, hips or spine.
This condition is characterized by the structural deterioration of bone tissue and low bone mass. It hits both women and men, but postmenopausal women are at the highest risk of developing osteoporosis. The doctors at Century Medical and Dental Center are highly trained in osteoporosis treatment, diagnosis and prevention.
Symptoms of Osteoporosis
Often referred to as a silent disease, osteoporosis can affect your bones without triggering any symptoms. You may have osteoporosis and not even be aware of it until you experience a bone that breaks much more easily than expected from a minor accident, such as bumping into a piece of furniture or falling.
If osteoporosis affects your spine, you may suddenly experience severe pain in your back that doesn't seem to be related to any specific incident. Your vertebrae may collapse, leading to a stooped posture, humpback and loss of height.
Cause and Risk Factors for Developing Osteoporosis
When you're young, your body is able to make new bone quicker than it breaks down old bone. As you age, though, the creation of new bone doesn't keep up with the loss of old bone. In this case, osteoporosis develops.
There also are some risk factors that increase your chances of developing osteoporosis. These include:
Age. The older you are, the more your risk of developing this condition increases.
Gender. Women are at increased risk of this conditions. Lowered estrogen levels at menopause greatly increase the chance of developing osteoporosis.
Build. If your bones are naturally small and thin, you may have less bone mass to draw from as you age.
Family history. If others in your family have this condition, your risk increases.
Eating disorders. Abnormal restriction of food intake can weaken your bones.
Vitamin and mineral deficiencies. If you don't make healthy food choices and your diet is low in nutrients such as Vitamin D and calcium, your bones become weaker.
If you have a sedentary lifestyle, your bones may eventually weaken. Use of medications such as glucocorticoids on a long-term basis can also weaken your bones. Loss of bone mass can also be triggered by cigarette smoking and excessive alcohol consumption.
Determining Bone Density and Planning for Better Bone Health
A bone mineral density test, often called a bone scan, measures your bone health and determines if you have osteoporosis. It can also determine your rate of bone loss and measure your response to an osteoporosis treatment plan your doctor may have already initiated. Your doctor may prescribe a bone scan as part of your annual physical exam when you've reached a certain age or if you have other risk factors.
The best treatment for osteoporosis is based on your risk of breaking a bone in the next 10 years. If your risk is low, your doctor may recommend lifestyle changes, such as:
An improved diet
A less sedentary lifestyle
Fall prevention
Regular exercise
High-impact aerobics and exercises that put stress on your bones
How to Treat Osteoporosis
If you're at a high risk of fractures, your internist may prescribe bisphosphonates, which are a group of medications that can strengthen bones and slow down or prevent bone loss. For women, hormone-related therapy, started soon after menopause, can help to maintain bone density. Estrogen therapy does have risks, however, that may include:
Breast cancer
Endometrial cancer
Blood clots
Osteoporosis treatment injection options may be considered if you can't tolerate other methods or they aren't successful. Injections may be used for one to two years, followed by another osteoporosis medication.
Patient Experience
"Friendly doctors and staff! Office was clean and comfortable. Doctor was caring and knowledgeable, taking time to really listen to me and answer all my questions." - Katie Thigpen
Downtown Brooklyn
200 Livingston Str,
Brooklyn, NY 11201
Flatbush
770 Flatbush Ave
Brooklyn, NY 11226
Manhattan
827 11th Ave
Manhattan, NY 10019
Gravesend
260 Ave X
Brooklyn, NY 11223
Myrtle
180 Myrtle Ave
Brooklyn, NY 11201
Expert Care for Osteoporosis
At Century Medical and Dental Center, you'll find expert doctors who are specially trained in the care and treatment of osteoporosis, as well as many other conditions. Your doctor is part of a multi-disciplinary team of experts, including physical therapists who can help you build a prescriptive exercise plan. You may also receive treatment for other age-related conditions at the same location, such as:
Contact Century Medical and Dental Center today to make an appointment with our internal medicine clinic or physical therapy clinic. We got best Brooklyn MDs who will help you achieve and maintain your best health.