Lower Back Pain
While changes in your lifestyle can help you alleviate lower back pain, talk to your doctor about other ways to relieve lower back pain without having to undergo surgery. It may seem counterintuitive when you experience back pain, but remaining active is one of the best things you can do to relieve pain. Before you engage in any exercise, though, visit your Brooklyn doctor at Century Medical and Dental Center to get a firm diagnosis so that you don't inadvertently do further damage to your back. A proper diagnosis also reveals any serious underlying condition that requires more extensive interventions.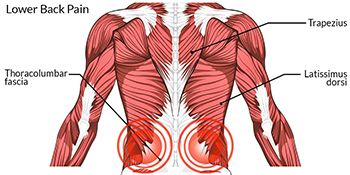 Lower back pain is a common problem in the United States. A vast majority of adults deals with it at some point in their lives. Severe lower back pain can lead to missed work days and even to job-related disabilities. Pain in the lower back can range from dull and constant to sudden and sharp.
For most people, lower back pain is a short-term or acute problem that usually lasts a few weeks or less. For others, it's a chronic, ongoing problem. Age-related changes can cause back pain to develop and intensify over time.
If you're experiencing lower back pain that isn't relieved by ice or rest, Century Medical and Dental Center offers expert medical care and lower back pain relief. Because it's a multi-disciplinary practice, you gain access to a physical therapy clinic for exceptional assistance in your recovery, as some form of physical therapy is almost always part of the rehabilitation from back pain.
Lower Back Pain Symptoms
Symptoms of lower back pain may affect one or both sides of your lower back. Dull, aching pain may be accompanied by reduced mobility, muscle spasms or pain in your hips or pelvis. The pain may occur immediately if you suffer a fall or other type of trauma. Pain caused by degenerative disorders typically develops slowly over time.
Pain may radiate down your leg or worsen with standing, lifting or walking. Seek immediate lower back pain relief when it's accompanied by other symptoms, such as:
Fever and chills
Severe abdominal pain
Loss of bowel or bladder control
Losing weight without trying
Numbness, tingling sensations or weakness in one or both legs
Causes of Lower Back Pain
You may be able to identify the cause of your lower back pain if you've recently been involved in an accident, had a fall or have been lifting heavy objects. Other common causes of pain in your lower back include:
Osteoarthritis. Arthritis and osteoarthritis causes inflammation and instability in your lower back. It may also lead to damage of the cushions between your vertebrae. Osteoarthritis is usually is related to aging.
Compression fractures. Often triggered by osteoporosis, compression fractures can occur if your bones become brittle.
Obesity. The extra weight placed on your back leads to pressure and pain.
Bulging or ruptured discs. Discs serve as cushions between your vertebrae. They may bulge or become ruptured following an injury. Other reasons for disc damage include bone spurs.
Radiculopathy. This condition is caused by inflammation, compression or injury to a spinal nerve root.
Spondylolisthesis. This is caused by one vertebra slipping over another.
Sacroiliitis. When the sacroiliac joint, which is located where the hip meets the pelvis, is inflamed, it can trigger low back pain.
Rarer causes of lower back pain include tumors and infections. Lower left back pain may be a sign of a kidney stone or a gynecological problem, such as endometriosis, adenomyosis or fibroids. Lower right back pain could be a sign of appendicitis or a kidney stone.
Patient Experience
"Friendly doctors and staff! Office was clean and comfortable. Doctor was caring and knowledgeable, taking time to really listen to me and answer all my questions." - Katie Thigpen
Downtown Brooklyn
200 Livingston Str,
Brooklyn, NY 11201
Flatbush
770 Flatbush Ave
Brooklyn, NY 11226
Manhattan
827 11th Ave
Manhattan, NY 10019
Gravesend
260 Ave X
Brooklyn, NY 11223
Myrtle
180 Myrtle Ave
Brooklyn, NY 11201
How to Treat Lower Back Pain
The most effective lower back pain treatment for you depends on what's causing your pain. You can relieve minor back pain with hot or cold packs once your Brooklyn doctor rules out any major issues. Safe pain relievers with anti-inflammatory properties help reduce inflammation and pain. For some conditions, a back brace may help to make you more comfortable while a back injury heals.
Other options for lower back pain treatment may include:
Muscle relaxers that relieve the discomfort that comes from muscle spasms
Cortisone injections to reduce inflammation
Lumbar decompression surgery to relieve pain caused by a pinched nerve from a herniated disc
Lumbar fusion when pain is caused by spondylolisthesis or degenerative disc disease
Your Brooklyn physical therapist can help you get rid of lower back pain. During your sessions, you learn:
Proper stretching techniques to prevent further lower back pain and increase flexibility
Strengthening exercises that improve your posture, build muscle strength and speed recovery from injury
How to employ electrical stimulation to back muscles
How to use exercise machines correctly to strengthen your back and prevent future lower back pain
Lower back pain doesn't have to dominate your life or hinder your activities. Contact Century Medical and Dental Center to reserve an appointment with the general physician in Brooklyn.