Hip Pain
Your hips play such an integral role in your mobility that you have to seek treatment whenever they start bothering you. Some hip flexor pain is easily identifiable since it often follows a traumatic injury, but other pain may be referred pain from another area of your body. That's why you should visit a multi-disciplinary practice such as Century Medical and Dental Center in Brooklyn. You'll find access to a wide range of specialists, including physical therapists, to provide an accurate diagnosis and the effective treatment you need.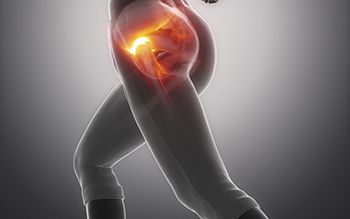 Your hips bear a lot of weight. In fact, the ball and socket joints that make up your hips are one of the largest joints in your body. The head of your femur, or thigh bone, fits into a socket called the acetabulum, created by the union of your pelvic bones. These joints connect your upper body to your legs.
Various ligaments, tendons and muscles support and stabilize your hips. This soft tissue allows your torso to rest upright on your pelvis and legs. The joint itself allows for a variety of necessary movements, such as walking, raising your legs and sitting. Because it's so busy working hard for you, the hip is also more prone to injury. Stay healthy and treat hip joint pain with a visit to the Brooklyn physical therapists at Century Medical and Dental Center.
Tendons, Muscles and Ligaments
Hip joint pain happens when there's an issue with the joint itself or the soft tissue surrounding it, including the bones, muscles and nerves. The pain may indicate localized hip pain or hip joint pain. Your pain may be due to something not related to the hip at all, such as a pelvic organ disorder or cancer, causing referred pain.
Because your hips contribute to much of your mobility and stability, a lot of hip joint pain is caused by wear and tear degradation and age-related changes. Organic diseases and injury are also common causes of hip pain. These include:
Bursitis
Strains or sprains
Pinched nerves or sciatica
Injuries that lead to fractures and dislocation
Hernia
Bone infection or cancer
Finding the Source
Most age-related causes, like arthritis or osteoporosis, and normal wear-and-tear injuries, like bursitis or tendonitis, very often involve the hips and the surrounding structures, such as the hip flexors. You may experience hip flexor pain associated with lower back pain. A gynecological disorder, such as a pelvic prolapse, also causes hip pain.
Bone infections and cancers can start elsewhere and then travel to the hip, causing hip pain. These sources of pain can occur at any age. Knee pain or pelvic pain sometimes radiates to the hip and may be due to an injury or disease.
Referred hip pain is a little trickier to diagnose because the source may be somewhere close, but unrelated to the hip itself. Referred hip joint pain can also be due to systemic medical conditions such as rheumatoid arthritis, psoriatic arthritis or cancer. Cancer has come up several times, but that doesn't mean that hip pain signals cancer. That's why you need an accurate diagnosis.
Pain Problems
Pain is the hallmark symptom of most hip issues because your hips are so integral for body movement. Your pain can occur almost anywhere in your hip area and can vary in severity, depending on the cause. Uncovering the location, duration and severity of hip pain is the goal when determining your problem. You need a diagnosis before starting hip pain treatment.
Other factors — such as when the hip flexor pain occurs, what aggravates or relieves your discomfort and whether additional symptoms are present — help your Brooklyn pain specialist come to a firm diagnosis. Some symptoms that you may experience in addition to hip joint pain include:
Stiffness
Bruising
Muscle spasms
Signs of inflammation, such as swelling, redness or heat
Visible deformity or limp
Decreased range of motion
Inability to move your leg, bear weight or walk
Even though most hip flexor pain treatment can be done at home, get your doctor's input, especially if your hip pain persists. Also see your doctor if you're experiencing:
Persisting or worsening symptoms
Intense pain
Sudden swelling
Fever or other signs of infection
Patient Experience
"Friendly doctors and staff! Office was clean and comfortable. Doctor was caring and knowledgeable, taking time to really listen to me and answer all my questions." - Katie Thigpen
Downtown Brooklyn
200 Livingston Str,
Brooklyn, NY 11201
Flatbush
770 Flatbush Ave
Brooklyn, NY 11226
Manhattan
827 11th Ave
Manhattan, NY 10019
Gravesend
260 Ave X
Brooklyn, NY 11223
Myrtle
180 Myrtle Ave
Brooklyn, NY 11201
Physical Therapy Treatment for Hip Pain
Once the source of your pain is identified, your doctor may advise you to do some things at home to relieve the majority of hip joint problems. Brooklyn doctors at Century Medical and Dental Center teach you a variety of physical techniques as a continuation of your hip flexor pain treatment. Some at-home treatments, after consulting your physical therapist, include:
R.I.C.E. or rest, ice, compression and elevation
Proper stretching
Low-impact exercises
Strengthening routines
Post-surgical rehab when necessary
To aid in your hip flexor pain treatment, your doctor may recommend over-the-counter medications or safe prescription pain medicine. While reserved for severe hip pain, further treatment for hip pain, such as hip replacement surgery, may be necessary when extensive damage or irreversible wear and tear are present. Contact Century Medical and Dental Center physical therapist today for a comprehensive exam and the right hip pain treatment for your needs.